India lose 0-2 to Germany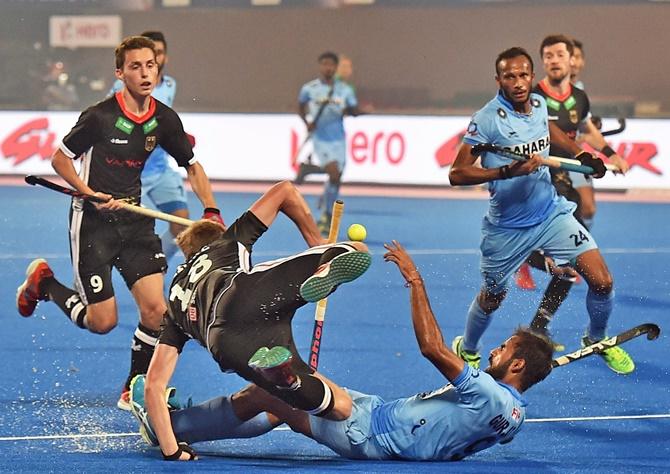 IMAGE: Gurjant Singh(9) of India falls down after charge with German defender Weinke Ferdinand(18) during Hockey World league at Kalinga Stadium in Bhubaneswar on Monday. Photograph: PTI
India produced a lacklustre and disappointing performance in their second consecutive match to go down 0-2 to Germany and end their pool engagements on a winless note at the Hockey World League Finals, in Bhubaneswar on Monday.
Bhubaneswar crowd had to return home disappointed once again as Germany scored two goals in the second quarter through skipper Martin Haner (17th minute) and Mats Grambusch (20th) to hand India their second defeat of the eight-nation tournament.
India, who drew 1-1 with Australia and lost 2-3 against England in their previous outings, thus finished at the bottom of Pool B table with just one point from three matches.
Earlier in the day, world champions Australia and England played out a 2-2 draw in their final pool engagements.
Dylan Wootherspoon (33rd minute) and Blake Govers (42st) scored for Australia, while Liam Ansell (4th) and Phil Roper (54th) found the net for England.
Having finished at the bottom, India will now play the leaders of Pool A in the quarter-finals on Wednesday, while Pool B's top-placed Germany (7 points) will take on the last team of Pool A.
Pool A standings will be decided on Tuesday after the final round matches between Argentina-Spain and Belgium-Netherlands.