'Winning Asian Championship Trophy is a Diwali gift to the Indian soldiers.'
'The Indian soldiers, who are safeguarding our borders, would have definitely enjoyed this medal more than any other medal.'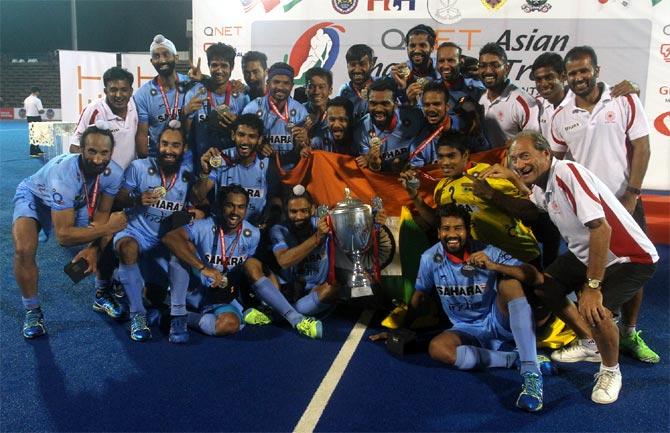 IMAGE: The Indian hockey team celebrate after winning the Asian Championship Trophy title. Photograph: Hockey India
India hockey captain P R Sreejesh on Tuesday dedicated the Asian Championship Trophy triumph to the Indian soldiers martyred in the Uri attack and their families, saying it's a Diwali gift to those who lost their lives while safeguarding the country.

"Winning Asian Championship Trophy is a Diwali gift to the Indian soldiers. The Indian soldiers, who are safeguarding our borders, would have definitely enjoyed this medal more than any other medal," Sreejesh said in Bengaluru, after arriving from Kuala Lampur.
- Light a candle for the Uri attack martyrs

India beat Pakistan 3-2 in a fiesty and high-speed encounter in the final of the fourth Asian Champions Trophy to win the title for the second time in their history.

"It is also a Diwali gift to those kins of martyred soldiers who lost their lives in Uri attacks carried out by cross-border terrorists," the Indian goalkeeper said.

The army base, located barely a few kilometers from the Line of Control (LoC) and about 70 km from Srinagar, was subjected to the brazen attack by four terrorists on September 18, causing heavy casualties in the Dogra regiment.

Asked about the emotions running through the players while playing the final against Pakistan, Sreejesh said, "Yes, a lot of emotions run through the Indian players when they play against Pakistan. However, the players nowadays tend to focus more on the on-field battle than off-field issues," he said.

The India skipper claimed that the players did not let emotions get to them and shut themselves off the outside world.

"The players did not let their emotions take them over. The tournament was more about winning the title and performances," he said.

The players also stayed away from social media to avoid controversies, especially when India was playing Pakistan.

"I think that was the best factor, apart from these players. It is a team with several youngsters, but they showed maturity on the field. We dominated this tournament," he said.

"It was a different feeling this time," he said.

"Of the seven matches, we won six and drew one. That shows how good we are at the Asia level. That's how we prepared for the league match against Pakistan," he added.