Indian football saw a big jump in the FIFA rankings on Thursday, rising 24 places to go up to 147 spot.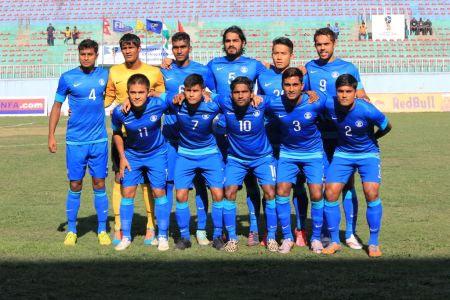 India drew with Nepal in their 2018 FIFA World Cup football qualifying Round 1 second leg match to advance to the second round on a 2-0 aggregate in Kathmandu last month, following which, they gained 26 points to enjoy a steep climb.
Bhutan jumped 46 places from the foot of the FIFA rankings to 163rd after recording their first ever World Cup qualifying victories.
The Himalayan nation beat Sri Lanka 1-0 in Colombo and 2-1 in Thimphu last month to advance to the second round of Asian qualifying and, after reaching their highest ranking, will be among the fourth seeds for Tuesday's draw.
Anguilla replaced Bhutan as FIFA's 209th and lowest ranked international side after losing 8-0 on aggregate to Nicaragua in the first round of CONCACAF World Cup qualifying last month.
Iran, Japan, South Korea, Australia, United Arab Emirates, Uzbekistan, China and Iraq were confirmed as the top seeds for the Asian draw, where 40 teams are split into eight groups of five in the latest stage of Asia's long road to Russia 2018.
At the top of the FIFA rankings, World Cup winners Germany remain first and Argentina second, but Belgium moved above Colombia into third after their Euro 2016 qualifying wins over Cyprus and Israel last month.
Brazil went fifth after they continued their resurgence under Dunga with a 3-1 friendly win in Paris against France and 1-0 success over Chile in London.
France (11th) and Italy (13th) dropped out of the top 10 with Switzerland (ninth) and Spain (10th) moving back in.
Top 10 rankings (last month's position in parentheses)
1 (1) Germany
2 (2) Argentina
3 (4) Belgium
4 (3) Colombia
5 (6) Brazil
6 (5) Netherlands
7 (7)Portugal
8 (9) Uruguay
9 (12) Switzerland
10(11) Spain
Asian seedings
Top Seeds
Iran (40)
Japan (50)
South Korea (57)
Australia (63)
United Arab Emirates (68)
Uzbekistan (73)
China PR (82)
Iraq (86)
Second seeds
Saudi Arabia (95)
Oman (97)
Qatar (99)
Jordan (103)
Bahrain (108)
Vietnam (125)
Syria (126)
Kuwait (127)
Third seeds
Afghanistan (135)
Philippines (139)
Palestine (140)
Maldives (141)
Thailand (142)
Tajikistan (143)
Lebanon (144)
India (147)
Fourth seeds
East Timor (152)
Kyrgyzstan (153)
North Korea (157)
Myanmar (158)
Indonesia (159)
Turkmenistan (159)
Singapore (162)
Bhutan (163)
Fifth seeds
Malaysia (164)
Bangladesh (167)
Hong Kong (167)
Yemen (170)
Guam (175)
Laos (178)
Cambodia (179)
Taiwan (179)
Image: The Indian players pose for photograph before the start of the match against Nepal

Photograph: AIFF media