A medal trickled in from the wrestling arena with Divya Kakran winning bronze in the women's 68kg category.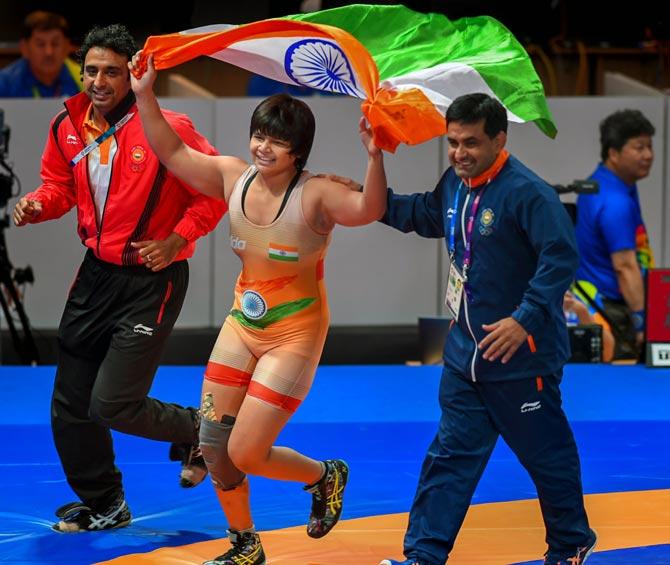 An athlete not old enough to grasp the enormity of his feat struck gold, a seasoned but scarred pro found his silver lining and a man who takes the sport as a hobby collected a bronze as shooters dominated India's medal haul on Day 3 at the Asian Games on Tuesday.
Sixteen-year-old Saurabh Chaudhary, son of a farmer, became the youngest Indian shooter to strike gold with a Games record of 240.7 in the 10 metres air pistol event in a field of Olympic and World champions, the one in which lawyer-cum-marksman Abhishek Verma (219.3) picked up a bronze to justify his hobby in Palembang.
At the end of competition on Day 3, India was placed seventh in the medal tally with three gold, three silver and four bronze.
"I did not feel any pressure. It doesn't help," said Chaudhary, a class XI student who picked up the sport only three years ago, when asked about the competition that included World champion Tomoyuki Matsuda of Japan and Jin Jong-oh from South Korea, the multiple Olympic and World champion.
Then came Sanjeev Rajput, a life and career scarred by allegations of rape by a woman he was in a relationship with. The 37-year-old, with his silver in the 50m rifle 3 positions event, continued his efforts of regaining a sense of at least professional normalcy.
In normal circumstances, it would have counted for a mild disappointment given that he led after the kneeling and prone rounds. But on Tuesday, Rajput expressed hope that he would secure a job, something he lost after the allegations were made.
"I hope to get a job now. Let's see," said Rajput.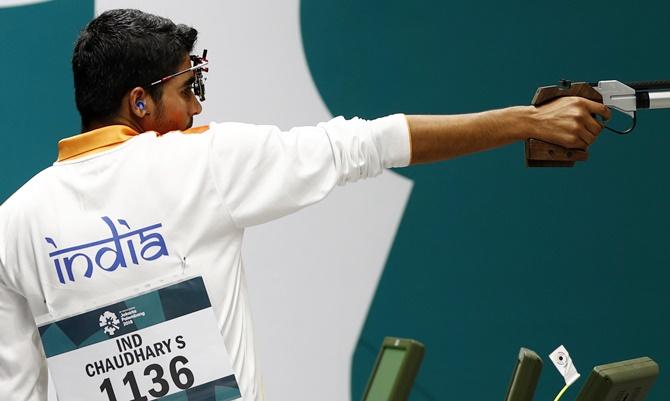 A medal trickled in from the wrestling arena in Jakarta with Divya Kakran winning bronze in the women's 68kg category.
The maiden bronze secured in Sepak Takraw remained just that after India lost the semi-final to powerhouse Thailand in Palembang.
Speaking of securing medals, one was assured in combat sport wushu. N Roshibini Devi advanced to the semi-finals in the women's 60kg Sanda event in Jakarta.
The Indian men's and women's kabaddi teams also secured emphatic wins against their respective opponents to qualify for the semi-finals. The men's team bounced back from the shock 23-24 defeat to South Korea to beat Thailand 49-30 in its fourth and final Group A match. It had beaten Bangladesh 50-21 and Sri Lanka 44-28 before losing to South Korea.
In the women's competition, India played two matches and emerged victorious in both to top Group A with an all-win record and qualify for the semi-finals.
In the first match of the day, the Indian women's team defeated Sri Lanka 38-12 before trouncing Indonesia 54-22 in its final group match.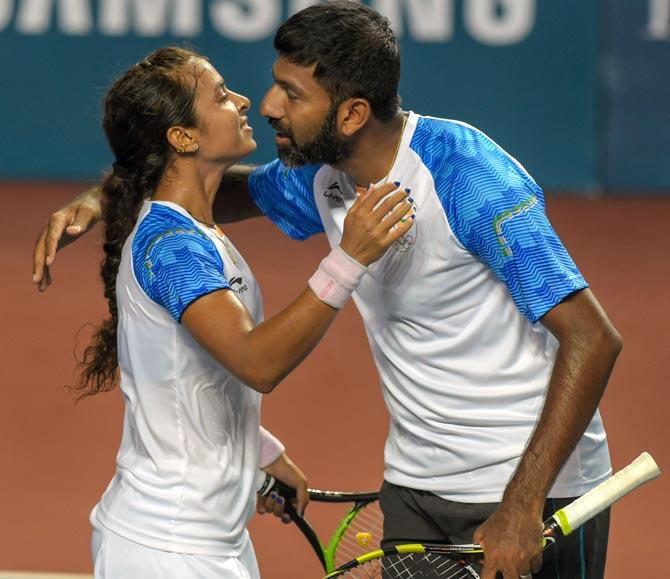 On the tennis courts of Palembang, top seeds Rohan Bopanna and Divij Sharan breezed into the men's doubles quarter-finals while Ankita Raina entered the last eight of the women's singles.
There weren't disappointments too, the biggest of them being star gymnast Dipa Karmakar, who failed to make the final of her pet vault event, the one which brought her into national limelight after a fourth place finish at the Olympics. She, however, made the balance beam final with a seventh place in the qualifying round.
The heartbreak moment of the day was swimmer Virdhawal Khade missing a medal by one hundredth of a second in the 50m freestyle event. Khade improved his national record but ended fourth with a timing of 22.47s.
The Indian women's volleyball team slumped to its second consecutive defeat, losing 0-3 to Vietnam in a Pool B preliminary match. The Indians gave a good fight to their opponents in the first two sets before losing the encounter 18-25, 22-25, 13-25 that lasted 66 minutes.
Also, the women's handball team's campaign ended with a fourth successive defeat. India lost 19-49 to North Korea in their final Group A match and bowed out of competition without locking any points.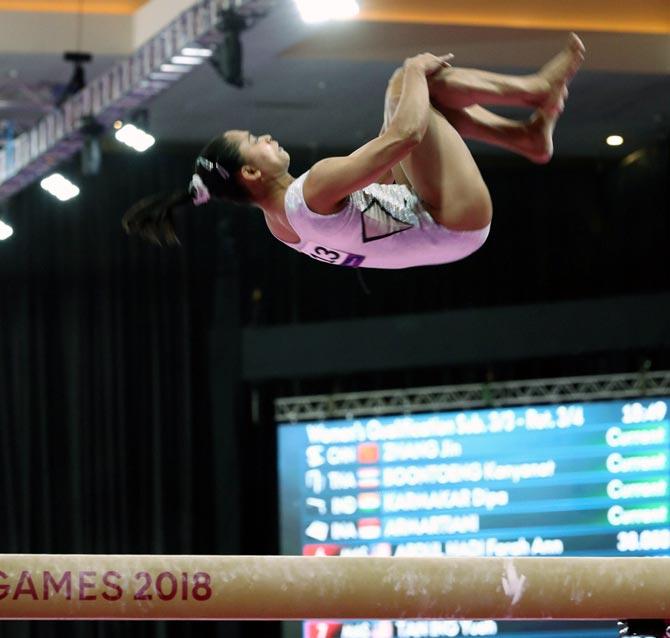 Four Indian players scored a hat-trick each as the women's hockey team mauled lowly Kazakhstan 21-0 to notch its second consecutive win.
Goals rained thick and fast in the Pool B match with as many as 10 Indians entering their names on the score-sheet.
The country is also assured of at least four medals in wushu, all but one of the competitors reaching the semi-finals.
Five Indians took the field in different categories of sanda competition and four won their respective events to be assured of at least a medal each.
Naorem Roshibini Devi, Santosh Kumar, Surya Bhanu Partap Singh and Narender Grewal were the wushu players to taste success in Jakarta.
Dattu Baban Bhokanal qualified for the men's single sculls final round while the men's lightweight four team also made it to the title race in the rowing competition.