The 21-year-old from Bengaluru raced along side Bruno Senna, nephew of the late great Ayrton Senna.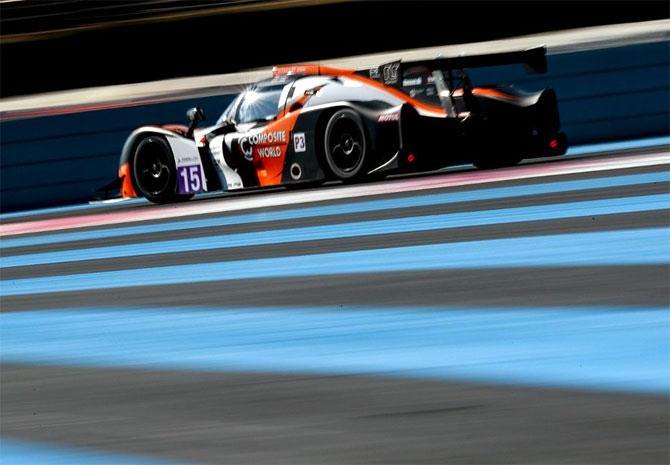 Indian racer Arjun Maini made a strong start to his highly-anticipated debut in the European LeMans Series, recording the second fastest laptime in the qualifying session of the race, in Le Castellet, France.

The laptime set by Arjun was a mere 0.3 slower than the fastest laptime overall.
The RLR Msport team also made their debut in the hotly-contested LMP2 class and despite a damper issue preventing them from qualifying higher than 11th during the weekend's qualifying session, the team ended the weekend with a strong 8th overall.

The 21-year-old from Bengaluru raced along side Bruno Senna, nephew of the late great Ayrton Senna, and John Ferano.

Arjun's pace throughout the weekend was quite remarkably as he managed an overall second during the weekend's free practice session. The opening race was run for a duration of four hours with over 40 cars present and the JK Tyre backed driver coped well with the steep learning curve.

"It's the first time I have raced in this format (endurance racing) and I managed to adapt quite quickly. The team did a great job with the car and Bruno was very helpful in terms of adjusting my driving style from Formula cars to Prototypes," Arjun said.

"John drove a good stint as well and he is improving rapidly. 8th is definitely a strong foundation to build upon and if we can improve on a consistent basis, I have no doubt that we will be fighting towards the front of the grid."

The next round of the championship is scheduled for Monza in a month's time.
Srikanth slips to 8th, Dani jumps 22 spots to 89th in BWF ranking
Former world number one Kidambi Srikanth slipped one place to be at the eighth spot but young Harsheel Dani jumped 22 places to reach the 89th position in the latest BWF ranking released.
Dani's ranking was boosted by his title win at the Dutch International.
Sameer Verma, who had reached the quarterfinals at Singapore Open last week, improved a place to reach the 15th spot, while former Commonwealth Games champion Parupalli Kashyap also improved three places to reach the 39th position.
Lakshya Sen, who had recently had a final finish at the Polish Open, too, surged two places to be at 71st spot.
B Sai Prraneeth and H S Prannoy held on to their 20th and 21st spot respectively, while there was no change in the ranking of P V Sindhu and Saina Nehwal, and they were static at the sixth and ninth spot.
Drug testing methods stuck in the 1970s, says former WADA head
Drug testing methods in sport are still rooted in the 1970s and better technology is needed to catch more than "dopey dopers", former World Anti-Doping head David Howman said.
Speaking at a conference organised by the Partnership for Clean Competition (PCC), Howman told delegates there had to be more effective systems.
"We all know that urine analysis has not advanced much," said the New Zealander, who left the World Anti-Doping Agency (WADA) in 2016 and is now chairman of the Athletics Integrity Unit.
"We're still in a position where we're getting the same number of positive cases each year, and many of them are in the category of what I call the 'dopey dopers' - the inadvertent dopers, or the ones who are just darned stupid."
Howman, a lawyer, said he had been reproached in his time at WADA by scientists for not considering more innovative technology.
"We've worked out other ways of doing forensic science in terms of solving crime. Why aren't we doing something more innovative?" he told Reuters.
He mentioned thumb- or finger-pricking tests, which other experts said could become painful over time and were also a sensitive issue for athletes using their hands, or airport-security-style scanning.
A later presentation discussed capillary collection devices, which are less invasive than venous sampling.
Matthew Fedoruk of the U.S. Anti-Doping Agency (USADA) said such alternative methods were being tested but urine samples remained the 'gold standard'.
Howman, who explained that he was trying to provoke and challenge, said the main thing was to look at the latest technology from an anti-doping standpoint.
"We're still doing something that was done in the 1970s. How many of you turn on the wireless? That's what we were doing in the 1970s. How many have got a phone on a cord? We're stuck when it comes to anti-doping process," he said.
Dope tests at the Olympics were introduced in 1968, with WADA founded in 1999.