Sania and Hingis lifted their eighth trophy of the season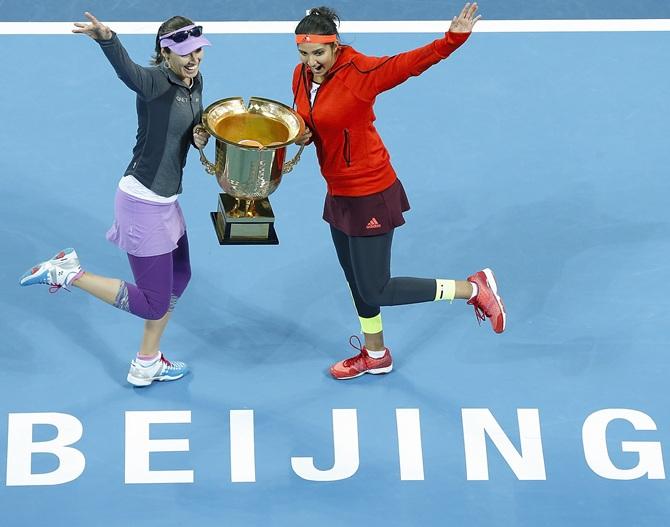 IMAGE: India's Sania Mirza, right, and Martina Hingis of Switzerland look elated after winning the womens's doubles final against Hao-Ching Chan and Yun-Jan Chan of Taiwan. Photograph: Lintao Zhang/Getty Images
Extending their unbeaten record, India's Sania Mirza and Switzerland's Martina Hingis lifted their eighth trophy of the season and fourth in a row, winning the WTA China Open, in Beijing, on Saturday.
'Sania Mirza is an inspiration but singles are the real deal'
The top seeds faced stiff resistance from sixth seed Taipei girls Hao-Ching Chan and Yung-Jan Chan before winning 6-7 (9), 6-1, 10-8 in the final which lasted one hour and 40 minutes.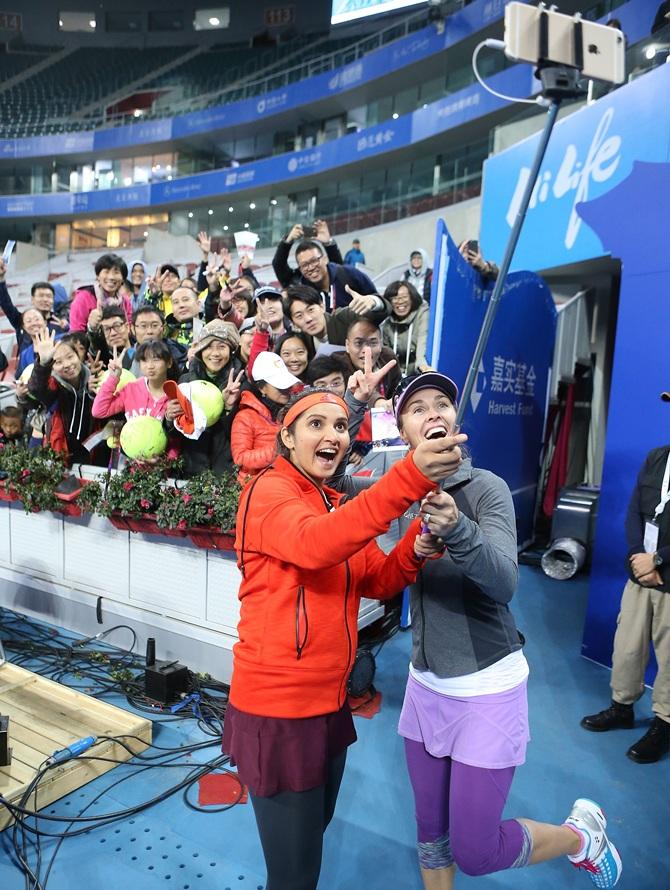 IMAGE: India's Sania Mirza, right, and Martina Hingis of Switzerland take a selfie with fans. Photograph: Lintao Zhang/Getty Images
In the match tie-breaker, the two pair were going neck and neck and the score was 7-7 at one stage but Sania and Martina won three of the next four points to clinch the issue.
It was fourth title in a row for the Sania-Martina pair.
In a remarkable run, they have dropped only two sets in their last 17 matches in four tournaments.
It was ninth title for Sania in the 2015 season and eighth with Swiss great Martina.
They had won titles at Indian Wells, Miami, Charleston, Wimbledon, the US Open, Guangzhou and Wuhan before China Open victory.