'Thanks to all those who prevented me from retiring; I was very close to never playing again and, well, here I am.'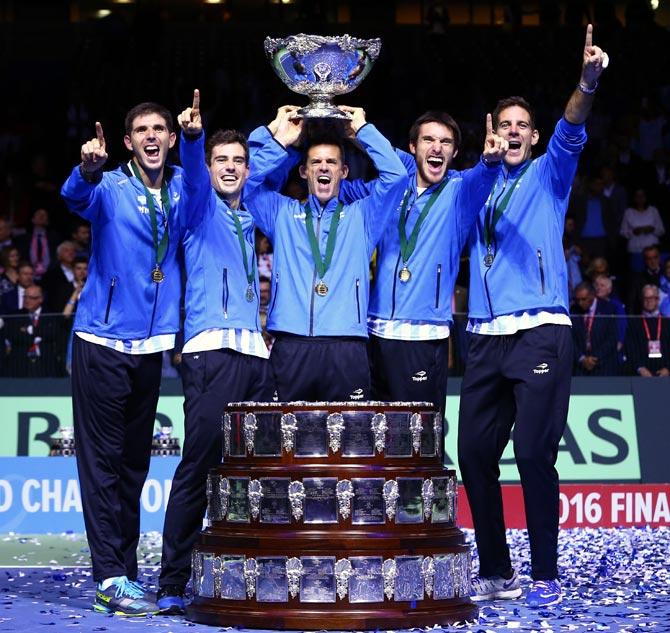 IMAGE: Argentina's players celebrate after winning the Davis Cup. Photograph: Antonio Bronic/Reuters
Juan Del Potro's tennis career looked over after a second wrist injury sidelined him for the best part of two years in 2014 but the Argentine enjoyed one of his greatest moments when he led his nation to their maiden Davis Cup title on Sunday.

The 28-year old from Tandil, whose injury woes started in 2010, staged an astonishing comeback from two sets down to beat Croatia's Marin Cilic 6-7(4) 2-6 7-5 6-4 6-3 and haul Argentina back on to level pegging in the final against the Balkan nation.

Roared on by several thousand frenetic away fans in the Zagreb Arena, Federico Delbonis then blew away Ivo Karlovic in straight sets in the decisive rubber.
IMAGE: Argentina's Juan Martin del Potro, centre, reacts after winning the final of the Davis Cup. Photograph: Marko Djurica/Reuters
But all the glory went to Del Potro, who revealed after the match with Cilic that he had played through the fifth set with a broken finger and that he came close to hanging up his racket during a lengthy spell on the sidelines.

"My finger is broken but I won't mind one bit if we win the Davis Cup," he told a news conference while keep an eye on a big screen as Delbonis was in the middle of dismantling Karlovic.

"It happened in the fifth set when I tried to catch a serve from Cilic which was out.

"This was an emotionally exhausting match and one of the biggest wins of my career. Thanks to all those who prevented me from retiring; I was very close to never playing again and, well, here I am."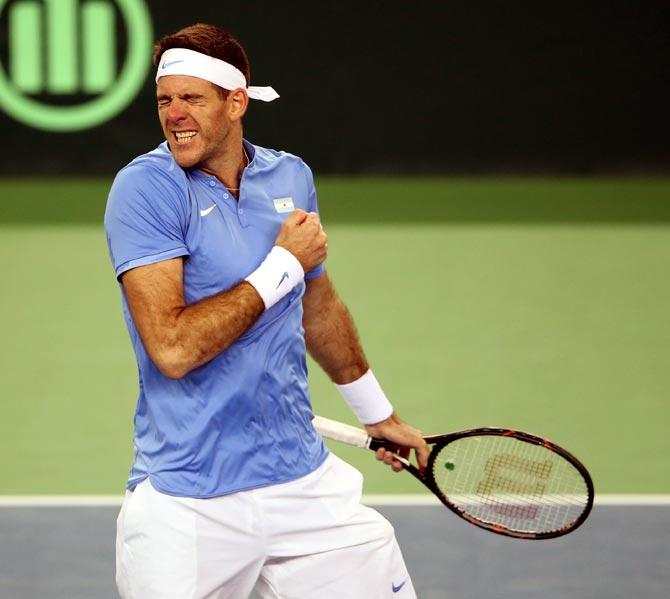 IMAGE: Juan Martin del Potro reacts after winning his match against Croatia's Marin Cilic. Photograph: Marko Djurica/Reuters
Cilic made the brighter start against his close friend and on-court nemesis, who has now won nine of their 11 meetings in all competitions, including the last six.

Looking weary and moving around with some difficulty, Del Potro looked out for the count after Cilic clinched the first set tie-break and then raced through the second set.

But the Argentine kick-started his astonishing comeback with a somewhat fortuitous shot between his legs early in the third set, when a Cilic lob appeared to be out of his reach.

He built up his momentum brick by brick, as he rediscovered his lethal forehand and started pouring in the aces, with a frustrated Cilic slamming his racket against the ground in the closing stages of the fourth set.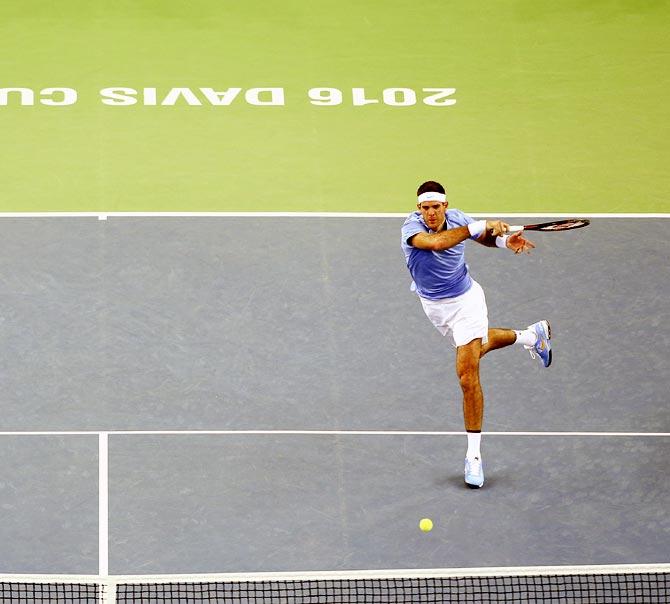 IMAGE: Juan Martin del Potro in action. Photograph: Antonio Bronic/Reuters
Having fallen behind again when he dropped serve early in the fifth, Del Potro hit top gear when he needed to most, blowing away the Croatian in a rip-roaring finish to set the stage for a thrilling climax.

"I started playing much better in the third set, my forehand got better and so did my baseline shots," he said, still showing no emotions after keeping a steely gaze throughout the titanic tussle with Cilic which lasted nearly five hours.

"I was positive all the time and did not let my head drop after going two sets down."