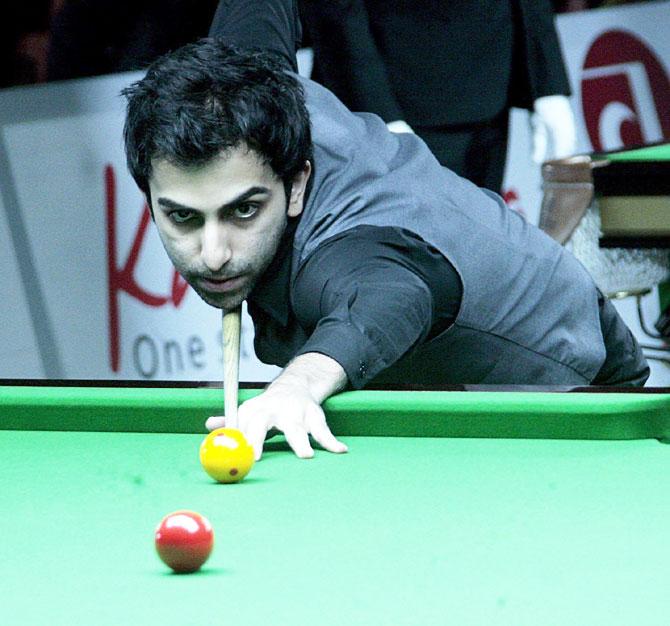 IMAGE: Indian cuiest Pankaj Advani plays a shot during the IBSF World Billiards Championship quarter-final in the 500 long-up format in Bengaluru on Wednesday. Photograph: PTI
Reigning national Champion Sourav Kothari pulled off a massive upset by shocking 10-time world champion Pankaj Advani in the quarter-finals of the IBSF World Billiards Championship in Long-Up format in Bengaluru on Wednesday.
Kothari played his heart out and didn't allow Advani a comeback, prevailing 1000-644 in his last and 38th visit.
After his ninth visit, Sourav was trailing 256 against Advani's 352 but the national champion posted a break of 181 in his 18th visit to race past Advani.
Advani spilled a good opportunity in his 19th visit as he could only script a break of 65 points, not enough to get past Kothari.
The 28th visit of Kothari ended the hopes of Advani as the national champion took a substantial lead with a break of 293 points. His score read 949 against Pankaj's 538.
In his 28th visit, Pankaj could manage a break of 106 and took his score to 644, trailing 305, which literally pushed him out of the tournament.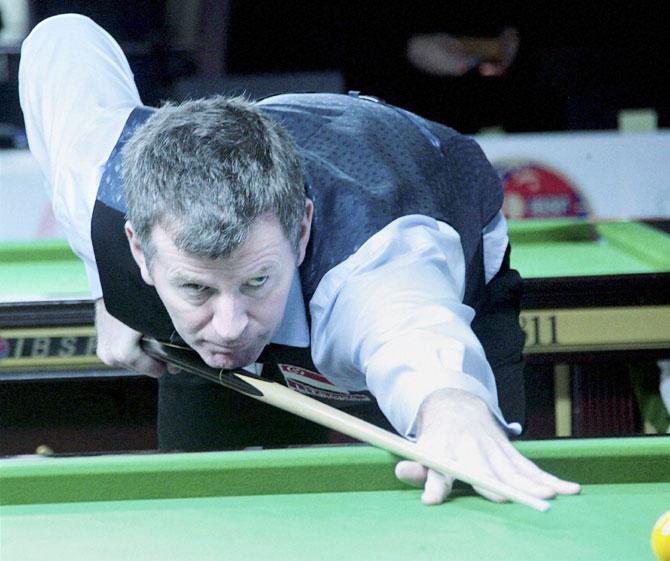 IMAGE: Singapore's Peter Gilchirst plays a shot during his match against Iranian Beat Soheil Vhedi on Wednesday. Photograph: PTI
Earlier in the day, Kothari had defeated Jaiveer Dhingra 751-432 in the last-16 stage.
Kothari was in good form and got on the job from second visit itself by posting first break of 77 followed by massive 208 in 13th visit to leave Dhingra way behind.
Though Dhingra tried to recover with a break of 89 points Kothari rapidly posted another break of 133 points to widen the gap and finally closed the proceedings to step into the quarter-finals.
Advani had stormed into the quarters after defeating compatriot Alok Kumar 751-547 in a last-16 match.
In another quarter-final, multiple-time world champion Peter Gilchrist made his way into the semi-finals by defeating the Englishman Robert Hall in an almost one-sided affair.
Robert in first two visits scored two breaks of 48 and 45 followed by 91 to score total 186 but after that Gilchrist ruled with breaks of 164, 83, 93, 144, 13 and 87 to take a giant leap towards win.
Hall tried to make a comeback but his break ended at 131 and Gilchrist posted break of 97 followed by another 100 to close the proceedings 1000-347 and confirm his berth in the semis.