East Bengal rode on Chidi Edeh's first-half strike and moments of luck to beat Pune FC 1-0 in a Round Three I-League fixture, in Kolkata, on Monday.
Man of the match Chidi scored in the 28th minute from a rebound, after Pune's Srikanth Ramu failed to clear, placing the ball to the right of goalkeeper Shahinlal Meloly.
- Bagan struggle to their first win of the season
East Bengal have seven points, while Pune have six from three matches each.
- I-League: Easy win for Churchill Brothers
Besides Chidi's match-winner it was East Bengal goalkeeper Abhijit Mondal who stood tall before pulling out in the second-half after picking an injury.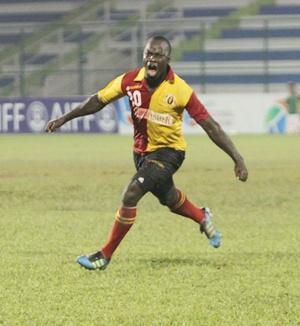 In fact, the scoreline could have easily read 3-0 in favour of East Bengal at half-time, but two misses by Manandeep Singh and Chidi meant that the hosts had to remain content with just the Nigerian's solitary goal.
It turned out costly for Pune FC as they missed an early goal, in the eighth minute, when Arata Izumi failed to capitalise on a Karma Tsewang cross.
Thereafter, East Bengal dominated the show, giving Pune FC the jitters.
In the very first threat for the visitors, Penn beat Caitano Costa on the right, chipping for Manandeep Singh who went over ahead of defender Srikanth Ramu.
In another move, Penn was again on the right to find Chidi, who failed to connect from inside box.
Chidi missed an open net right after the break when he misfired from an advantageous position.
Barring one move by East Bengal, it was Pune FC who stole the show in the last 45 minutes only to see luck favoring the home side.
"We were under immense pressure in the second half... There were a few strokes of luck. You need luck and today we take that," East Bengal coach Trevor Morgan conceded.
East Bengal should give credit to goalkeeper Mondal for executing a fine save from Jeje's powerful right-footer in the 72nd minute.
Morgan's boys found themselves at the receiving end with all the action shifted to their box as Jeje looked at his aggressive best but only to return unlucky.
East Bengal had to replace goalkeeper Mondal after he injured his left elbow in a melee in the 78th minute.
Asked whether he would be available for their crucial November 3 fixture against Dempo, Morgan said,"We don't know yet but his elbow is swollen."
Pune coach Derrick Pereira gave credit to his boys, saying "We fought well. Clearly we were a better side today. We had our moments. But few mistakes in the defence cost us the match."
Photograph: AIFF Media