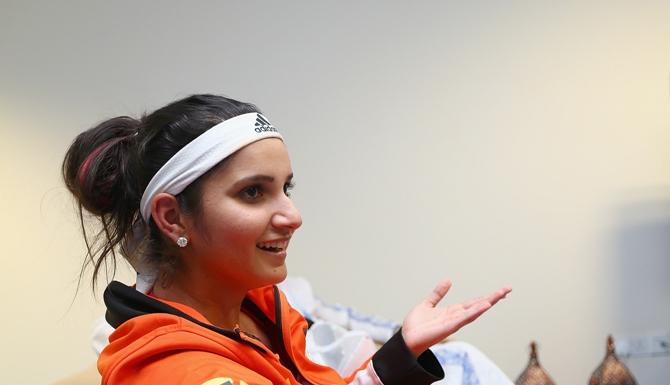 IMAGE: India's Sania Mirza makes a point. Photograph: Getty Images
Sania Mirza has said it is too early to take a call on who she would partner in mixed doubles at the Rio Olympic Games.
The confident Sania though believed the best possible team should be fielded in the multi-sport extravaganza.
"Who knows who is going to be healthy and who won't be healthy. The most important thing people should know is that the best team should be put forward. Now, I don't think is the right time to take that call," Sania told reporters at the launch of Adidas PureBOOST X, a running shoe made for women.
Ahead of the 2012 London Olympics, there was a controversy over selection of the Indian doubles team. Asked about her preparation for Rio Games, Sania said she is at the moment focused on tournaments preceding the mega event.
"I just played a final on Sunday so I am not preparing at this very point because I have been playing six weeks in a row. I was in three different countries in the last three days, and I fly back to Dubai tonight again and we play on Tuesday in Doha, so I have a few days to hit," he said.
'I am always playing for the nation'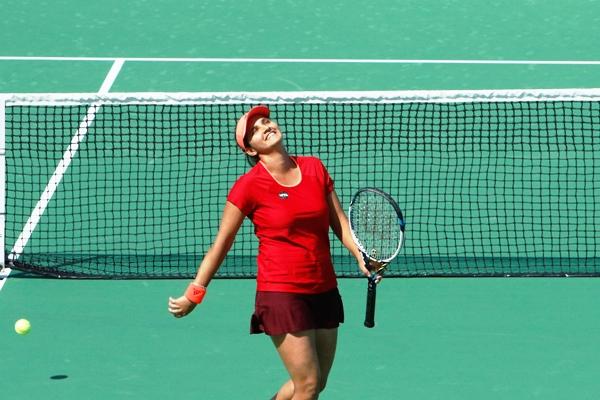 IMAGE: India's Sania Mirza reacts after a point. Photograph: Getty Images
Sania said she always plays for the country be it the Olympics or Wimbledon.
"I am always playing for the nation. People mistake that we don't play for the nation just because we don't play as a team. We are always representing India and it doesn't matter if it's at Wimbledon or Olympics. Olympics does bring a bit more patriotism because everybody follows it under the Indian flag, quote unquote!" she said.
Sania said, unlike other sports, tennis players do not have the luxury to focus on events happening four months from now.
"We don't have the luxury like other sports to focus on something that happens four months from today. But when we get there, rest assured we are going to try and win a medal like every other time. But for now, we are looking ahead. It is at the back of our heads. Its not something right in front of us," she said.
'Hingis and me have shared so many emotions together'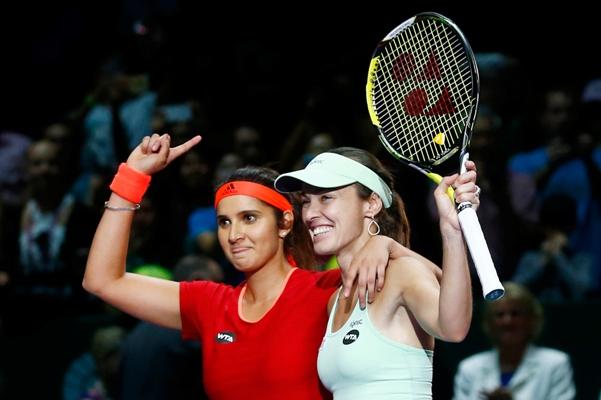 IMAGE: Sania Mirza of India and Martina Hingis of Switzerland celebrate winning a WTA tournament. Photograph: Getty Images
Asked what was the secret behind her super success in doubles with Martina Hingis, Sania said they give their best when under pressure.
"Usually, in partnerships, there is one player who plays better and the other doesn't. In this I feel both of us play very well under pressure and that's what makes it difficult to beat us. More often than not we come through. That is our biggest strength," she said.However, both still have few weaknesses and work on them to improve their game, Sania said.
She said both Hingis and herself spend too much time together and it is very difficult not to get along well.
"We spend so much time together. We have shared so many emotions together. Its inevitable and very difficult to not get along well.
"Today she is probably one of the closest persons to me; not just geographically where she is all the time, but also the way she understands me, she knows how I react to situations and vice-versa as well. So, I m glad that I got to know her like that," she said.
'We are aware that the next number is 44'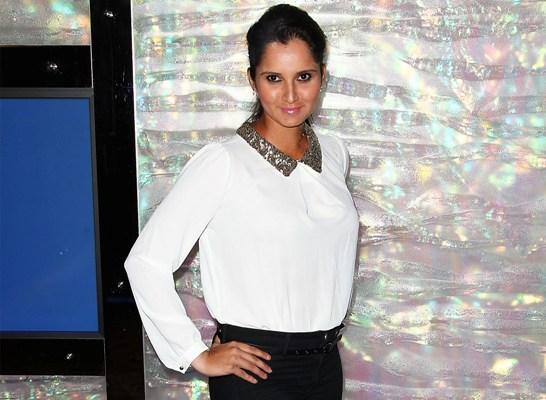 IMAGE: India's Sania Mirza poses for the shutterbugs at an event. Photograph: Getty Images
Sania said even if they fail to keep the winning streak alive, it will not affect their quest to win matches.
"Hopefully, we can keep the streak alive but if it doesn't, then it has already been an unbelievable streak for us so it's not going to change anything, but the goal is to try and win every time we step on the court," she stated. Sania also said the streak was never on her and Hingis' mind.
"When we started winning and it was not something that we were consciously chasing for, we were just trying to win every tournament that we played and that's the goal still," she said.
"We are aware that the next number is 44, and we are aware that we can achieve that in Doha, but having said that it's a tough tournament and there are no guarantees in sport. We will try our best and not put any pressure on ourselves because we have enough of that already," she said.