'I was a little bit nervous, a little bit tired also in my legs. I wanted to play better, and I could not'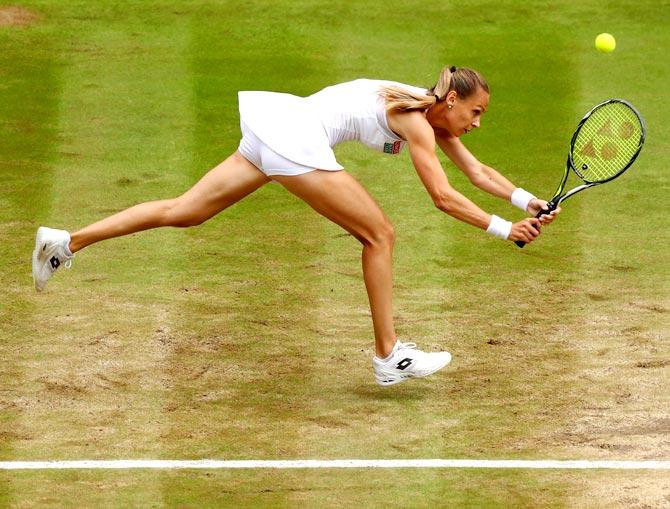 IMAGE: Magdalena Rybarikova in action. Photograph: Michael Steele/Getty Images
Magdalena Rybarikova, who was crushed by Garbine Muguruza in the Wimbledon semi-finals on Thursday, said she was tired and nervous going into the match and had no idea how to respond to her opponent's superb shot-making.
But the 87th-ranked Slovak - who has described her Wimbledon adventure as a "fairy tale" - said she was still happy with her overall tournament performance.
"If somebody told me before the tournament I'd to be in semi-final, I for sure would take it," she said.
It was nonetheless a sobering end for the 28-year-old as she was demolished 6-1, 6-1 by Spaniard Muguruza in little over an hour.
"I was a little bit nervous, a little bit tired also in my legs. I wanted to play better, and I could not," she said. "I had no idea what to do a little bit on the court."
"I have to say Garbine played an amazing match - I mean, I've never seen her play that well. She was playing very fast and every stroke was so long," she said.
"I could do almost nothing today."
It had been a dream run for Rybarikova, who was out of action for the second half of 2016 due to wrist and knee surgery. The last time a woman ranked lower reached a Wimbledon semi-final was in 2008 - China's Zheng Jie, ranked 133.
"The crowd is amazing, they have been amazing all the matches, I have enjoyed playing here so much," she said. "I wanted to give them more, but I didn't and I was sad for them."