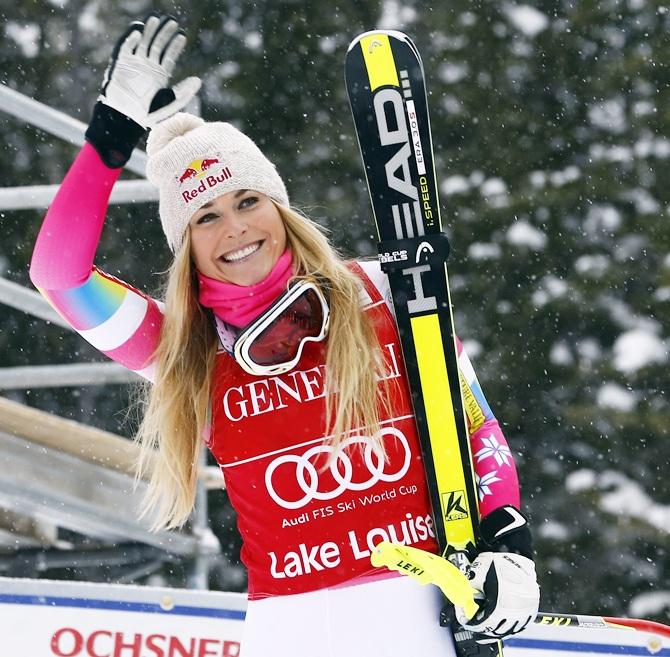 Image: Lindsey Vonn of the USA takes 1st place during the Audi FIS Alpine Ski World Cup Women's Downhill. Photograph: Christophe Pallot/Agence Zoom/Getty Images
Lindsey Vonn put the 22 hardest months of her career behind her with a 60th World Cup victory in a downhill at Lake Louise on Saturday and said she had always believed in her ability to come back.
Tiger Woods is an inspiration, says girlfriend Lindsey Vonn
The victory was her first in nearly two years.
"I've never had that sort of setback like I've had the last two years," said the American. "I always believed in myself to come back but I never really knew until today. And today I'm finally back at the top. ... It's an amazing day."
She revealed her secret weapon as she fought to get back to the top of the slopes -- her boyfriend and golf star, Tiger Woods.
"Tiger and I both went through rehab with our injuries at a similar time, so we were both in the gym together and pushing each other and motivating each other, both frustrated," Vonn said.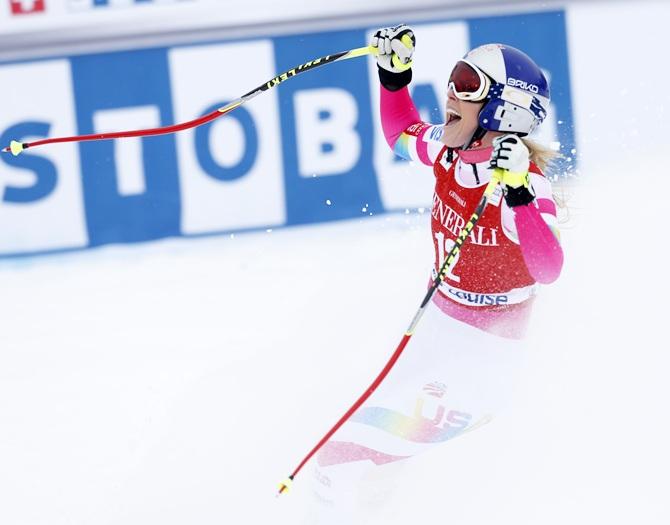 Image: Lindsey Vonn of the USA in action. Photograph: Christophe Pallot/Agence Zoom/Getty Images
A broken shin and two knee operations were not enough to spoil Vonn's class and she could not have chosen a better place to return than Lake Louise, where she clinched her 15th victory at the resort. "My first victory in Lake Louise (in 2004) I was more surprised and happy. It's a completely different feeling," said the girlfriend of golfer Tiger Woods who had not raced at World Cup level for 349 days.
It only took her a dress rehearsal in Friday's first downhill, in which she finished eighth, to find her marks.
"Every day's gotten a little bit better here. I'm finally back when I'm confident and pushing my limits," she said. "I haven't had that until today. It's finally where it should be."
While warning not to expect too much just yet, the four-time World Cup champion is now only two victories short of Austria's Annemarie Moser-Proell's record of 62 World Cup wins.
"It definitely gives me a lot of confidence for the rest of the season," Vonn said. "The record is always something that I kind of think about but it's not something that motivates me in the summer or when I'm working hard in my gym.
"I'm concentrating on skiing well tomorrow and keep improving," said Vonn, who will be among the favourites in Sunday's Super-G.
Her comeback was all the more of a celebration as she found herself on the podium with two US Ski Team mates, Stacey Cook and Julia Mancuso, a first top-three finish for Americans in the World Cup.
"I think our team is very strong right now," said Vonn, noting the prospect of the world championships at home in Vail in February would be a special motivation.