India hockey captain Dhanraj Pillay hailed Sahara India's decision to sponsor the senior and junior national teams for eight years, and urged his team mates to continue playing with renewed vigour in the Champions Trophy next month.
Pillay, who was felicitated in Mumbai, at the Khar Gymkhana, on Wednesday evening along with team mates Viren Rasquinha and Vikram Pillay, following the Indian team's back-to-back triumphs in the Hockey Australia Men's Challenge in Sydney and the four-nation tournament in Hamburg, said, "It is a fantastic gesture on the part of Sahara to sponsor our team. This will only benefit the game in the country."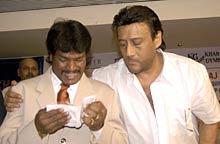 After addressing the gathering, Pillay got emotional and broke down while receiving a memento and a cash award of Rs 25,000 from his friend, actor Jackie Shroff.
Saying the players have developed a very good understanding among themselves, he added: "It is now up to the them [the players] to perform to their potential in the Champions Trophy next month and the Athens Olympics next year.
"I am sure we will do very well in the near future and with a sponsor to back us, we will have to give 100 per cent whenever we step on the ground."
A seminar on 'Is cricket the only sport?' was also held on the occasion. Reputed sports persons, like former World billiards champions Michael Ferriera and Geet Sethi, who was also the chief guest, badminton legend Nandu Natekar, former national table tennis champion Kamlesh Mehta, former Mumbai Ranji Trophy team captain Milind Rege and the director of Mumbai Doordarshan Kendra, Mukesh Sharma, and Shiv Sena Rajya Sabha MP Sanjay Nirupam participated in the discussion.
Pillay said "it is great to know that there are people who acknowledge our efforts but even more touching is the spectrum of people gathered here".
"To hear words of praise from the galaxy of sport stars has indeed been a great experience. I am truly honoured as I am still in the learning process," said Pillay.
Viren Rasquinha, the young Indian midfielder, said, "To be very honest I was surprised at the response when I arrived here (Khar Gymkhana). I never imagined I would meet so many legends that I have grown up watching and hearing about."
Vikram Pillay, also a midfielder, said, "It is very encouraging to know that so many sports persons are watching our every move and following every victory of ours.
"This kind of function remind us that we have to produce results when on the field so that we keep up the hopes of so many people and we just can't afford to let them down."
Photograph: DEEPAK SALVI