Kalinga Lancer notched up 7-0 win over Jaypee Punjab Warriors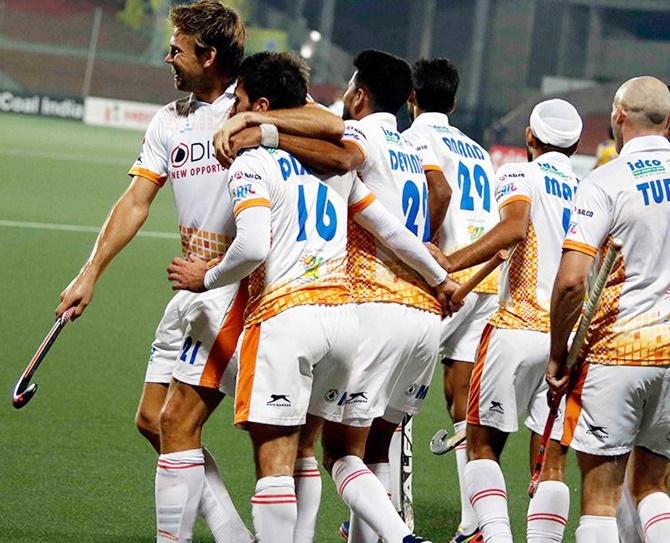 IMAGE: Kalinga Lancers celebrate. Photograph: HIL/Facebook
Kalinga Lancers displayed rampaging form as they decimated Punjab Warriors 7-0 to seal a semi-final berth in the fifth edition of the Hockey India League, in Chandigarh, on Saturday.
The home side, thus, lost its second successive match.
Kalinga Lancers have been one of the most consistent teams in the league this season and they continued their good show by getting a lead early in the game.
It was skipper Moritz Fuerste who created a PC in the 9th minute of the match but a miss trap by Adam Dixon almost seemed like the chance would go waste. But Dixon was quick to make up for the error by fetching the rebound, only to ambitiously drive into the striking circle beating defenders Mark Gleghorne and Varun Kumar to send a fiercely struck ball past in-form keeper Tristan Clemons. The visitors ended the first quarter with a strong 2-0 lead.
When the two teams met earlier in the league in Bhubaneswar, Kalinga Lancers enjoyed a narrow 6-5 win.
While Jaypee Punjab Warriors couldn't convert a goal from the seven PCs they earned this quarter, Kalinga Lancers put one past Clemons in the 24th minute. It was German stalwart Moritz Fuerste who was responsible for extending the visitors' lead to a comfortable 3-0 when he successfully converted his 7th PC of this season.
Kalinga Lancers forward Lalit Upadhyay further dented Punjab Warriors' hopes of making a comeback in the second half when he improvised an assist from Billy Bakker to extend his team's lead to 5-0 with an attractive reverse hit.
Punjab Warriors seemed like they had completely lost the plot, their defensive errors left exposed, as Kalinga Lancers went on to score yet another field goal in the 39th minute when Dharamvir Singh deflected the ball into the post after a good assist by Malak Singh from within the circle.