'It is going to be a lifelong thing for me.'
Formula One World champion Lewis Hamilton delivered a powerful message as he celebrated winning the Styrian Grand Prix in Spielberg on Sunday by raising a clenched right fist on the podium.
The clenched fist gesture is regarded as a symbol of power and solidarity within the black community.
It first leapt into sporting history when Tommie Smith and John Carlos, who won gold and bronze respectively in the 200 metres, raised their fists at the medal ceremony at the 1968 Olympic Games in Mexico City.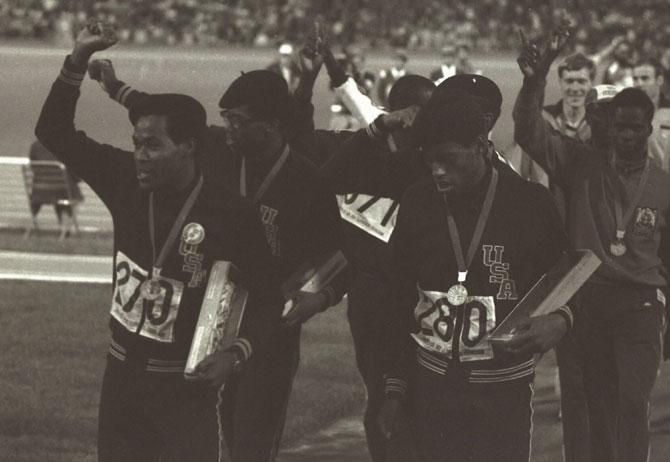 Wearing black gloves, Smith and Carlos raised their right fists as the Star-Spangled Banner was being played at the medal ceremony at the Summer Games in 1968, one of the most turbulent years in recent American history following the assassinations of American civil rights movement activist Dr Martin Luther King Jr and US presidential candidate Robert F Kennedy.
Wikipedia tells us that then International Olympic Committee president Avery Brundage, an American himself, 'deemed it to be a domestic political statement unfit for the apolitical, international forum the Olympic Games were intended to be. In response to their actions, he ordered Smith and Carlos suspended from the US team and banned from the Olympic Village.'
'When the US Olympic Committee refused, Brundage threatened to ban the entire US track team. This threat led to the expulsion of the two athletes from the Games', Wikipedia informs us.
Both athletes faced death threats and abuse on their return to the States. It took decades before Smith and Carlos were honoured for their courage to take a stand against racism.
Peter Norman, the Australian silver medalist who supported Smith and Carlos's gesture, was censured by his country's Olympic committee and not picked for the Munich Games in 1972 despite qualifying for the Games.
'In a 2011 speech to the University of Guelph,' Wikipedia says, 'Akaash Maharaj, a member of the Canadian Olympic Committee and head of Canada's Olympic equestrian team, said, "In that moment, Tommie Smith, Peter Norman, and John Carlos became the living embodiments of Olympic idealism".'
'"Ever since",' Maharaj said, '"they have been inspirations to generations of athletes like myself who can only aspire to their example of putting principle before personal interest. It was their misfortune to be far greater human beings than the leaders of the IOC of the day".'
Hamilton, who wore a Black Lives Matter T-shirt on the starting grid before the anthem of the Austrian state of Styria, again took a knee with other drivers as part of an anti-racism campaign.
'We stand together and fight,' the F1 ace said after posting on Instagram a picture of himself making the gesture on the Spielberg podium after his first win of the season.
'The team today took the knee which was just amazing to see that together we can learn, be open minded and conscious of what's going on in the world.'
The six-time F1 champion urged fellow drivers to continue their stand against racism.
'Some people were asking "How long do we have to continue to do this?" Some felt like one was enough last week, and I just had to (tell) them that racism is going to be here for probably longer than our time here,' Hamilton said.
'People of colour who are subject to racism don't have time to (just) 'take a moment' to protest and that be it. We've got to continue to push for equality and raise awareness for it,' Hamilton -- whose mother Carmen is white and father Anthony is black -- said.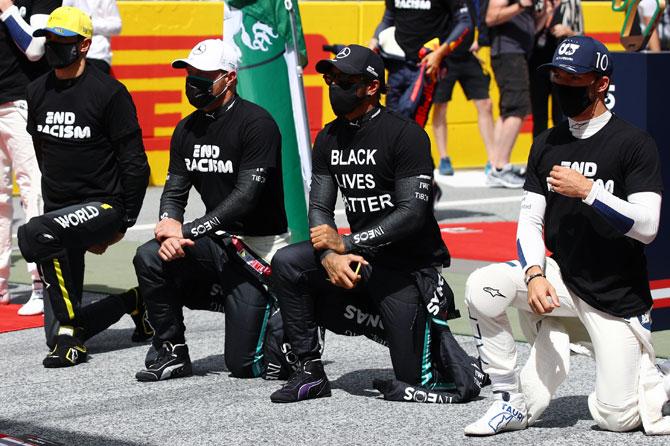 Hamilton, F1's only Black driver, was one of 14 drivers who knelt before the season-opening Austrian Grand Prix on July 5.
Hamilton, whose car's colour has changed from silver to black for the season, said he would continue to speak out.
'There has been awareness for a few weeks and what we don't need is for it to die a silent death and disappear and see no change,' he said. 'I could be the guinea pig there. I've got to keep speaking out.'
'Personally, it is going to be a lifelong thing for me.'