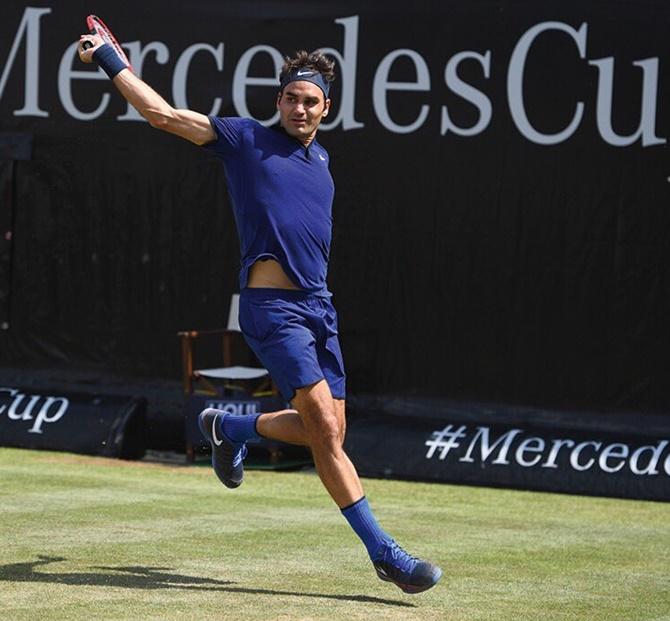 IMAGE: Roger Federer in action. Photograph: Twitter
Roger Federer slumped to a shock 2-6, 7-6(8), 6-4 loss to German veteran Tommy Haas at the Stuttgart Open on Wednesday in a disappointing comeback after the 18-times grand-slam champion missed the entire claycourt season.
Federer, who opted to take time off in order to prepare for an assault on an eighth Wimbledon crown, made a sensational start to the year by winning the Australian Open and subsequent titles at Indian Wells and Miami.
Despite a superb first set on grass, the 35-year-old squandered a matchpoint and lost his grip on the game in the oldest tour match, in terms of combined ages, since 1982 and suffered only his second loss of the season.
"I thought it was a typical grasscourt match today. Rallies weren't very long and it was decided on a serve there or a return here," Federer told reporters.
"If you don't take your chances like I didn't, leading a set and a break, you really only have yourself to blame at the end. You have to acknowledge the fact that he was a bit better. It's quite frustrating, but that's the way it goes sometimes."
"I definitely was not as sharp as I was hoping to be in maybe the big moments, or the moment when I had the lead and where I feel I should have been cruising from that moment on."
Federer squandered a matchpoint in the second set as 39-year-old Haas, ranked 302nd and in his farewell season, proved more consistent, eventually setting up a quarter-final clash against countryman Mischa Zverev.
With another victory Haas, the lowest-ranked player to beat Federer since world number 407 Bjoern Phau in 1999, will become the oldest player to reach a tour semi-final since 40-year-old Jimmy Connors in 1993 in San Francisco.
"I am speechless, of course," Haas said. "There are a lot of emotions when you are playing a close friend.
"When you come into the second set, save a match point and then come back, that always makes you very happy about a win. I am shocked myself."
Federer grabbed an early break as his attacking topspin backhand, which had served him so well earlier this year, was again on display.
Haas, a former world number two, was broken again as the Swiss served out the set after 22 minutes.
But Federer lost his focus, allowing Haas to find a way back. The world number five saved four set points and wasted a match point as the German forced a third set, where he broke his opponent early on and held on to his advantage.