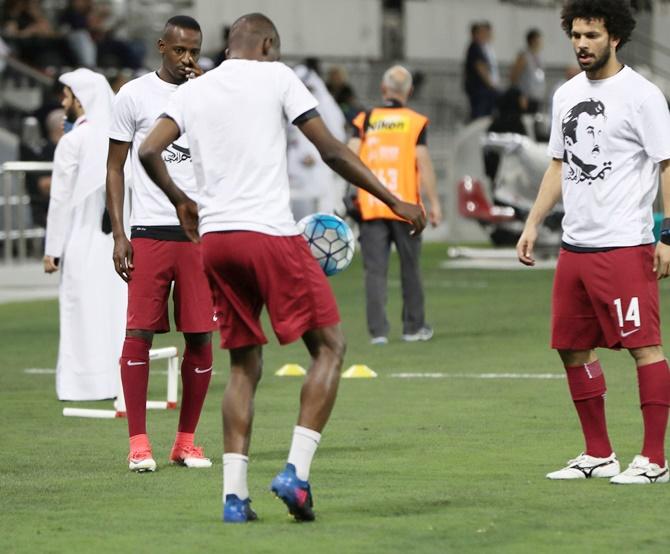 IMAGE: Qatar's players with a picture depicting Qatar's Emir Sheikh Tamim Bin Hamad Al-Thani, before their match. Photograph: Ibraheem Al Omari
World Cup 2022 hosts Qatar beat South Korea 3-2 on Tuesday to keep alive their slim hopes of reaching next year's finals in Russia as they bid to avoid becoming the first host nation to have never before qualified for the tournament.
The victory also gave a temporary reprieve to fans in a country in crisis mode, isolated by its Gulf neighbours severing diplomatic, trade and transport ties.
Players wearing Qatar's maroon shorts looked relieved at the final whistle to have secured a thrilling victory on a hot night in Doha's Jassim Bin Hamad Stadium, only their second win in eight qualifying matches for Russia 2018.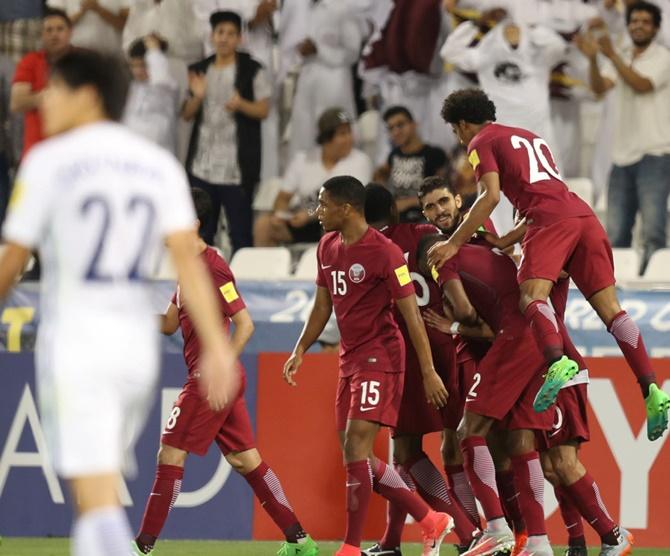 IMAGE: Qatar's players celebrate a goal . Photograph: Ibraheem Al Omari
But Qatar's national team could face disciplinary action from FIFA after players warmed up for a World Cup qualifier against South Korea in t-shirts showing support for the country's emir.
The players prepared for the crucial game in Doha wearing white shirts emblazoned with a profile portrait of Emir Sheikh Tamim bin Hamad Al-Thani.
The t-shirt was also waved by attacking midfielder Hasan Al-Haydos after he put the Qataris 1-0 ahead from a free-kick in the 25th minute.
After scoring Haydos sprinted to the touchline and held up a t-shirt to the crowd.
FIFA bans any unsanctioned political, religious or commercial messages on shirts.
Earlier this week in response to the Gulf crisis, FIFA president Gianni Infantino said football's governing body does "not interfere in geopolitics" and gave his support for the 2022 tournament going ahead in Qatar.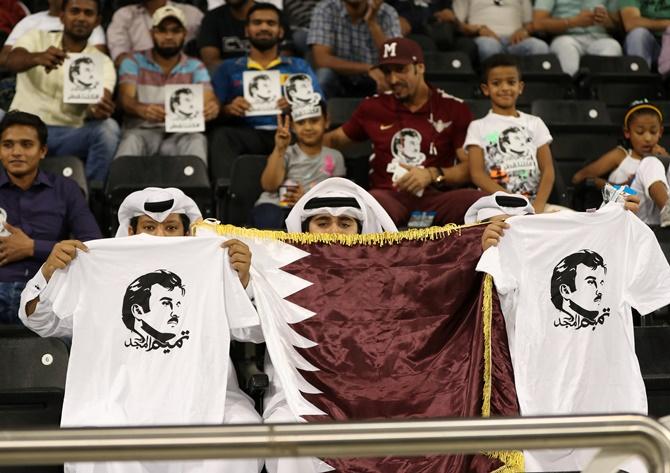 IMAGE: Fans hold t-shirts with pictures depicting Qatar's Emir Sheikh Tamim Bin Hamad Al-Thani . The t-shirts read: 'Tamim is the glory'. Photograph: Ibraheem Al Omari
Fans wore t-shirts supporting Emir Tamim Bin Hamad al-Thani, with the same images of the ruler's face that people have plastered on cars in expressions of nationalism in the face of the Saudi-led isolation of its smaller neighbour.
"It was a good match, and great for the nation," one Qatari supporter said.
Doha will stage the 2022 World Cup, but its winning bid in 2010 has caused controversy amid accusations of corruption during the bidding process and the mistreatment of migrant workers building Qatar's stadiums and facilities.
Qatar has always denied the allegations.