The Gulf Monsoon Scooter Rally, organized by Sportscraft, has become enormously popular over the years and is one two-wheeler riders from Mumbai and neighboring cities like Pune, Nashik and Kolhapur look forward to.
On July 17, Sportscraft will conduct its 22nd edition of the event and, needless to say, some of the best riders will be seen in action.
The rally, which is being sponsored by Gulf Oil for the 11th straight year, will be run along the backwoods of Navi Mumbai , and is open to all Indian-made scooters -- two-stroke, four-stroke and gearless.
Leading the challenge is defending champion Shamim Khan and five-time champion Manjit Singh Bassan.
This year too the battle for honours is likely to be between the aforementioned two. But there are many, including another former champion Rustom Patel, who lost out narrowly to Shamim Khan last year, and the likes of Kunal Rao, Tarak Daiya, Ganesh Lokhane, Freddy Elavia who could upset the calculations of the favorites.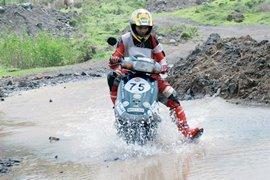 Says Gulf Oil Corporation's Ravi Chawla -- President Lube Business, "The event is being organized in order to inculcate a riding discipline among two-wheeler riders as also to give them a chance to enjoy the thrill of racing and display their riding skills."
By sponsoring events like the Gulf Dirt Track Challenge, Gulf Dirt Track National Championship, Gulf Autocross, Gulf Monsoon Scooter Rally and Gulf Foster-A-Child Rally, Gulf Oil Corporation has not only given two-wheeler racing enthusiasts and manufacturers an opportunity to display their wares, but also provided motorsport a boost.
The rally will be flagged off from Our Lady's Home, Parel, Mumbai, at 08.30 am and finish at K Star Hotel, CBD Belapur.
Sportscraft has chalked out a 75 km course, which will have two sectors -- competitive and transport. The competitive sector is around Targhar village, Navi Mumbai, which comprises gravel-laden dirt tracts, rivulets etc. and is around 23 km.
Twenty-five riders have confirmed participation and another ten are expected by the closing date for entries. They will all be vying for trophies and cash prizes.
With heavy rain expected to lash Mumbai around the time of the rally, this rally it is sure going to be tough one.
Talking about money, special cash prizes, amounting to Rs 51,000, and trophies are lined up for the best riders from Mumbai, Thane-Navi Mumbai, Pune, Nashik, Kolhapur, Vidarbha, Bhopal and Hyderabad.
To encourage and support the riders from other cities Gulf Oil Corporation has offered start money to the riders.
There will also be a veteran class; participants over the age of 50 years will be classified in this class. Only seven entries will be accepted on first come basis. The participants in this group will be only do PART 1 of the Rally. i.e. one stage only. The first three placers will be awarded trophies.
The Classes for competition is as follows:
a) 81cc upto 110cc, 2-stroke, Group - C
b) 111cc upto 160cc, 2-stroke, Group - C
c) Upto 160cc, 4-stroke, Group - C
Standard entries will be accepted till July 8, while late entries close July 13.
Standard entry fees for Sportscraft members is Rs 500 and non-members Rs 600.
Late entry fees for members is Rs 850 for members and Rs 1000 for non-members.
A maximum of 40 entries will be accepted on first come-first-serve basis. Sportscraft reserves the right to reject and increase the number of entries.
Entry forms are available and accepted at: Sportscraft, Chitrakut, 3rd Floor, Siri Road, Chowpatty Bandstand, Mumbai 400 006 Tel. 022 23677631, Fax 022- 23685071,
E-mail Sportscraft@gmail.com or visit on our site www.sportscraftindia.com