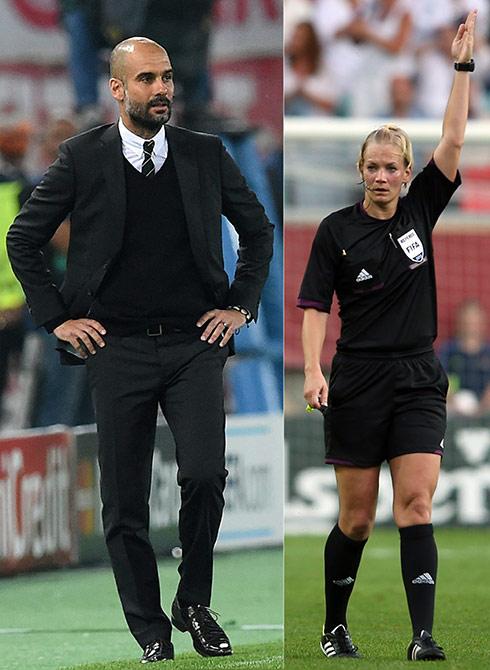 Pep Guardiola head coach of FC Bayern Muenchen and Referee Bibians Steinhaus of Germany. Photograph: Giuseppe Bellini/Getty Images and Christof Koepsel/Getty Images
Bayern Munich football team manager Pep Guardiola might face a touchline ban as he took out his frustrations on a female fourth official while watching his side struggle in a goalless draw with Borussia Monchengladback at the weekend.

The Spanish manager watched his side struggle in a goalless draw during a Bundesiga game in which his side had 72 per cent possession.

Guardiola got so frustrated that he began to take his frustrations out on female fourth official Bibiana Steinhaus, rather inappropriately.

It is an offence to make physical contact with an official and the Bayern manager may face a retrospective ban from the DFB, The Independent reported.

Guardiola started off by putting a hand on her waist, before grabbing her hand and then putting an arm around her shoulder, at which the fourth official threw his hand away.

Former manager Ewald Lienen said that it showed a lack of respect, the way Guardiola behaved towards Steinhaus, adding that it almost looked like he was asking her on a date. He said that the way she shook Guardiola off was brilliant.

Guardiola said later that he wanted more time, but added that Steinhaus said no, they are not doing that.

It is not the first time it has happened to her; back in 2010 a video of Steinhaus went viral when Hertha Berlin defender Peter Niemeyer accidentally patted her breast instead of her shoulder, the report added.