Olympic great Michael Phelps is known for the excellence of his swimming strokes but will now gain recognition for his putting stroke after sinking a 150-foot effort at the Dunhill Links pro-am.
The American's drive at the downhill, 337-yard par-four sixth hole at Kingsbarns, one of three courses being used at this week's tournament, finished just short of the green and he jumped with delight after rolling in his eagle putt on Friday.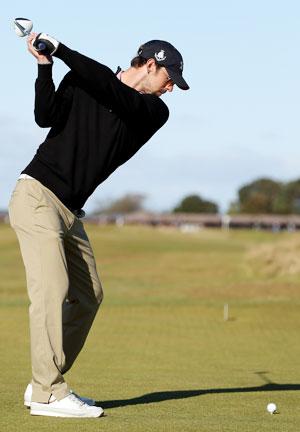 "A 50-yard putt!", exclaimed Phelps who has won 22 Olympic medals including 18 golds. "That was the longest putt I've ever holed so it was pretty incredible.
"To be able to have a net hole-in-one was special but even without that this trip has been even more special, just having the opportunity to come over here and play among these players on these courses is incredible."
Phelps's effort was shown on Sky Sports and the Tour said they believed it was "the longest televised putt in history" in Europe.
Former World No. 3 Paul Casey, partnering the most decorated Olympian of all time, was almost as pleased as Phelps.
"Brilliant, absolutely brilliant," said the Englishman. "It was perfect, he got the line right and pace right."
Asked whether Casey could serve up something equally impressive in the water, the former Ryder Cup player replied: "I don't know if I can even swim 25 yards.
"I have a pool at home but the hot tub is more my thing. I'm good at doing laps in the hot tub," he joked.
Casey was 14 shots behind leader Branden Grace of South Africa in the professional tournament, having returned a 69 for a three-under total of 141.
He and Phelps were also struggling in the team event, tied for 87th place on 135.
Photograph: Richard Heathcote/Getty Images