Andy Murray's shock semi-final defeat to Milos Raonic at the Japan Open on Saturday raised the same questions many thought had been answered by his Olympic gold medal and last month's US Open triumph.
Anguish etched across his face, the World No. 3 crashed out 6-3, 6-7, 7-6 against the big-serving Canadian to lose his Tokyo title.
The slouching, hang-dog demeanour, wild-eyed screaming and racquet abuse were a flashback to the bad old days before he got his mental game under control and a grand slam under his belt.
Murray came into the event as the hottest player in the men's game, having reached his first Wimbledon final, exacted revenge on Roger Federer to win Olympic gold in London and captured a maiden grand slam title.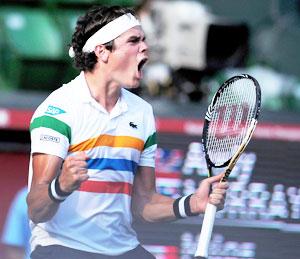 But the demons that haunted him in losing his first four major finals resurfaced in Tokyo.
Murray blew a 4-1 lead in the third set and then two match points with Raonic serving at 6-5 down, triggering a furious tantrum from the Scot.
"There was always going to be a bit of residue from the last few months," Murray told Reuters. "Ideally I wouldn't have liked to start the match like that."
After blowing away the cobwebs by beating Ivo Karlovic in his opening game, Murray had said becoming a member of the Grand Slam club had made him a more "responsible" player.
"I was so obsessed with winning a Grand Slam, sometimes in certain matches I haven't done myself justice," said the world number three.
"I felt after the US Open (I needed to) reset some goals. I was always focusing on the next grand slam rather than every tournament and every match I played.
"Now I feel like I can hopefully concentrate better, take more responsibility for my performances in every tournament throughout the year."
It failed to pan out that way in his first event since ending Britain's 76-year wait for a men's grand slam singles champion.
Murray, who beat Raonic 6-4, 6-4, 6-2 in the fourth round of the US Open last month, had been accused of choking in the past, particularly after his first four grand slam finals.
It would be harsh to throw that accusation at Murray after losing a semi-final in his first event since New York but the way his game fell apart will worry him.
Murray tied to put it down to a few missed points but he allowed Raonic to bully him early, winning just 20 percent of his second serve points in the first set.
"He started the match well and I was slow to get off the mark," said the 25-year-old. "That made it tough for me."
One of the game's best counter-punchers, Murray sprayed makeable shots all over the Tokyo centre court, struggling to keep his temper in check as his game unravelled.
The Scot said he would quickly put things right in Shanghai.
"I need to focus on Shanghai -- it's a big tournament," Murray said. "The Paris and then the (year-ending) Tour Finals in London. That's the main goal."
Losing his Tokyo title will have brought some welcome perspective and perhaps given him the wake-up call he needed after the bright lights of New York.
Photograph: Koki Nagahama/Getty Images