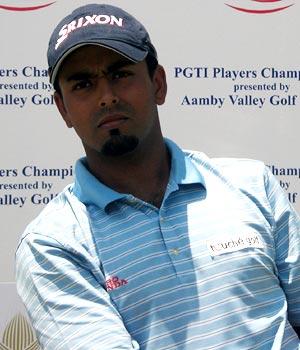 Anirban Lahiri continued to dominate the PGTI Players Championship presented by Aamby Valley Golf Course as he posted a clinical five under 67 in round three on Thursday.
Lahiri's total now stands at 19 under 197 and he heads into the final round with a comfortable six stroke lead. Shamim Khan is second at 13 under 203.
Anirban Lahiri (65-65-67) followed up his consecutive scores of 65 in the first two rounds with another sublime effort of 67 on Thursday. The big-hitting Bangalorean made a solid start to round three thanks to some good hitting. He birdied the first and the two par five holes on the front nine, the third and the seventh to be three under after seven holes. The only blemish on his card was the bogey on the eighth where he missed a chip-putt.
Lahiri sank a few decent putts to collect birdies on the 10th, 12th and 18th that helped him close the day at 19 under 197. The 22-year-old is now staring at his third professional title. His previous two professional wins came on the PGTI in 2009.
"The third round score of 67 puts me in a strong position ahead of the final day. I misread a few putts today but I'll make sure that I focus harder on reading the line tomorrow. I'm glad that I capitalized on the par five holes today and made them count. It's great to be 11 under for the par 5s in the tournament so far. I'll look to make the most of my opportunities in round four," said Lahiri.
Shamim Khan's (71-66-66) six under 66 was the best round of the day and placed him in second position at 13 under 203. The Delhi golfer's second successive 66 featured seven birdies and a lone bogey.
Shamim said, "I hit 16 regulations today but could not manage to hit it close on most of the holes. Nevertheless, the putter was hot and I knocked-in as many as four birdie putts from about 20 feet."
Australia's Kunal Bhasin, who produced a hole-in-one on the eighth, ended the day in tied third along with Ashok Kumar at nine under 207. Bhasin carded a 68 on Thursday which included three birdies and a bogey besides the hole-in-one on the eighth.
"I hit my seven-iron a little right of the hole which was at a distance of 170 yards but the wind drew it back. I couldn't sight the ball after it landed on the green. I walked towards the green with my putter and only realized it was a hole-in-one once I stepped onto the green. It's an amazing feeling since this is my first ace in a professional tournament. In round two I had come up just three inches short of making a hole-in-one on the very same hole," Bhasin said.
Abhishek Jha and Rafick Ali Mollah share fifth place at eight under 208.
Gurki Shergill of Pune is placed tied 12th with a total of four under 212 while another Pune-based professional Rajiv Datar is tied 40th at five over 221.
Pune's Aditya Bhandarkar, the lone amateur to have made the cut is also in tied 40th place.