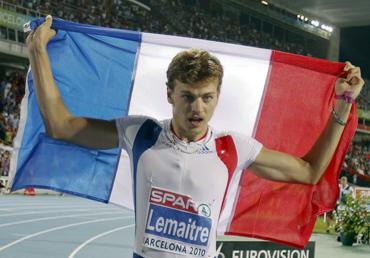 Christophe Lemaitre's fairytale European championship continued when he completed a sprint double on Friday and the Olympic stadium finally came to life as the hosts celebrated their first medals.
Spain had to wait a little bit longer than anticipated for their first gold of the championships when Russian Yuliya Zarudneva spoilt the script by beating world champion and home favourite Marta Dominguez in the steeplechase final.
Zarudneva went to the front from the gun with Dominguez, wearing her trademark pink headband with matching running shoes, shadowing her.
The noise from the half-full stadium was deafening, as the crowd urged Dominguez to victory but the world silver medallist gained revenge for her defeat in Berlin last year, pulling clear off the final water jump to win in 9:17.57.
The Spanish flag-waving and cheering was finally rewarded in the last race of the evening when an astonished Arturo Casado finished strongly to take the 1,500 title in 3:42.74.
Manuel Olmedo took bronze with German Carsten Schlangen splitting the two Spaniards.
"I can't believe it yet, I'm the European champion at home," Casado, 27, said.
"I just listened to the crowd and looked straight ahead. At no point did I want to look back," he told Spanish television.
LATE BURST
Lemaitre appeared to be staring defeat in the face after a poor start in the 200 left him out of the medal places and some five metres behind Britain's Christian Malcolm going into the straight.
But the 100 metres champion produced an astonishing late burst of speed and, with a roar, lunged past a surprised Malcolm to snatch victory by 0.01 seconds in 20.37 and become the first Frenchman to do the European sprint double.
"I gambled everything on the final stretch. It was really difficult because technically I was not that good," the 20-year-old told French television. "I fought until the end."
Russia's women enjoyed a golden fiesta with five victories, including a sweep of the 400 medals.
Tatyana Firova led her compatriots home in the one-lap sprint, edging out Kseniya Ustalova to win in 49.89. European indoor champion Antonina Krivoshapka completed the trio.
Russian pole vaulter Svetlana Feofanova secured her second European title, eight years after her first with a clearance of 4.75 metres.
In a competition missing Russia's Olympic champion and world record holder Yelena Isinbayeva, who decided to skip the outdoor season, and injured world champion Anna Rogowska, Germany's Silke Spiegelburg took silver with 4.65 on countback from compatriot Lisa Ryzih.
There was a championship record on 52.92 for Natalya Antyukh in the 400 hurdles who finished almost a second ahead of Bulgaria's Vania Stambolova with Perri Shakes-Drayton of Britain taking bronze.
MEDAL HAUL
Mariya Savinova completed the day's gold medal haul for Russia in the 800, where she beat Yvonne Hak of the Netherlands and Britain's Jenny Meadows.
However, the Russians did not have it all their own way when Tatyana Lysenko was beaten into second by Germany's Betty Heidler, who hauled the hammer out to 76.38 on her fifth throw after the defending hammer champion had led from the first round. Poland's Anita Wlodarczyk was third.
The 'wrong' Borlee brother won the men's 400 title when Kevin upset the form book to beat his twin and race favourite Jonathan to gold.
Jonathan, fastest European over the distance this year, had lowered his Belgian record in the semis but Kevin outshone his brother in the final, finding a second wind to come through the field for victory in 45.08.
"Before the race I talked to Jonathan. He said the one who's going to win the race is going to be focussed on his own race, so it's a little bit because of him that I won today," Kevin told a news conference.
Britain took the silver and bronze through Michael Bingham and Martyn Rooney, respectively. Jonathan finished seventh.
Britain went one better in the 110 hurdles when Andy Turner kept his concentration as medal favourite Petr Svoboda hit one of the barriers while leading and lost his rhythm.
Turner won in 13.28 ahead of France's Garfield Darien and Daniel Kiss. A distraught Svoboda collapsed to the track after finishing sixth.
France's Yohann Diniz had taken the first medal on offer on Friday, overcoming a fall late in the race to retain his European 50-km walk title in a time of three hours, 40 minutes 37 seconds, the best in Europe this year. Poland's Grzegorz Sudol was second and Russian Sergey Bakulin third.