Racism cost me Euro 2016 spot, claims Benzema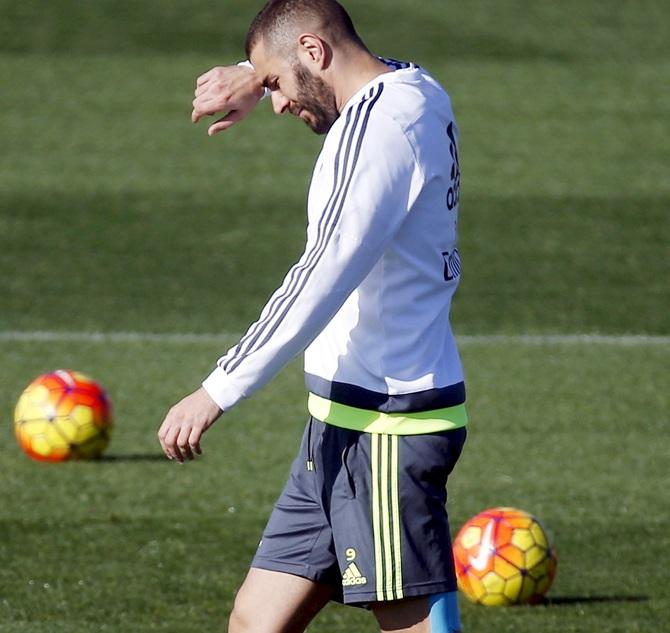 Real Madrid striker Karim Benzema said he was denied the chance to play for France in the Euro 2016 this month because of his Algerian origins.
Benzema's comments, published by a Spanish sports magazine nine days before France hosts the tournament, have deepened a row about alleged racism in the national team that was once seen as a model for ethnic integration.
Last week, Eric Cantona accused coach Didier Deschamps of omitting Benzema and another French-born player of North African descent, Hatem Ben Arfa, because of their foreign roots.
Deschamps's lawyer said he planned to sue Cantona for slander. The two have a longstanding rivalry since the mid-1990s when Deschamps replaced Cantona as France's captain and led the team to World Cup and Euro successes in 1998 and 2000.
Benzema is under investigation over an alleged blackmail plot, something Prime Minister Manuel Valls said made him unfit to play for the national team. Benzema said his legal problems were being used as an excuse to drop him from the squad.
"They said I couldn't be picked, but on a sporting level I don't understand and, on a legal level, I've not been convicted and I'm presumed innocent," he told Marca.
"Deschamps succumbed to pressure from a racist part of France," he said.
"I don't know if it's only Didier's decision, because I get on well with him, the president (of the French soccer federation) and everybody."
Deschamps was not immediately available for comment.
The racism row has added to tensions in a country hit by widespread strikes over proposed changes to work contracts and fears about terrorist attacks.
Ahead of the European Championship's June 10 kick-off, the French team has also been hit by a spate of injuries.
The squad has players from various ethnicities. Deschamps last week called up Adil Rami, who is of Moroccan origin.
But memories of 1998, when France's "black-blanc-beur" (black-white-Arab) team won the World Cup, have faded, especially since the disastrous 2010 World Cup campaign in South Africa when the players fell out with the team's managers.
At the time, the far-right National Front party complained that the team did not fully reflect France, where the vast majority are still white.
Sports Minister Thierry Braillard dismissed Benzema's comments as "unjustified" and "unacceptable."
"The French team is selected only on technical criteria and ability. There is not an inch of racism in this federation. The time has come to stand by our team," Braillard told BFM TV.
A successful striker for Real Madrid, Benzema has often failed to excel for the national team, scoring 27 goals in 81 games at international level.