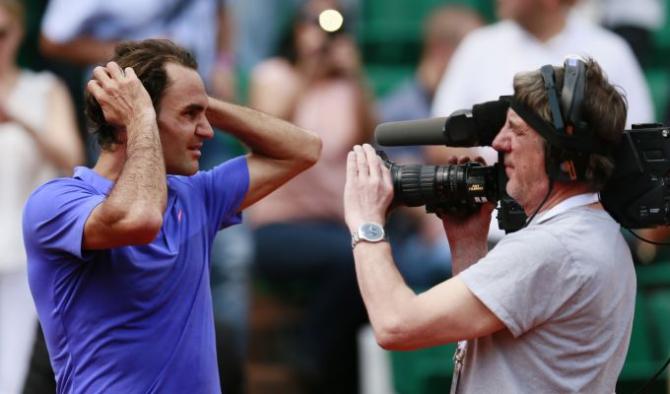 Switzerland's Roger Federer with a cameraman during the second round. Photograph: Jason Cairnduff/Reuters
Roger Federer does not fret about who umpires his matches and said on Wednesday all players should be treated equally by officials, whatever their ranking.
After the Swiss reached the third round of the French Open with a 6-2, 7-6(1), 6-3 win over Spaniard Marcel Granollers, he had no complaints about court officials, his form or even security after Sunday's lapse when a fan ran on court for a selfie.
- PHOTOS: Nishikori takes centre stage, Federer cruises on
- Don't want to talk about sexism because I'm not macho: Nadal
- Sharapova shows displeasure at Fed Cup scheduling
Defending champion Rafa Nadal confirmed on Tuesday that he had asked tournament officials not to have Brazilian umpire Carlos Bernardes in the chair for his matches after an incident in Rio de Janeiro this year.
Nadal's stance drew some veiled criticism from Federer's fellow Swiss Stanislas Wawrinka who warned there was a danger that umpires would treat top players more leniently to ensure they were given top matches.
Asked for his opinion, the 33-year-old Federer said: "I try to really not focus on who is the umpire; try to focus on my game, so those kind of things don't creep in my head.
"I do not want to be treated differently. You're going to get angry or if you break a racket, you don't want to get a warning right away.
"All players should be treated equally. But then there are suspicions. I think you have to make things clear. I hope there are no bonuses.
"Big tournaments, umpires with a lot of experience, they know how to manage difficult situations.
"On center courts you can give a little more leeway to make sure the match goes well, that's probably what Stan was trying to say."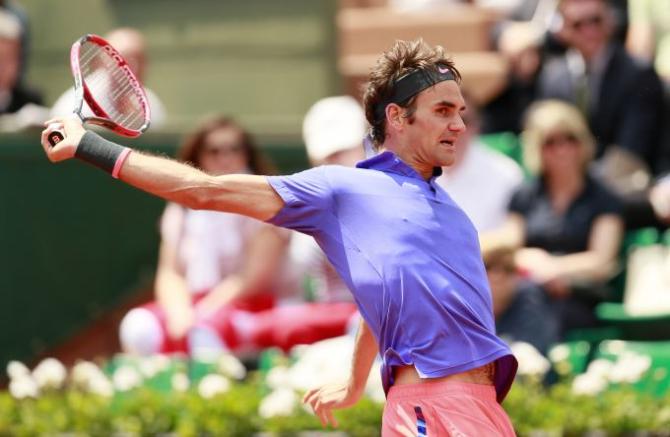 Switzerland's Roger Federer in action during the second round. Photograph: Jason Cairnduff/Reuters
Federer was hardly troubled by Granollers, although he did have to battle back from a break down in the second and third sets to ease through to a third round clash with Bosnia's Damir Dzumhur -- a player he has never seen play.
"I think things went well for me for the first couple of sets," the 2009 champion, who dropped only two points on serve in the first set, said.
"I think I was in control. Even though I was down a break in the second set, I still felt the match was on my racket."
Federer, who is bidding for his first major since Wimbledon 2012, was also happy with court-side security on the Suzanne Lenglen arena after being critical on Sunday.
"For me it was just more important that everybody was doing their job, taking it very seriously, wakes up and that they are standing in the right places and to keep an eye on what's really important and not about just being there, I think I felt that today," he said.