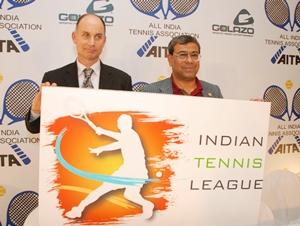 Taking inspiration from the roaring success of the Indian Premier League, the All India Tennis Association (AITA) has decided to launch a city franchise-based tennis league in November-December.
"The Executive Committee of All India Tennis Association met today (Friday) and decided to start the Indian Tennis League featuring icon players of international tennis, top Indian players and juniors," AITA's secretary-general Anil Khanna said in Mumbai.
"We have been inspired by the IPL, which is a fantastic product, which is not only the envy of other country's cricket federations but also of other international sports federations who have been flabbergasted by its success," Khanna said.
He said the idea was to start the tournament with five city-based franchisees and then slowly expand it up to eight teams and to hold the tournament in a two-week period.
Khanna, who is also the executive vice-president of AITA, said each team will feature male and female international stars and each tie would be a best-of-five match affair.
There would be one men's and women's singles and doubles match each along with a mixed doubles encounter.
"The response from international stars as well as corporate houses in India has been very positive and encouraging," he added.
"Each franchisee team would also have juniors who will have a parallel event. They will have the benefit of interacting with the icon players," Khanna said, adding that the five cities are yet to be identified but may also feature tier-II towns.
Khanna said the AITA has roped in Golazo Asia, a leading sports marketing company headed by Ivan Brixi, to implement the novel idea in tennis in the country.
He spelt out the names of 14-time Grand Slam champion Pete Sampras, his long-time rival Andre Agassi, Marat Safin and Goran Ivanisevic as among the men players who could be seen in action in the ITL.
"The current top players may not be available but with the women's tennis having shorter calendar some current top women players are likely," he said, adding top Indian players would be Leander Paes, Mahesh Bhupathi, Sania Mirza, Somdev Devvarman and Yuki Bhambri, among others.
Brixi said that the top international stars have shown a lot of interest in taking part in the Indian Tennis League.
"Top foreign players are excited about competing in India. They can be Grand Slam winners or other iconic players. In the first year there will be 20 ties plus one final," he said.
"ITL is an exciting competition format which will generate a lot of interest both at home and abroad," he added.
Each franchise team would consist of ten players out of which two would be international players, four would be current Indian players and the rest would be the country's junior players.
The AITA has formed a six-member committee, which includes Khanna, to chalk out the financial details of the concept.
"The finances will be worked out for which we have formed a six-member committee. Hiranmay Chatterjee (Bengal), Nagi Reddy (Tamil Nadu), Anil Dhupar (MP), Sunder Raju (Karnataka), Bharat Oza (Maharashtra) and myself are the members of the committee," he said.
"There is good interest among the corporates, especially those who were looking towards golf. They lacked a product like this to invest in," he said.
But Khanna said no one from the Executive Committee will be involved with owning any franchisee unlike the IPL.
"We, in the executive committee, want to keep ITL at arm's length. None of us can own a franchisee," he emphasised.
India's Davis Cup captain S P Mishra and coach Nandan Bal were gung-ho about the project.
"Indian Tennis League is a brilliant idea and ITL is going to be very beneficial to Indian tennis in totality," said non-playing Davis Cup skipper Mishra.
"It will be a great opportunity for the Indian youngsters to play alongside the Grand Slam winners like Sampras and Agassi and interacting with them," he added.
Davis Cup coach Bal said it will benefit the juniors especially in making the transition from domestic to international level.
"This will take junior tennis to a different level, from just playing in the junior Grand Slam events to performing well too," the former national champion and Davis Cup player said.
Photograph: Ivan Brixi, president Golazo Asia, and Anil Khana at the launch of the Indian Tennis League in Mumbai