A light-hearted Lewis Hamilton laughed at the past and looked forward to a happier season ahead after helping Jenson Button take the wraps off McLaren's sleek new Formula One car on Wednesday.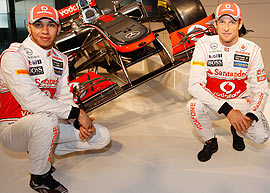 Highlighting the re-profiled wing mirrors on the silver and red MP4-27, 2008 world champion Hamilton joked that the rear-view improvements would also be appreciated by Ferrari rival Felipe Massa.
The two drivers clashed repeatedly last year in a controversial and crash-happy season that Hamilton was only too happy to leave behind.
"We've changed the wing mirrors, so hopefully we'll be able to see a little bit better," said Hamilton, admiring the smooth, flowing lines of the Mercedes-powered machine. "Felipe will be happy with that."
The new car had none of the 'ugly' bumps on the nose predicted to become a feature of this year's crop after Caterham last week revealed a 'platypus' front wing that received an immediate thumbs down from the aesthetes.
"This is a beautiful car. Many of those that you see will not be," said Button.
Hamilton agreed that the car looked the business and should be able to do it as well.