Promising Frenchman Jules Bianchi will be Force India's reserve driver this season while retaining his place as a member of Ferrari's young driver academy, the Formula One teams said on Friday.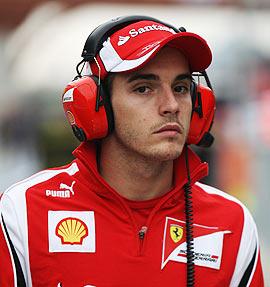 Force India said the 22-year-old will take part in a minimum of nine Friday practice sessions over the course of the season and testing in Spain next month.
A Ferrari spokesman said the Frenchman would remain a member of their academy, like Sauber's Mexican Sergio Perez.
"The chance to get track time during race weekends is an important step for me," Bianchi said.
"Being regularly in a current car is the best way to learn quickly and I hope it will put me in a strong position to one day move into a race seat."
Both of Force India's previous two reserve drivers are now in race seats with the team, who promoted Germany's Nico Hulkenberg to the role this season alongside Britain's highly-rated Paul di Resta.
Ferrari may also have a vacancy at the end of the year, with Brazilian Felipe Massa's future uncertain, while Di Resta has close links to Mercedes.
Force India principal Vijay Mallya said the team always kept an eye out for young talent and Bianchi had impressed with his performances in the GP2 support series.