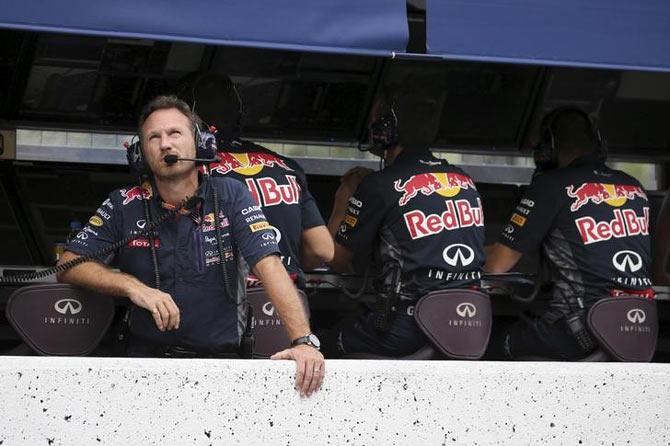 IMAGE: Red Bull Formula One Team Principal Christian Horner. Photograph: Yuriko Nakao/Reuters
Red Bull were talking to Volkswagen about a Formula One partnership before a diesel emissions scandal seemingly scuppered plans, team boss Christian Horner said on Friday.
"There has been discussion with the VW Group which obviously ... with their current issues probably Formula One is the last thing on their mind," he told reporters at the US Grand Prix, Red Bull's 200th race.
"There were other discussions that will become apparent no doubt in the future as well, other promises that were made," added the boss, whose team still have no confirmed engine partner for next year.
"There's an awful lot of speculation and conjecture about our situation at the moment. Once everything is finalised I'm sure it will all become extremely clear."
Red Bull, who won four drivers and constructors' championships in a row between 2010 and 2013 with Renault, have been casting around for a new engine after that relationship broke down.
Germany's Auto Bild reported last month that Volkswagen-owned Audi were close to a deal to take over Red Bull's team and run it with sponsorship from the Austrian energy drink company.
The magazine said the deal had been approved by company bosses and just needed signing.
Shortly afterwards Volkswagen, Europe's biggest carmaker, admitted to rigging U.S. diesel emissions tests and said banned software could be inside up to 11 million vehicles worldwide.
The scandal wiped about a third off the company's stock market value, forced out its long-time chief executive and rocked both the global car industry and the German establishment.
Red Bull have subsequently been rebuffed by Mercedes and Ferrari, who are wary of the team beating their works entries with similar engines, and have warned that they and sister team Toro Rosso could leave if they cannot find a competitive power unit.
Their main options now look like being staying with Renault, who have yet to confirm their future plans in F1 despite being linked to a takeover of the Lotus team, or Honda.
Horner sounded more encouraging on Friday about the likelihood of the team staying, however.
"For me it's not an option, we have to find a solution and I'm working very hard to ensure that the team is on the grid and competitive for next year and beyond," he said.
Asked whether it was still an option for Red Bull's billionaire owner Dietrich Mateschitz, he replied: "Well of course it is, it's his team at the end of the day.
"Again, he wants to find a solution going forward. He's committed to helping that and behind the scenes is obviously involved in numerous discussions to try and facilitate that."
Horner said his objective was "to keep the current status quo running for the foreseeable future" and played down speculation he could take over ownership.
"I believe that discussions of other shareholding or change of shareholding... they're not applicable at the moment," he said. "The focus is purely on finding a solution to our engine predicament, that we can move forward for next year and the future."