Mexican test driver Esteban Gutierrez will replace sick compatriot Sergio Perez in first practice at the Indian Grand Prix on Friday, the Sauber Formula One team said.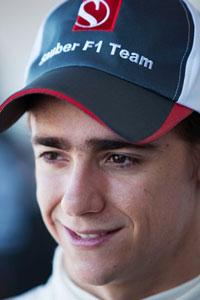 "Due to the fact ... Pérez is unwell, the Sauber F1 Team has decided to let its reserve driver Esteban Gutierrez jump into the car for the first free practice session," they said in a statement.
- Full coverage: Formula One 2012
"This should help Sergio's speedy recovery so he is able to drive for the remainder of the weekend."
A spokesman said a decision on the day's second practice session would be made later.
Perez is joining McLaren next season while Gutierrez is a frontrunner to replace him at Sauber.
Photograph: Peter Fox/Getty Images