The French Grand Prix could be back on the calendar next year for the first time since 2008, Formula One supremo Bernie Ecclestone said on Sunday.
Speaking to reporters on his 82nd birthday at the Indian Grand Prix, the Briton suggested France could fill a slot vacated by a postponed New Jersey race and bring the championship back to 20 rounds.
"As far as I am concerned, yes," he said when asked if there was a chance of a French Grand Prix in 2013. "We are ready to sign. We've got a pen, we're ready to sign a contract," he added.
"Which circuit they are going to use is one thing... and who is going to pay for it. That's the bottom line.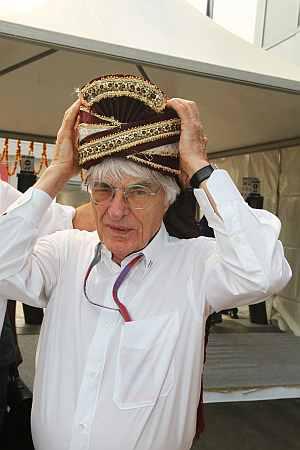 "If they are ready, we can slot it in the calendar."
Le Castellet in the south of France looks the favoured option, given that it is owned by an Ecclestone family trust, while the Magny-Cours track used most recently by Formula One is another.
Stephane Clair, who runs Le Castellet, was recently quoted in France's Le Figaro newspaper as saying there was a 90 percent chance of the track that last held a grand prix in 1990 hosting the race next year and without the need for any state subsidy.
He suggested France could be slotted in for September in a sequence with Belgium and Italy but a decision was needed by late November.
Ecclestone, who is known to dislike birthday celebrations, was presented with a large painting and coffee-table book by the Indian GP promoters.
Asked whether he might now ease off or consider relinquishing some control of Formula One, the mop-topped billionaire - who recently remarried and seems as sharp as ever - smiled.
"Retirement? Not at the moment," he said. "I still feel good. When I feel I can't deliver any longer, then I'll say it and move on."
He hoped that was still some way off, however, and suggested a recent report that consultants had been appointed to find a successor was little more than window-dressing.
"This was something that was put in the prospectus when we were going to have an IPO," he said. "The people who put that together said we had to put something in."
Photograph: Buddh International Circuit