Sebastian Vettel scorched his way to a comfortable victory from pole at the Indian Grand Prix Formula One race while Force India earned four points through Nico Hulkenberg's eighth-place finish in Noida on Sunday.
Vettel faced no challenge whatsoever as the Red Bull driver led from start to finish and recorded his fourth win on the trot to extend his lead in the drivers' championship to 13 points over Ferrari's Fernando Alonso.
-
Photos: Harbhajan Singh at Indian Grand Prix
Alonso raced amazingly as he went past the two McLaren cars and then Mark Webber to take second position, keeping himself in the hunt for the Drivers' title.
It was a perfect climax for Vettel, who dominated throughout by topping the timings in all FPs, qualifying and won the race by comprehensive margin of 9.4 seconds.
Vettel, for whom it was second successive win at the India race, now has 240 points, 13 more than Alonso with three races left in the season.
"It has been incredible. To come here both years, get the pole and win the race is fantastic. It is a very special Grand Prix and I really like this circuit," Vettel said after the win.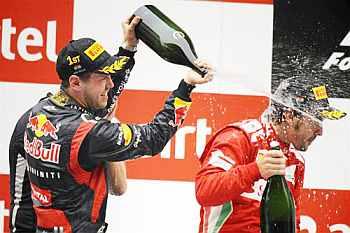 Webber conceded his second position to Alonso but managed to finish third ahead of McLaren's Lewis Hamilton, who was followed by teammate Jenson Button.
Felipe Massa was sixth in the second Ferrari, ahead of Kimi Raiokkonen, Hulkenbeg and teammate Romain Grosjean. Willams' Bruno Senna took the last point available with 10th position.
Home side Force India also bettered its result as the side had got two points last year. Hulkenberg was superb as he gained four positions to finish eighth.
The result helped Force India reduce the gap with Sauber to 23 points in the Constructors' championship.
India's Narain Karthikeyan, who had problems in brakes, finished 21st. He had finished 17th last year.
Now Vettel is the first driver since 1989 to lead each and every lap in three consecutive races. The last man to do it was the legendary Ayrton Senna (San Marino, Monaco and Mexican Grand Prix).
When Vettel completed lap 42 of the 60-lap race, he surpassed Jim Clark on all on the all-time consecutive laps led list. Senna has all time record of leading 264 consecutive laps.
Alonso, who had promised to attack, was aggressive as he straight away targeted the two McLarens ahead of him. He first passed Hamilton and then used the DRS in lap three to zip ahead of Button.
"I never give up. We will never give up. We congratulate Red Bull but we want to be happy today. We were quite fast on the straight line. Today we have to thank the team for this speed. The track gave us some overtaking manoeuver", Alonso said.
Former champion Michael Schumacher had the worst possible start as he suffered a rear-right tyre puncture after a contact with Jean-Eric Vergne of Toro Rosso.
Hulkenberg had a close fight with Perez and on the long straights he past the Sauber driver in the DRS zone to move up to eighth.
Perez also suffered a tyre puncture when he tried to ovetake Daniel Ricciardo at turn four in lap 19. He re-joined the race after changing the tyres but quit after two laps.
"It's been a difficult weekend. The contact with Ricciardo came and that's it, we damaged rear suspension of the car," Perez said after retiring.
Photograph: Buddh International Circuit