After years of steady patronage, corporate India is showing signs of cricket fatigue and the country's maiden Formula One race next month looks like being the immediate beneficiary.
Indian companies have long loosened the purse strings for cricket while responding frugally to other sports, ensuring the cricket board remains a rare national federation that does not accept government grants.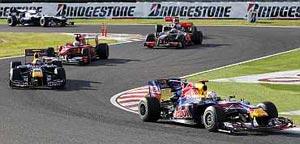 "My feeling is that it's going to change, at least for motorsport," Mahindra and Mahindra marketing and automotive senior vice president Vivek Nayar told Reuters.
"You have the most prestigious motorsport event coming to India next month and I know there will be a change in perception after Oct 30 (race day)."
Nayar's company will supply the official intervention and support vehicle to the Buddh International Circuit, helping transport marshals around the track.
The 2010 world championship enjoyed a 527 million global television audience but Formula One is seen in India as a niche sport, followed primarily by youngsters.
That is precisely the segment Indian telecom giant Bharti Airtel was looking for, said CEO (India and South Africa) Sanjay Kapoor.
"We wanted to establish the brand as pro-youth and dynamic. After all, 65 percent of our population is below the age of 30," Kapoor said after his company bagged the title sponsorship, reportedly at a price of $8.5 million for a three-year period.
"Formula One is very relevant at this juncture when we are trying to transform our business and trying to be a global brand. It fits very well with our overall strategy."
That strategy has meant dropping a high-profile cricket tournament like the Champions League Twenty20. Airtel has turned its back on a title sponsorship midway through a five-year deal they had landed in 2009, reportedly for $40 million.
"While creating the right mix, some of the old sponsorships would get dropped and some new would come in. It's part of managing the portfolio," said Kapoor.
A VIABLE ALTERNATIVE TO CRICKET
India's first Formula One driver Narain Karthikeyan is convinced motorsports can be a viable alternative to cricket.
"It will happen, slowly but definitely. New corporates like Hero Motors would be getting in and they would get high return from their investment too," Karthikeyan, who is also backed by India's powerful Tata Group, told Reuters.
The 34-year-old Chennai driver has signed a sponsorship deal with Hero Motors, part of the Hero Group which has been a steady and generous sponsor of cricket tournaments.
"For them, the exposure is going to be quite high. Our corporates are realising that F1 can be a good alternative to cricket," said Karthikeyan who has been replaced at Hispania but will race in the Indian Grand Prix.
India could have two drivers on the grid, with Karun Chandhok in the frame with Team Lotus, while the Force India team's billionaire boss Vijay Mallya is involved in both sports as owner also of IPL cricket franchise Royal Challengers Bangalore.
Cricket, however, is certain to remain the number one sport in the world's second most populous nation for a long time, something Formula One boss Bernie Ecclestone has acknowledged.
"We will never catch cricket, I'm quite sure about that, but we've got to try our best to do that. I'm sure eventually we will get very close," He told reporters in Delhi last month.