Former Germany captain Michael Ballack and coach Joachim Loew have ended their years-long feud with the latter accepting an invitation to attend the retired player's farewell game.
Loew said on Thursday he had talked to Ballack on the phone after months of silence between the two and he would be attending his June 5 game in Leipzig.
"We talked on the phone yesterday and he invited me," Loew told reporters. "We said we will drink a coffee together sometime before the match, as the last months there was no communication."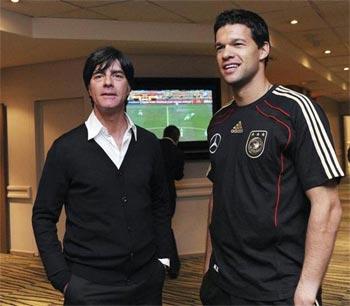 "I was delighted to have been invited. We want to sit down, find a date and talk about things that are still hanging in the air."
The 36-year-old Ballack, who retired last year, had accused Loew of lying in a bitter war of words following an injury to the then Germany captain just before the 2010 World Cup and his subsequent loss of the skipper's armband.
Loew never recalled Ballack again. The German soccer federation offered him the chance of a farewell appearance in a friendly against Brazil last August, but the player declined.
The two men had also clashed after Germany lost the Euro 2008 final to Spain, with Loew temporarily banning his captain from the team.
Ballack, who won 98 caps and led Germany to the 2002 World Cup final and Euro 2008 final, played for clubs including Chelsea, Bayern Munich, Bayer Leverkusen and Kaiserslautern.
Several former team mates and coaches are set to attend the game in Leipzig.
Photograph: Michael Kienzler/Reuters