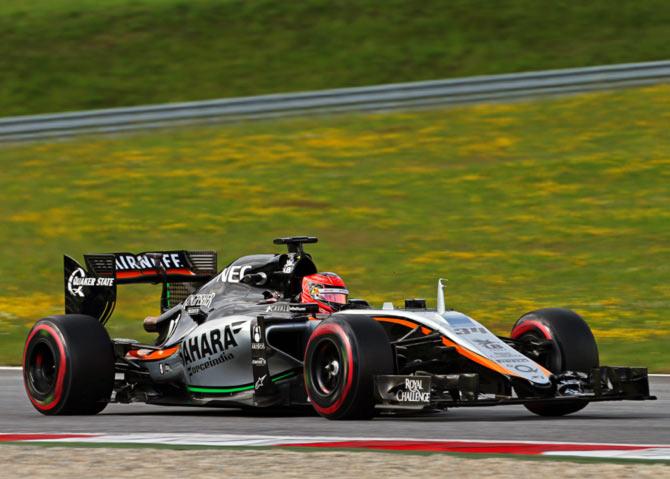 With its upgraded car set to be rolled out, Force India is hoping for a good show at the British Grand Prix this weekend as it sets its sight on fourth place in the Formula One constructors' championship.

The team achieved its best result of the 2015 season at the Austrian Grand Prix, where Nico Hulkenberg finished sixth, having held off Williams's Valtteri Bottas for the first half of the race, while team-mate Sergio Perez took ninth place.

That gave Force India its first double-points finish since the season-opening Australian Grand Prix and moved above them Lotus into fifth spot in the constructors' championship.

Four-time champions Red Bull are 24 points ahead, in fourth position currently, and deputy team principal Bob Fernley believes the B-spec Force India could close that gap.

"Fourth is the next target. Of course, we have to be realistic, so let's wait till Silverstone, but if it delivers level of performance we think it will do, then we are hopeful," Fernley was quoted as saying by autosport.com.

The Silverstone-based team suffered delays with its development following a switch of windtunnels over the winter and missed much of pre-season testing.

Force India has been adding parts for its B-spec to the car since Monaco GP, with the final evaluation of the package taking place in Austria.

"I'm very proud of the team, they have done an amazing job. We're at the end of six-month programme since we started the aero reconstruction with the new philosophy and moved to a new windtunnel at same time," Fernley said.

"The new car will be the first test of that move but I'm very encouraged by it. We were slightly up against it after the Barcelona test but we have delivered phenomenal reliability and dug deep.

"The reliability comes from the factory and design, (and we've had) excellent, aggressive strategies and two super drivers who have taken every opportunity which has been given to them. If you had asked me in Australia if we would be remotely close to fifth place, never mind in fifth place after eight races, I think I would have snapped your hand off. It's a thrill."
Photograph courtesy: Sahara Force India