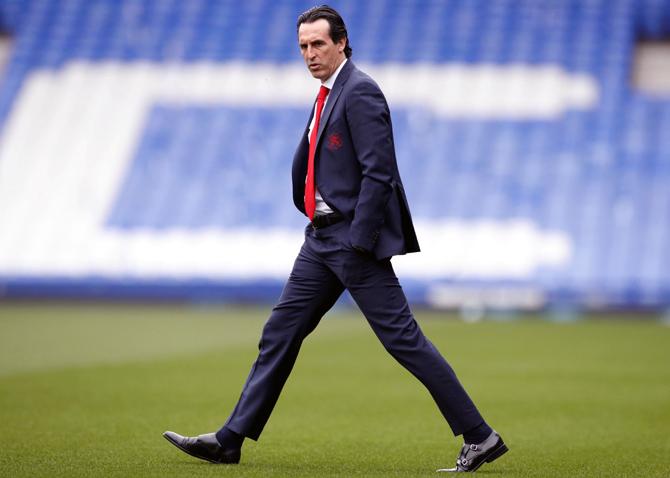 Villarreal have hired former Arsenal manager Unai Emery as their new coach after the La Liga club parted ways with fellow Spaniard Javi Calleja, the club said on Thursday.
Emery, who was sacked by the Premier League club in November after 18 months, began his managerial career in La Liga, where he previously ran Valencia and Sevilla, who he led to three consecutive Europa League titles in 2014, 2015 and 2016.
"Villarreal CF has reached an agreement with Unai Emery for the Basque manager to be Yellows head coach for the next three seasons," the club said in a statement.
Emery, who also managed Paris St Germain for two seasons, was let go by Arsenal after the club won only four of their 13 league matches at the start of the current season.
While success eluded him in England, Emery has a proven track record of getting Spanish teams into the Champions League, finishing third three times with Valencia in addition to his Europa League feats with Sevilla.
Calleja managed Villarreal for 15 months before being dismissed in December 2018, only to be reinstated to the post six weeks later. This season he led them to a fifth-placed finish to qualify for the Europa League.
Leicester keeper Schmeichel defends under-fire De Gea
Leicester City goalkeeper Kasper Schmeichel says the criticism being levelled at his Manchester United counterpart David de Gea was building a "dangerous narrative".
Calls for De Gea to be dropped have grown after the 29-year-old's mistakes in United's FA Cup semi-final defeat by Chelsea last weekend, with Dean Henderson backed to take over after an impressive loan spell at Sheffield United.
With Leicester set to meet United on Sunday, Schmeichel said media coverage of De Gea's performances could give viewers the impression the Spaniard was constantly making mistakes.
"That's sometimes quite a dangerous narrative because all of a sudden it starts building momentum and for someone like David, I really feel for him because he's been unbelievable for so many years and every goalkeeper goes through periods (of poor form)," he added.
"There's a lot of pressure also in the sense that you now have an England goalkeeper (Henderson) coming through and, like it or not, in this country when you have an English goalkeeper, that means so much and they do tend to build them up.
"I genuinely hope for someone like Henderson, who's had an amazing season, that he can be allowed to develop. I hope... he gets another season, maybe two at Sheffield United and play the way he's done and then he'll be ready," he said.
"But for now De Gea is still a world-class goalkeeper. It's a lonely position and those are the margins you play in ... you simply can't make mistakes because you'll be punished."
Fabinho's house burgled during EPL title celebrations
The home of Liverpool's Brazilian midfielder Fabinho was burgled as the player celebrated the Premier League club's first English league crown in 30 years, British media reported.
The BBC reported that thieves broke into the 26-year-old's empty house in Formby between Wednesday afternoon and Thursday morning and stole items of jewellery and a car.
A spokesman for Merseyside Police said in a statement to British media that the car had since been recovered in Wigan.
Liverpool lifted the league trophy on Wednesday following a 5-3 victory over Chelsea in their final home game of the season at Anfield.
Liverpool's Senegal striker Sadio Mane had his house burgled while he was playing in a Champions League match against Bayern Munich in February last year.