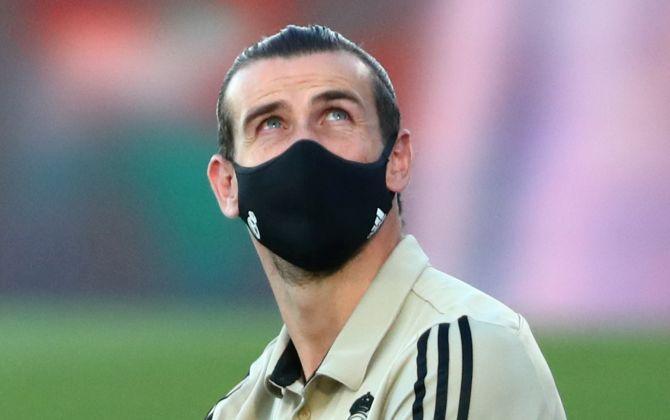 Real Madrid forward Gareth Bale is not leaving the club even though he has not been featuring regularly for the La Liga champions in recent weeks, according to his agent Jonathan Barnett.
Despite winning four Champions League titles with Real, Bale divides opinion because of a perceived lack of commitment and a poor injury record. He seemed set for a move to Chinese club Jiangsu Suning last year before the deal fell through.
The Welshman, who has scored more than 100 goals for the club, infuriated Real fans as he joked about falling asleep with a protective face mask over his eyes while watching the team's recent 2-0 win over Alaves in Madrid from the stands.
"Gareth's fine. He has two years left on his contract. He likes living in Madrid and he's going nowhere," Barnett told the BBC.
"He is still as good as anyone else in the team," Barnett said, adding that Bale's place in the team was up to manager Zinedine Zidane.
"Of course, there's been interest but there's hardly a club in the world which can afford him. It's a great loss that he's not in the Real Madrid team at the moment but he'll not leave.
"Gareth is not looking to outlast Zidane. Zidane has been very successful. There's no hatred. Zidane just does not want to play him. Gareth trains every day and he trains well."
Barnett said that Bale was keen to represent Wales at next year's European Championship, but ruled out a loan switch to another club for regular game time to remain match fit.
"He always wants to play well for Wales," Barnett said.
"Gareth's one of the best players in the world. The best players in the world do not go out on loan."
Guardiola says 'not much' respect for Arsenal off the pitch
Manchester City manager Pep Guardiola has said Arsenal deserve credit for what they do on the pitch but he has little respect for them off it.
Arsenal knocked holders City out of the FA Cup with a 2-0 semi-final win on Saturday -- days after Guardiola's side had a two-year UEFA ban from European football overturned by the Court of Arbitration for Sport (CAS).
Spaniard Guardiola had previously taken aim at a group of nine Premier League clubs who reportedly wrote a letter to CAS to argue against City receiving a stay on their ban, which was due to allegations that they broke Financial Fair Play rules.
"After we were beaten we shake hands. The opponents always deserve my respect and credit," Guardiola told reporters.
"And Arsenal, I have all the respect for what they are on the pitch, not much off the pitch -- but on the pitch, a lot."
City visit Watford later on Tuesday and finish their Premier League campaign with a home game against relegated Norwich City.
Hodgson hopes to bolster injury-plagued Palace squad next season
Crystal Palace manager Roy Hodgson has said he is unsure what more he can do with his injury-plagued squad after Monday's 2-0 loss at Wolverhampton Wanderers condemned them to a seventh straight Premier League defeat.
Palace were already missing five regular players and suffered another blow when defender Mamadou Sakho went off in the first half with a hamstring injury.
Defeat left Palace in 14th place on 42 points with one match left in the season, against Tottenham Hotspur on Sunday.
"You must not forget in these recent matches we have played some of the top teams in the country and we're doing it with a weakened team," Hodgson told the BBC.
"I don't know what more we can do. I can't magic players out of thin air. We have the squad we have.
"We're not going to recover any of the injured players, it will be putting out the same players today on Sunday who are really tired and giving their all for the club."
Hodgson said he hoped to improve the squad depth during the close season, particularly in attacking areas.
"An awful lot of things have not gone our way during this period of bad results but we have to face up to it and then in the summer find the players to reinforce us," he added.
"The lack of strikers we have and lack of goalscorers - that has been a constant theme for the whole of the three seasons I've been at the club, so nothing changes."
Premier League survival huge for Brighton's finances, says manager
Brighton & Hove Albion manager Graham Potter has said ensuring Premier League survival will have a massive impact on their finances given the loss of revenue clubs are facing amid the COVID-19 pandemic.
Brighton's top-flight status was confirmed after a 0-0 home draw with Newcastle United on Monday sent them seven points clear of 18th-placed Aston Villa, who have two games to play.
Relegation would have resulted in a financial hit of around $100 million.
"The financial implications are massive, especially with how the year has been and how next year looks potentially," said Potter.
"We're fighting every year to stay in the Premier League.
"We have to set a foundation for us to build on and that's why it's important to stay in the Premier League."
Brighton, who are 15th, travel to Burnley for their final game of the season.
Sheffield United should be proud, says manager Wilder
Sheffield United manager Chris Wilder has said they should be proud of their performance in the Premier League this season despite Monday's 1-0 defeat by Everton meaning they have missed out on the European places.
"We've been one of the better promoted sides for a while ... we aren't one of those yo-yo clubs who have come back up with parachute payments or one of the bigger promoted clubs. We can be proud of our achievements," Wilder told reporters.
"We shouldn't even be talking about a bridge too far at all. For us to be in this position in the 37th game of the season is a great achievement," Wilder said.
United, who are eighth, finish their campaign with a trip to 12th-placed Southampton on Sunday.
Leeds defender Berardi out for up to nine months after ACL tear
Leeds United defender Gaetano Berardi faces up to nine months on the sidelines after tearing the anterior cruciate ligament in his knee during Sunday's 3-1 win at Derby County, the Championship (second-tier) club have said.
The 31-year-old Switzerland international, whose contract expires at the end of the season, was withdrawn shortly after the half-hour mark at Pride Park and underwent scans on Monday.
Berardi made 25 appearances for Marcelo Bielsa's side this season, helping them secure a return to the Premier League after a 16-year absence.
Leeds, who were confirmed as champions last week, will face Charlton Athletic in their final game of the season on Wednesday.
Watford skipper Deeney denies report of half-time fight
Watford captain Troy Deeney has dismissed reports a fight broke out in the dressing room during Friday's 3-1 defeat by West Ham United .
Manager Nigel Pearson was sacked after the defeat, which left them three points above the relegation zone.
"I just want to put out there, there was no fight at half time," Deeney, 32, told broadcaster beIN SPORTS.
"It's 2020. We don't do that anymore. You know, certainly with all the cameras and everything, you'd certainly see a lot more if that was the case.
"The gaffer didn't put his hands on anybody. He was just frustrated and had a firm talking to, so no one was fighting, no one was punched, no one was even tickled. I don't know, whatever way there was: no hands thrown, let's just put it that way."
Deeney said the timing of Pearson's dismissal caught him off guard.
"It's strange obviously, we didn't see it coming. I think you get to a point in football where you're not surprised anymore but I would say that this one certainly, you know, took me back a bit," Deeney said.
Interim boss Hayden Mullins will take charge of the side for their final two games against Manchester City and Arsenal.