News of all that's transpired on and off the football field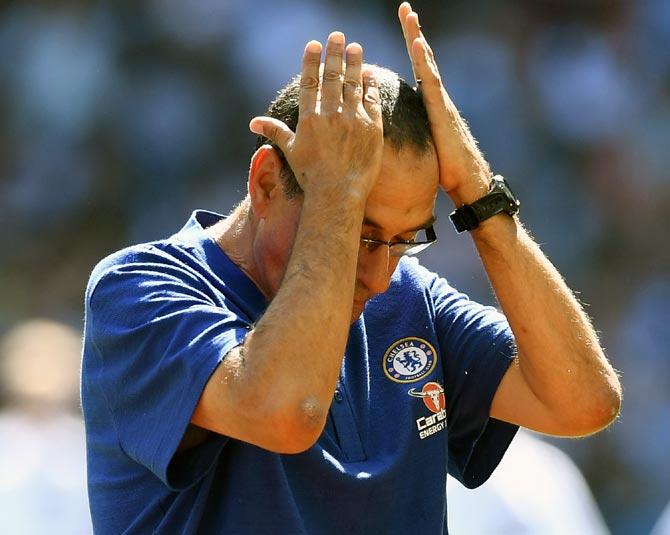 Chelsea's season hangs in the balance after Monday's FA Cup exit but they must stay calm and recapture their best form in the next two games to turn things around, winger Pedro has said.
The FA Cup holders were beaten 2-0 by Manchester United in the fifth round, piling the pressure on under-fire manager Maurizio Sarri.
With a Europa League clash against Malmo and the League Cup final against Manchester City up next, there is no time to dwell on the disappointment, the Spaniard said.
"The most important thing now is to stay calm, train really hard and recover our best football and our best feeling, because if not we are in trouble," Pedro told Chelsea's website.
"There is an important game in the Europa League for us and, after, the final against City."
Chelsea lead Malmo 2-1 from the first leg of their Europa last 32 tie and host the Swedes on Thursday in the return.
Cesar Azpilicueta, who has captained the team in Gary Cahill's absence, also called for calm.
"At Chelsea we are used to winning a lot of trophies and we have been the most successful team in England for the last couple of years," Azpilicueta said.
"We know we have the Europa League game coming up on Thursday. We will then play a final... Hopefully we can keep calm from Thursday and then win that trophy on Sunday."
Guendouzi surprised by instant impact at Arsenal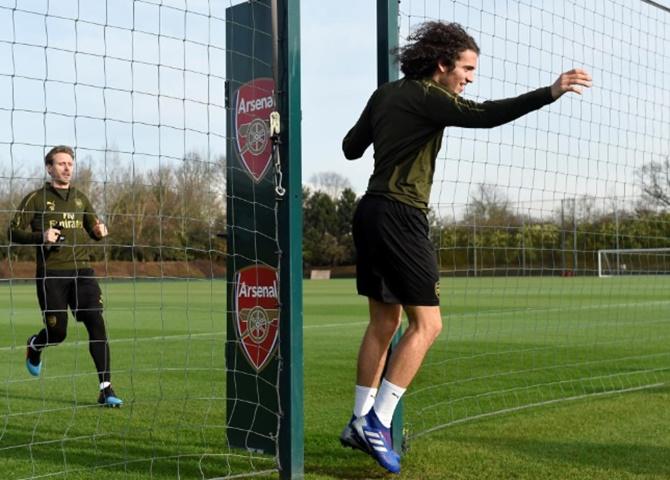 Matteo Guendouzi concedes few people would have heard of him before he arrived at Arsenal last year and that while he is surprised to have become a regular in the starting 11 so quickly he has already shown he brings something different to the team.
The 19-year-old Frenchman was signed in July from Ligue 2 side Lorient and has quickly become a favourite of manager Unai Emery, making 33 appearances in all competitions.
"I'm a bit surprised that everything has been going so well," Guendouzi told the Evening Standard.
"I had a chance during the pre-season tour and I took it, I showed I could be part of this team.
"Let's be honest, apart from the players here who follow a bit of the French leagues, no one had ever heard of me."
No other teenager has played more minutes in the Premier League this season and Guendouzi credits Emery for having faith in him so early on in his Arsenal career.
"I owe him a lot because he has trusted me from the beginning. To give so much playing time to a 19-year-old at Arsenal is rare," Guendouzi added.
Arsenal trail BATE Borisov 1-0 in their Europa League last 32 and host the Belarusian side in the second leg on Thursday.
Herrera happy to do the hard yards at Man United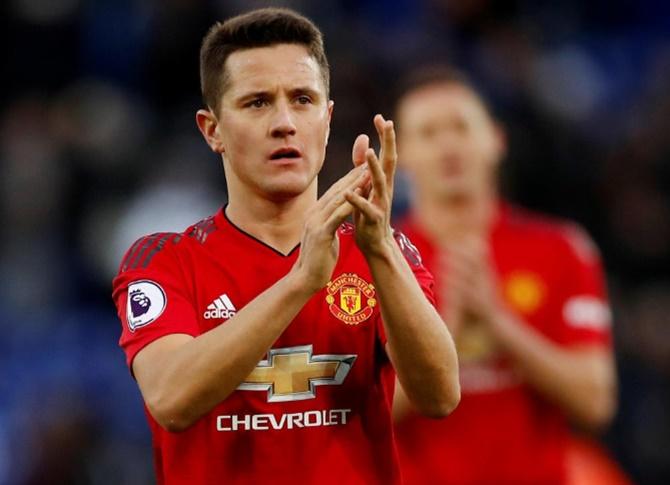 Ander Herrera and Nemanja Matic have been working overtime in the Manchester United engine room of late but the duo are content to carry the load if it lets the attacking players focus on scoring goals, Herrera has said.
United, who have won eight of nine Premier League games under interim boss Ole Gunnar Solskjaer, are also beginning to see the best of midfielder Paul Pogba, with Herrera and Matic giving him the platform to create and drive the side forward.
"I said to the manager we are running a lot at the moment to make our forwards enjoy it," Herrera told the club's official monthly magazine.
"Sometimes it's hard for us but as long as they score goals and as long as they make our fans enjoy the games we'll continue doing that... we'll probably need a long holiday afterwards."
United, who beat Chelsea 2-0 on Monday to reach the FA Cup quarter-finals, return to league action when they host second-placed Liverpool on Sunday.
A 3-1 defeat to the Merseyside club in December proved to be Jose Mourinho's final match in charge at United.
"The mood at the moment, the atmosphere, it's fantastic and I think the fans feel like we're doing what they want us to do," Herrera added.
"We're going now in the way they want us to go – winning, but also in the style of football, the attacking football, always trying to create chances, always trying to be the protagonist team on the pitch."
United are fourth in the table with 51 points from 26 games.
Juve's Khedira out for a month due to heart condition
Juventus midfielder Sami Khedira will be on the sidelines for a month after having treatment to correct an irregular heartbeat, the Serie A leaders said on Wednesday.
The 31-year-old Khedira, who was part of Germany's 2014 World Cup-winning squad, did not travel for Wednesday's Champions League last-16 first leg at Atletico Madrid after being diagnosed with atrial fibrillation.
Khedira underwent an "electrophysiological study and successful interventional therapy", the Italian champions said in a statement on their website.
"After a short period of convalescence (he) will be able to resume his activity approximately within one month."
Khedira has played only 15 times in all competitions for runaway Serie A leaders Juve this season due to injuries.
Man City will not change style despite hiccups, says De Bruyne
Opponents have figured out how to beat Manchester City this season but the team will not deviate from manager Pep Guardiola's philosophy as they fight for trophies on four fronts, midfielder Kevin De Bruyne has said.
City have looked less formidable in the league compared to last season when they lost only twice in 38 league games to win the title with a record-breaking haul of 100 points. This season, however, they have already lost four times in 27 games.
"In the league we lost a few more games than we did last year. I think other teams figure out what we do, maybe, a little bit better," De Bruyne told reporters ahead of the first leg of their Champions League last-16 at Schalke.
"They maybe also have better squads. We just added one player (Riyad Mahrez), the rest is the same team."
"The way we play is always going to be the same with Pep. We're not going to change, everybody knows that."
City are the only English team that are still alive in all four competitions but the Belgian midfielder said it was 'nearly impossible' to target a quadruple, a feat that has never been achieved in English football.
"I think the goal is not to win the four competitions. The goal is to win every game and then the further you progress," De Bruyne added.
"To set standards to win all four, that's nearly impossible. If we win three titles we will have done better than last year."