Liverpool one of the best teams I've faced as manager, says Guardiola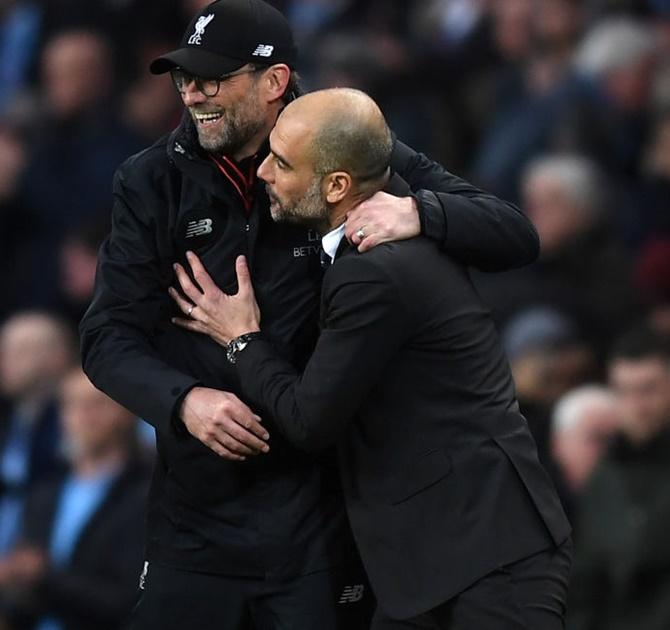 Manchester City boss Pep Guardiola considers Liverpool among the best sides he has faced in his managerial career with the two clubs set to fight for the Premier League title on the final day of the season.
Liverpool have a two-point lead over the defending champions but Guardiola's men have a game in hand and meet Leicester City at home later on Monday.
Liverpool have lost only once in the league this season and are also in the Champions League semi-finals, and Guardiola mentioned Juergen Klopp's side in the same breath as Barcelona's 2014-15 treble-winning team.
"In my career as a manager, I played against incredible sides," Guardiola told The Telegraph. "There are two that were, 'Wow'. One is Barcelona with Luis Enrique, with Neymar, (Lionel) Messi and (Luis) Suarez up front."
"The other is this Liverpool. I think they're the best two sides I've faced as a manager. That's why, arriving at this stage... after 100 points (last season), is the most satisfaction I've had as a manager."
Guardiola also praised his squad's resilience to claw their way back into the title race when they found themselves seven points behind the league leaders in January.
"When you're seven points behind, you could have said, 'It's done' and just think, 'We did it last season'," Guardiola added. "We did the opposite of that."
"The difference is Liverpool. We did the same job (as last season). It's incredible what we have done, but it will make more sense if we are able to lift the Premier League."
The Spaniard, who had previously managed Barcelona and Bayern Munich, said the English top flight was the toughest league he had managed in.
"It's the toughest league I've ever played as a manager, for the quality from the rivals, no doubt," Guardiola said.
"That's why being there is incredible but, of course, only one will take the prize and the other one will be at home sad."
Juventus-bound Ramsey bids emotional farewell to Arsenal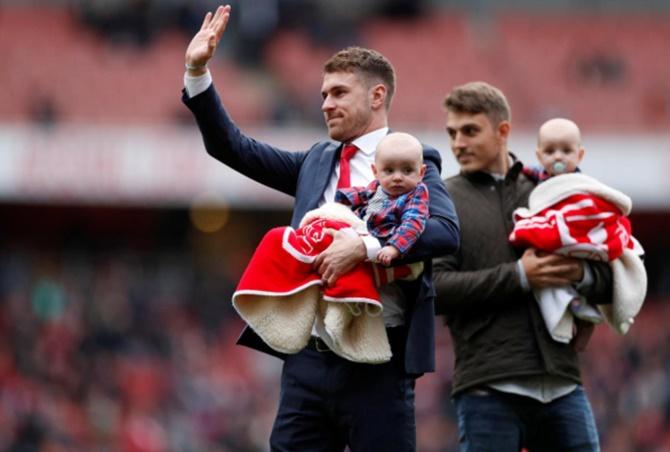 Aaron Ramsey made a tearful farewell to Arsenal after 11 years at the club on Sunday and said he was looking forward to the next phase of his career at Juventus.
The Welshman, whose season ended prematurely after he sustained a hamstring injury last month, is set to join the Italian champions in the close season after signing a four-year deal in February.
Ramsey, who is the club's highest scoring central midfielder with 64 goals, was given a guard of honour by his team mates and presented with a memento after Arsenal's 1-1 draw with Brighton and Hove Albion at the Emirates Stadium.
"Obviously it's very emotional, it's been a hell of a journey," the 28-year-old told Sky Sports. "Eleven years of my life, so much has happened in that, when I look back. You can tell by my voice how much it means to me."
"I'm really excited for the new challenge and new chapter in my life (at Juventus) but today it's all about this."
"This is where I grew up. I just want to take this in today and let it settle in for a few more days before I can really look forward and concentrate on that."
"I'm going to club that's playing in the Champions League, and playing with (Cristiano) Ronaldo. And that's going to really sink in now, so I can get my head around that in the next few weeks and really look forward to that challenge."
Goalkeeper Petr Cech, who is retiring at the end of the season and was also honoured by Arsenal, said Ramsey's departure was a big loss for the London club.
"I think when he came from Cardiff nobody really knew how great a player the club brought in and I think he gave everything he could all those 11 years," Cech said.
Arsenal also confirmed the departure of striker Danny Welbeck. The Englishman, signed from Manchester United in 2014, has not played since he had an ankle surgery in November and his contract expires at the end of the season.
"I spoke with the club about this situation," manager Unai Emery said. "The decision is he is going to leave."
Cup success harbinger of more to come for Ajax
Ajax Amsterdam celebrated a first trophy in five years with success in the KNVB Cup at the weekend and now have high hopes of capturing more silverarwe in the next weeks.
"This is the first and now hopefully we can take more prizes," said defender Daley Blind after scoring the opening goal in Sunday's 4-0 win over Willem II Tilburg in the final at Rotterdam.
Ajax could still achieve a triple this season.
They take on Tottenham Hotspur on Wednesday for a place in the Champions League final and are top of the table in the Dutch championship with two rounds to play.
"It looks as if everything is going right for us, both on and off the field. It's a feeling we must treasure," Blind told reporters. "But we are not finished. The season can still get whole lot better."
Sunday's Dutch cup win was the 19th in total for Ajax but first since 2010. They were last Dutch champions in 2014 and have not won a European club prize since their Champions League success in 1995.
Ajax have a 1-0 advantage over Tottenham after last week's semi-final first leg in London as they seek a berth in this year's final in Madrid on June 1.
"The season has gone perfectly but we are not yet satisfied," said coach Erik ten Hag. "We have shown some good things up to now and those memories will always be there. Beating Real Madrid away... that we'll always remember."
"But realistically you need to have something tangible. And that is titles. Now that we have the cup, it must lead to others."
Maradona's team lose promotion playoff for second successive season
Diego Maradona has experienced the disappointment of missing out on promotion as a coach for the second year in a row after his Mexican club Sinaloa Dorados lost a nail-biting second division playoff on Sunday.
The Dorados lost 1-0 after extra time in the second leg at Atletico San Luis, a result which left the aggregate score at 2-1 and handed the Clausura title, as well as promotion, to the home side.
A second successive playoff defeat with the Dorados will inevitably lead to speculation about how long Maradona, took over at the club from northern Mexico in September 2018, will stick around.
The colourful former Argentina captain threatened to quit only last month, alleging that referees did not give his side fair treatment because he was in charge.
A World Cup winner in 1986 and widely considered one of the greatest players of all time, Maradona has had a chequered coaching career and rarely stayed long at one club.
He has also suffered from regular health problems, most recently earlier this year when he spent several days in hospital with internal bleeding in his stomach.