News of all that's transpired on and off the football field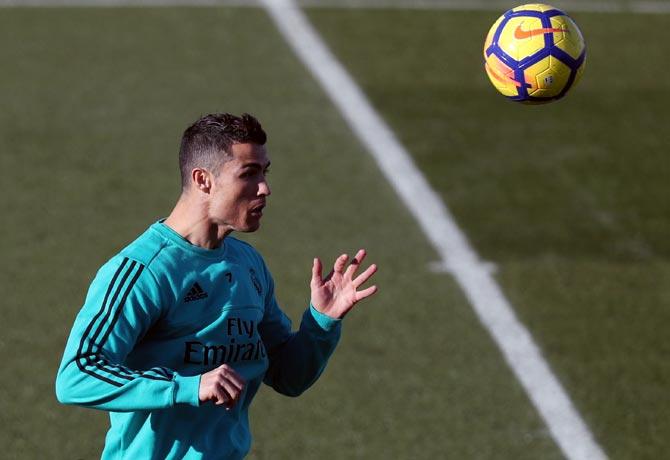 With the score poised at 1-1 in Sunday's Madrid derby in La Liga between Real and Atletico, Cristiano Ronaldo's number appeared on the fourth official's electronic board in red and the crowd in the Santiago Bernabeu fell silent.
Real Madrid coach Zinedine Zidane took off the Portuguese forward for Karim Benzema in the 64th minute. Even though his careful management of Ronaldo's minutes has become increasingly obvious, it is still jarring to see him removed.
Ronaldo had sent Real ahead 11 minutes earlier, positioning himself perfectly to volley Gareth Bale's looping cross beyond the reach of the previously unbeatable Jan Oblak. However, Antoine Griezmann fired Atletico level moments later.
With Ronaldo off the pitch, rested ahead of Wednesday's Champions League quarter-final second leg clash in Madrid against Juventus, the game petered out.
"Cristiano is Cristiano, he has been this player all his life, scoring 50 goals a season. It is true that there is nobody else who does that," said Zidane after the game.
"But others can score, have done recently, and we must think about the positives. It's better to have Cristiano with us.
"It was just (to rest him). We have many games, that's it. Sometimes he needs to rest. These days he needs that. He feels better every day, you can see it."
Although Real, fourth, have no hope of catching league leaders Barcelona, who are 15 points ahead, Ronaldo's substitution effectively appeared as Zidane giving up on the game, considering his goalscoring influence.
Ronaldo's goal against Atletico was his 24th in his last 13 matches across all competitions, and the 10th consecutive match in which he has scored.
Madrid are dependent on Ronaldo's goals and Zidane has taken to resting him completely in some league games, leaving him out of trips to Leganes, Espanyol and Las Palmas recently.
Ronaldo has been substituted by Zidane in five games since the mid-season break, with the coach convinced he needs to keep the 33-year-old forward in good condition for the defence of their Champions League title.
It was Ronaldo's two goals, including a spectacular scissor kick, that helped Madrid earn a 3-0 first leg lead over Juventus and the veteran will look to benefit from his extra rest in Italy this week to send his side through to the semi-finals.
City need to produce 'the perfect game' says Guardiola
Manchester City must overturn a 3-0 deficit against Liverpool in the second leg of their Champions League quarter-final tie on Tuesday and manager Pep Guardiola said that will require "the perfect game" from his players.
City go into the match on the back of a 3-2 defeat in the Premier League to rivals Manchester United on Saturday when a win would have secured the title.
Guardiola's side gave up a two goal lead in that game and they know that even a single slip-up against Liverpool will make their task of progressing to the semi-finals almost impossible.
"Of course to go through you have to make the perfect game, create chances, be clinical, concede few chances, all the conditions have to be perfect," said the Spaniard.
"The result is tough but we have 90 minutes and in football anything can happen. What we are going to do is try. We have to score the first one, then make the second one. We'll see the momentum, try to keep it longer and then we'll see," he added.
City conceded their six goals in the past two games during a pair of intense short spells and Guardiola said they have to be ready to deal with adversity.
"If we concede, don't give up - it's more than 90 minutes. We have very often created a lot of chances in short period of time and we have to be clinical. And if we are not clinical then move on to the next one," he said.
City were eliminated last season in the last 16 by Monaco and it would be a disappointment for them to fail to make the last four after such a dominant season domestically.
But the former Barcelona manager believes that his side is growing and will soon be among the real elite of European football.
"We need titles in Europe -- it's complicated but you need nights that make you understand it," he said.
"Beating Barca (last season) was so special because we know they're the best team in the world but it will happen sooner or later.
"With what this club has done in the last 10 years in terms of creating facilities and making it bigger it will happen. (To compete with) the big clubs you need time but hopefully we can do it. Maybe next year but soon it will happen."
Torres to leave Atletico Madrid in search of game time
Atletico Madrid striker Fernando Torres plans to leave the club when his contract expires at the end of the season to seek more game time.
Torres, 34, has started only three La Liga matches this season and made 17 appearances from the bench, scoring two goals.
"I want to take advantage of this opportunity to say this will be my last season at the club," Torres said at a promotional event on Monday.
"It has not been an easy decision. Looking at the reality, the circumstances, perhaps it's for the best. I accept that I'm not having much of a role, so perhaps this is the moment to step aside for others."
The Spanish striker is in his second spell at the club he left in 2007 to sign for Liverpool. He also had stints at Chelsea and AC Milan before returning to Spain in 2015.
"It's difficult to say goodbye for a second time because I wanted to retire here, but things don't always go as you want," added Torres.
"I feel physically and mentally able to keep playing. I am in good shape and I will look elsewhere for games."