News of all that's transpired on and off the football field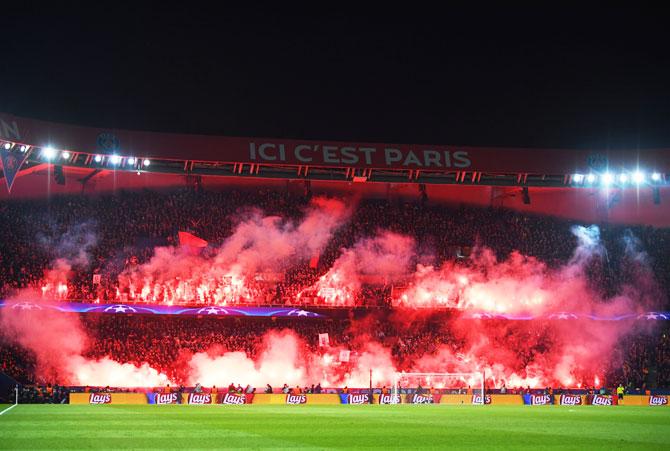 IMAGE: PSG fans light flares during the UEFA Champions League Round of 16 Second Leg match between Paris Saint-Germain and Real Madrid at Parc des Princes in Paris on Tuesday. Photograph: Matthias Hangst/Getty Images
Paris St Germain are set to be punished by UEFA for their fans setting off flares and other offences in their 2-1 defeat at home to Real Madrid in the Champions League on Tuesday, which saw the French side exit the competition 5-2 on aggregate.
A statement on the European football governing body's website (www.uefa.com) said it was investigating the Ligue 1 leaders on four counts of violating its disciplinary regulations, for setting off fireworks, pointing a laser, blocking stairways and "insufficient organisation".
"Disciplinary proceedings have been opened following the UEFA Champions League Round of 16 match between Paris Saint-Germain and Real Madrid CF (1-2), played on 6 March in France," said the statement.
"The case will be dealt with by the UEFA Control, Ethics and Disciplinary Body on 22 March."
German referee Felix Brych had to stop the game on two occasions due to the excessive amount of smoke on the pitch from the flares, harming the visibility of officials and players.
PSG's 'Ultra' supporters also set off flares near to the hotel Real were staying at in the French capital the night before the game, prompting a complaint from the Spanish side to UEFA.
UEFA said it was also investigating Swiss champions Basel after their visiting supporters set off flares in their last-16 second leg game at ManchesterCity on Wednesday.
UEFA's regulations state a club will be fined 500 euros for every flare set off during a game for first time offenders, then 750 euros for every other flare for repeat offenders.
FC Pune City coach suspended with immediate effect for 3rd breach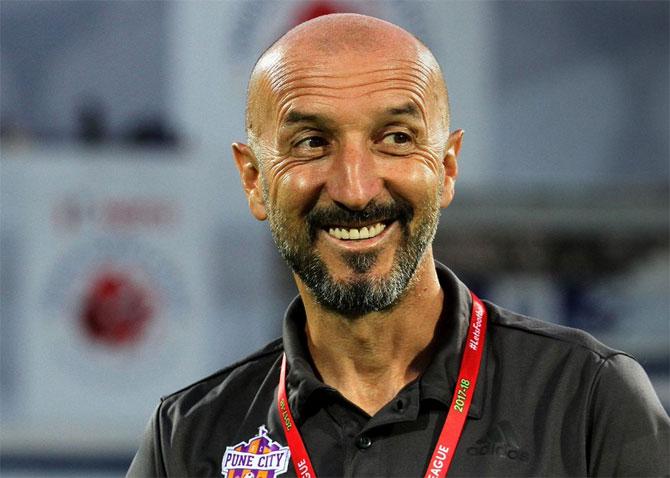 IMAGE: FC Pune City's coach Ranko Popovic. Photograph: ISL/Twitter
The All India Football Federation's disciplinary committee on Friday suspended FC Pune City head coach Ranko Popovic with immediate effect pending further inquiry for committing his third offence in the ongoing Indian Super League.
Disciplinary committee chairman Ushanath Banerjee, while reviewing the latest public comments made by Popovic against referee and match officials, issued the sanction order.
In a communication to the club, Banerjee stated: "Having considered the utterances against the decisions of the referee and the match officials, it prima facie appears that Mr. Ranko Popovic has breached the Disciplinary Code and the Law of Game with impunity amounting to gross misconduct."
"On earlier occasion, Mr. Popovic was held guilty of abusing and insulting match officials and was imposed with sanctions. Even thereafter, he continued with his obdurate acts resulting warning. The instant subject matters are thus 3rd instance of breach."
Going into the fourth season of Hero Indian Super League, FC Pune City had the dubious distinction of being one of two teams to have never qualified for the semi-finals.
But it is Popovic who has made a big impact as he guide them to the semifinals of the ongoing edition, despite not being involved in the any of the recruitment before the season.
However, he has a penchant for getting into trouble with the administrators.
Banerjee stated, "Accordingly, issue show cause notice for repeat breaches and he is to reply within 9/3/2018 and appear for hearing before the Committee on 16th March 2018 at Football House, Delhi. In the meanwhile pending final decision of the Committee, Mr Ranko Popovic to remain suspended under Article 21 and 22 of the Code."
Pune City FC hosted Bengaluru in the first leg semi-final on Wednesday, which ended in a goalless draw.
Blatter says he wants FIFA to reconsider his case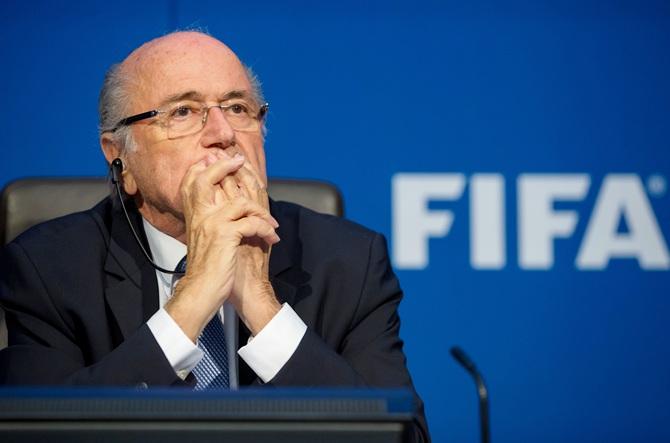 IMAGE: Tainted former FIFA president Sepp Blatter. Photograph: Philipp Schmidli/Getty Images
Banned former FIFA president Sepp Blatter intends to ask the ethics committee of the global soccer body to reconsider his case and lift his six-year ban from the sport.
Blatter, who led FIFA for 17 years, was barred for ethics violations in 2015 amid the biggest corruption scandal to shake world soccer's governing body.
The ban was imposed shortly after the Swiss attorney general's office began criminal proceedings against him on suspicion of criminal mismanagement and misappropriation. No charges have yet been brought and Blatter has denied wrongdoing.
"It is now two and a half years, this file has not moved," Blatter told reporters, adding he had no indication how long the investigation would last. "It is like having the Sword of Damocles over my head because you never know what will happen."
Blatter, who last month told Reuters he was considering legal action to clear his name, said he was now thinking of asking FIFA's ethics committee to re-open his case.
"I am looking to have a solution also from the FIFA ethics committee to lift the suspension, which is a nonsense," he said.
"I am also trying to see how we can change it. I hope to have a solution in the next three months before we open the World Cup in Russia."
The Swiss attorney-general's office could not immediately be reached for comment but in the past has said that such investigations can take several years.
Blatter also confirmed that he had been invited by President Vladimir Putin to attend the World Cup in Russia in June and July. "I'm honoured and I have accepted," he said.
Bulgarian FA seeks prime minister's help as referee crisis deepens
The Bulgarian Football Union (BFU), unable to ease tension surrounding refereeing in the domestic championship, is asking the Balkan country's prime minister and the sports minister for help in dealing with unruly club bosses.
On Wednesday the BFU's refereeing commission chief Petar Petrov resigned after bowing to pressure from several clubs who have been seeking a reshuffle following what they believe to be biased officiating during league matches.
"It's very difficult to withstand such pressure," BFU president Borislav Mihaylov told Bulgarian web site http://www.blitz.bg on Thursday.
"Petrov couldn't stand the tension around him and I accepted his resignation.
"It wasn't easy, I'm not a man who likes to sack people and accept resignations. I couldn't sleep the previous night..."
In September Petrov has been advised by police to take security measures after a criminal gang received an order to beat him up.
More than a dozen Bulgarian referees have been victims of violent attacks in recent years.
"I've talked to Prime Minister (Boyko Borissov) and Sports Minister (Krasen Kralev) and I will initiate a meeting with the club bosses," Mihaylov said.
"They (club bosses) have to promise they will not try to influence (referees) any more. If they don't make such a promise, any call to a referee will be given to the prosecutors."
Officials have complained several times that the refereeing commission has failed to give them enough support and had urged them to work under stressful conditions.
A few years ago, a former commission chief was charged with approaching referees to influence the outcome of seven domestic top flight matches.
The BFU and referees in the ex-communist state have been criticised for favouring certain clubs, including Ludogorets, who have won the title for the past six seasons.