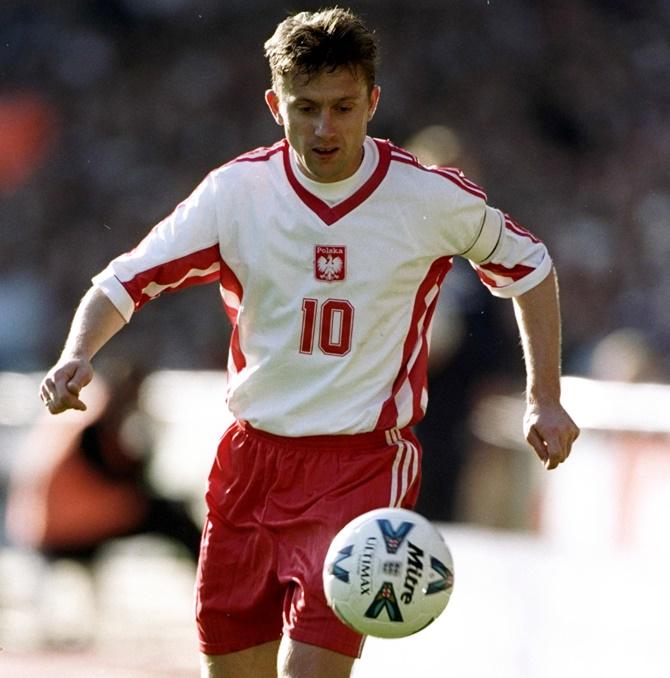 Jerzy Brzeczek, a former captain of Poland's national team, has been chosen as the team's new coach after Adam Nawalka's contract was not extended following Poland's World Cup exit, the Polish Football Association said in a statement on Thursday.
Midfielder Brzeczek was part of the team which won a silver medal at the 1992 Olympics in Barcelona. He has been coach of Polish top division team Wisla Plock since 2017.
The new coach will present his plans and other members of the coaching staff on July 23, the Polish FA said in a statement.
Brzeczek replaces Nawalka, who saw his team crash out at the group stage of the 2018 World Cup in Russia.
Bernardo hopes Brighton move will boost Brazil Chances
Brighton and Hove Albion defender Bernardo is hopeful that his Premier League stint with the club will boost his chances of being selected for the Brazil national team.
The 23-year-old full-back joined Brighton from RB Leipzig last week after two seasons at the Bundesliga side, where he played 49 matches, including three Champions League appearances and five in the Europa League.
"It's (Leipzig) a small club but it reached second place in the Bundesliga and I was not even on the radar," Bernardo told Brighton's website. "I was a player that played many matches, but my name was not even being speculated.
"Richarlison, from Watford, he is playing for a good club but not in the top six. Everyone is now talking about Richarlison, so the Premier League brings you to another level, because everyone is watching it.
"The staff from the national team... put on the Premier League. In the Premier League you just have to do your thing, because people are watching you."
Bernardo feels his nationality attracts a higher pressure to perform tricks and dribbles but believes his calmer style of play is harder to achieve.
"People think you are going to be like Ronaldinho, get the ball, do tricks, dribble around everyone and score," he added.
"It's not like that. I have a different profile from the typical Brazilian player. My behaviour away from the pitch is a bit more calm. I am more of a hard-working guy on the pitch than the one that does tricks and dribbles."
Huddersfield not surprised to be among relegation favourites - Wagner
Huddersfield Town being touted as one of the favourites to get relegated from the Premier League in the upcoming season does not surprise manager David Wagner who promised they will fight hard to avoid the drop.
Huddersfield re-entered the top-flight last season and were embroiled in the relegation battle for a majority of the campaign before finishing 16th.
They have been tipped to have a repeat of last year's struggles, highlighting the disparity between the league's table-topping big-money clubs and their smaller counterparts, who often focus solely on escaping relegation.
"It's nothing new for us and to be totally honest I can understand them," Wagner told reporters. "They know what we are capable of financially, from the size of the club, from the experience which we have.
"Probably we are one of the favourites for relegation but we have proven more often than not that it doesn't count what the pundits or the odds say, it counts what we deliver and for sure we'll try our best again.
"We will again give ourselves no limit. We will try to make happen again what nobody expected."
Brighton take on Watford in their opening league fixture on Aug. 11.
Wolves defender Miranda joins Olympiacos on season-long loan
Greek top-flight club Olympiacos have signed defender Roderick Miranda from Wolverhampton Wanderers on a season-long loan, the Premier League side has said.
Miranda joined Wolves last year and was instrumental in the first half of the club's Championship-winning campaign, featuring in every match between August and November.
"Everyone at Wolves wishes Roderick the best of luck during his loan spell in Piraeus," Wolves said on their website.
The 27-year-old fell out of favour in the latter stages of the campaign and played just two league matches since December, taking his appearance tally to 17 for the season.
Bournemouth toughening up in pre-season, says Howe
Bournemouth have chosen high-quality pre-season opponents to prepare the team for a demanding Premier League campaign, manager Eddie Howe has said.
The south coast club struggled with consistency last campaign and were in the relegation zone before a mid-season resurgence helped them finish 12th in the league.
To avoid another poor start, Bournemouth have set up six pre-season fixtures, three of which are against Spanish top-flight sides Sevilla, Levante and Real Betis and another against French team Marseille.
"We wanted tougher games this pre-season and I think that is reflected in our schedule," Howe told the club's website.
"... We are in the Premier League where every game is of such a high standard that your pre-season has to mirror that, and I believe we have done that this year.
"It's very important to settle the group down and get to know what to expect of each other during a tough season, so it's an invaluable experience for us."
Bournemouth will also face second-tier Championship teams Bristol City and Nottingham Forest before the start of the league campaign.