News of all that's transpired on and off the football field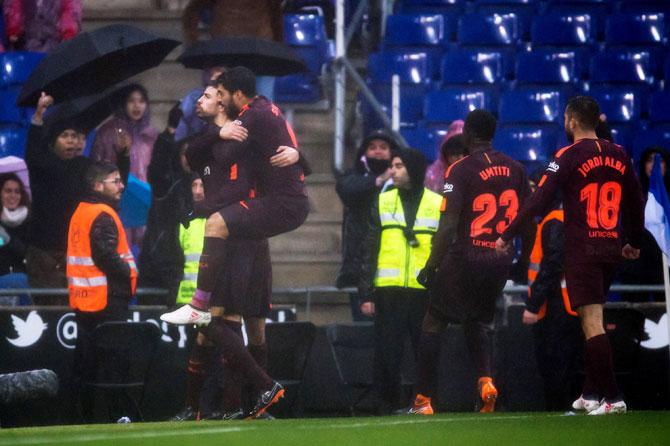 IMAGE: FC Barcelona's Gerard Pique celebrates with teammates after scoring his team's first goal during their La Liga match against Espanyol at RCDE Stadium in Barcelona on Sunday. Photograph: Alex Caparros/Getty Images
Barcelona defender Gerard Pique's goal celebration against Espanyol in their 1-1 draw at the weekend will be examined to see if he was provoking the fans at the RCDE Stadium in Cornella, La Liga president Javier Tebas said on Monday.
If the Spanish football federation's competition committee deems Pique's actions punishable, the Spanish international could face a suspension of up to three games.
Pique put his finger to his lips to shush the crowd after heading home an 82nd minute equaliser against their local rivals, with home fans reacting furiously.
"The committee will rule if the gesture is punishable, but we will take it to them so they can make a decision," Tebas told reporters.
"The regulations mean that certain ways of celebrating goals can be considered provocation."
Pique has a frayed relationship with Espanyol fans and has often riled them with provocative comments, recently mocking the club for being based in Cornella, a town 10 km south-west of Barcelona.
Following the game, Pique said his celebration was the least he could do after some of the insults Espanyol fans have aimed at his family, although Tebas disagreed.
"We have to highlight the fact Espanyol worked well and until that moment, Pique's goal, there was not a single insult aimed at Pique's family, which is something we were worried about at La Liga.
"His provocative gesture made the fans react and come out with insults, which are intolerable.
"(The shushing celebration) has been done before but on few occasions has it generated widespread irritation. We should avoid celebrations that irritate people."
Ronald Koeman named as Netherlands coach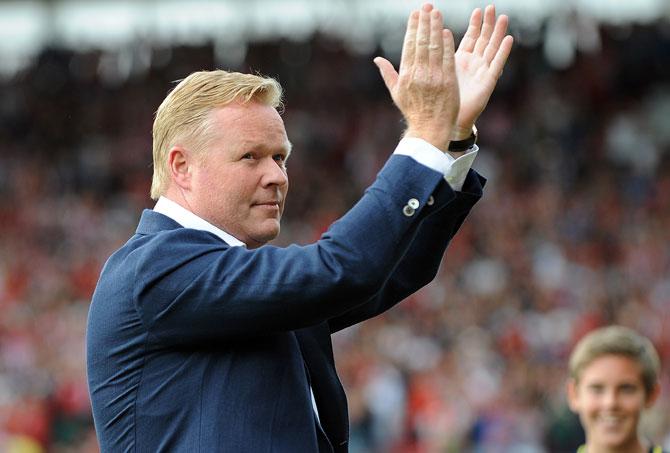 Ronald Koeman has been appointed as coach of the Netherlands national team up to and including the 2022 World Cup, the Dutch football association (KNVB) announced.
The 54-year-old former international defender is the seventh coach in eight years for the Dutch team, who were runners-up at the 2010 World Cup and finished third in Brazil four years later but failed to qualify for the 2018 finals in Russia.
He will be expected to help the Dutch to qualify for the next European Championship in 2020 and World Cup two years thereafter, reviving the team's fortunes in the process.
Koeman, who earned 78 caps for the Netherlands, succeeds Dick Advocaat, who had been brought in midway through last year after the sacking of Danny Blind in March.
His first assignment will be a friendly against England at the Amsterdam Arena on March 23, followed by a meeting with Portugal in Geneva three days later. The Dutch are helping the two Russia-bound teams prepare for this year's World Cup.
Koeman has been out of work since being dismissed by Everton last October after a poor run of form in the Premier League.
He did, however, enjoy significant success as a club coach in his homeland winning three Eredivisie titles - two with Ajax Amsterdam (2001-02, 2003-04) and one with PSV Eindhoven (2006-07).
He has also coached Vitesse Arnhem, Benfica, Valencia, AZ Alkmaar, Feyenoord and Southampton.
His coaching career began as an assistant to Guus Hiddink with the Dutch side in 1997 but he left after a year to take up a similar role under Louis van Gaal at Barcelona.
Former Dutch international Kees van Wonderen will be Koeman's assistant with Patrick Lodewijks as goalkeeper coach.
Serie A: Laxalt has the last laugh, Pandev plays pantomime villain role
Genoa winger Diego Laxalt scored a stoppage time winner, minutes after having a goal controversially disallowed by the video replay system (VAR), in a shock 2-1 win at third-placed Lazio in Serie A on Monday.
Goran Pandev, playing the role of pantomime villain, scored Genoa's first goal against his old club, having earlier infuriated the crowd by lying injured on the pitch and suddenly leaping to his feet to lead a counter-attack.
Lazio's defeat left them 13 points adrift of second place Juventus who thumped Sassuolo 7-0 on Sunday. Genoa are 13th.
The game suddenly erupted shortly before halftime when Pandev went down under a challenge from Lucas Leiva and remaining lying on the pitch, apparently injured, while his teammates waved for Lazio to kick the ball out of play.
Lazio ignored their pleas but lost possession to Genoa, at which point Pandev leapt to his feet and charged up the field to lead a counter-attack amid deafening jeers from the Stadio Olimpico crowd.
The Macedonian, who spent five seasons at Lazio, antagonised the home crowd further still by sweeping home Genoa's first in the 55th minute and celebrating vigorously.
Marco Parolo levelled four minutes later when he diverted a cross by Martin Caceres into the net, but there was more drama to come.
With only a few minutes left, Genoa goalkeeper Mattia Perin sent a long kick upfield, Cacares' attempted clearance was charged down by fellow Uruguayan Laxalt who ran on to score.
But the goal was chalked off for handball by Laxalt after the referee reviewed it using (VAR), a decision which took several minutes to reach.
Genoa were furious, claiming it was accidental, but Laxalt had the last laugh when he headed in from Oscar Hiljemark's cross in stoppage time.
Premier League looking to introduce 'winter break' before 2022: reports
The Premier League said that it is open to introducing a mid-season break, with British media reporting that it could be implemented before 2022 as part of the next TV rights deal.
Talks have been ongoing between the Football Association (FA) and the English Football League (EFL) regarding the proposal as they explore the possibility of bringing the English fixture schedules in line with the top leagues in Germany, France, Italy and Spain.
According to reports, the prospect of a European winter break is referenced in the tender documents that have been sent to potential broadcast partners.
The next domestic TV rights deal will cover 2019 to 2022, the results of which are due to be announced next week.
In response to media speculation, the Premier League released a statement on Tuesday saying it was examining ways to ease fixture congestion, including a winter break.
"The Premier League has been in discussions with the FA and EFL for several months regarding the challenges of the increasingly congested English football calendar, and ways in which we can work together to ease fixture congestion while also giving players a mid-season break," the statement said.
"Provided space can be found in the calendar, we are open to this in principle and will continue constructive discussions with our football stakeholders to seek a workable solution."
It is reported that the break would take place in January and would not impact the traditional English festive fixture schedule.
A winter break has long been mooted in the Premier League, not least by overseas coaches who have argued that the existing schedule is too taxing on players.
West Ham's Obiang set to miss rest of season after knee surgery
West Ham United midfielder Pedro Obiang has undergone knee surgery and is likely to remain on the sidelines for the rest of the season, the Premier League club said on Tuesday.
The 25-year-old Spaniard suffered a ligament tear in his right knee during West Ham's 2-0 FA Cup defeat at Wigan Athletic last month.
"Pedro has undergone surgery to repair the medial collateral ligament, and we're delighted with how it went," West Ham's head of medical services Gary Lewin said in a statement.
"He went to a specialist in Barcelona for the operation and he is in the best possible hands as the rehab process gets underway.
"Pedro is likely to be out for a little while, but we are confident that he will return fit and strong in ample time for pre-season."
Obiang has made 86 appearances for West Ham since arriving from Italian club Sampdoria in 2015.