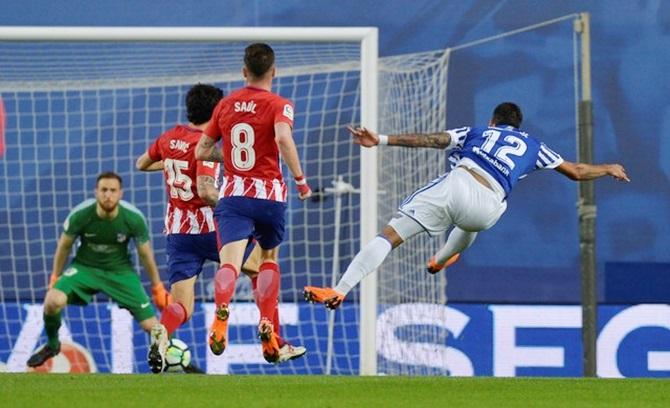 Atletico Madrid slumped to a 3-0 defeat at resurgent Real Sociedad on Thursday which means Barcelona need one more victory to wrap up a 25th Spanish La Liga title while Malaga were relegated after losing 1-0 at Levante.
Second-placed Atletico were outplayed by Sociedad from start to finish and fell behind in the 27th minute to a thumping strike off the post from forward Willian Jose after a cut-back from former Manchester United winger Adnan Januzaj.
The Basque side have been on a good run of form since Imanol Alguacil succeeded sacked coach Eusebio Sacristan and they welcomed Atletico after hammering Girona 5-0 and winning 1-0 at Las Palmas in their last two games.
They continued to create chances against Atletico, who were missing striker Diego Costa through injury, and sealed a deserved victory when forward Juanmi knocked in a pass from Willian Jose in the 80th minute.
Juanmi struck again in stoppage-time to complete Atletico's heaviest league defeat this season, sending Real Sociedad up to 11th in the standings.
Second-placed Atletico have 71 points after 33 games while Barca have 83 and third-placed Real Madrid 68. Barca, who drew 2-2 with Celta Vigo on Tuesday and are still unbeaten in the league, will clinch the title if they win their next league game away to Deportivo La Coruna on April 29.
Basement club Malaga dropped out of La Liga for the first time in a decade after losing 1-0 at Levante, conceding the decisive goal deep in stoppage-time when Emmanuel Boateng stabbed home from close range to take his side seven points clear of the drop zone with five games remaining.
Las Palmas are on the verge of being relegated after losing 1-0 at Real Betis, who snatched the win with a 93rd-minute goal from left winger Junior.
Las Palmas are 13 points adrift of safety with four games remaining and face a near-impossible task to avoid returning to Spain's second tier.
Turkish Cup semi abandoned after Besiktas coach struck by object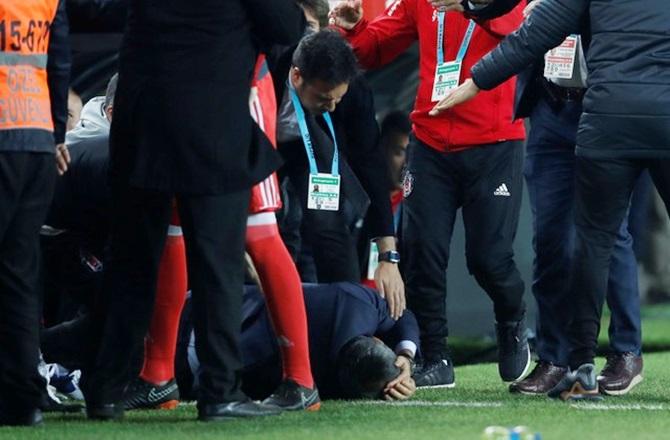 The Turkish Cup semi-final between two of the country's biggest teams on Thursday was abandoned after the Besiktas coach was hit on the head by an object thrown by Fenerbahce fans.
The game between the long-time Istanbul rivals started in a tense atmosphere and Besiktas were reduced to 10 men after former Real Madrid defender Pepe was sent off for a reckless tackle.
Tensions increased when fans threw objects at a Besiktas player as a corner was taken.
The Fenerbahce players tried to calm down the fans but the disorder continued into the second half and Besiktas coach Senol Gunes was struck on the head by an unidentified object.
He fell to the ground, a Reuters witness said, and local media reported that he received five stitches to his head and was taken to the hospital.
The Besiktas players then left the pitch along with the referees and the game was later abandoned.
EU lawmakers demand boycott of Russia's FIFA World Cup
A group of EU lawmakers have reportedly asked the bloc's leaders to boycott this year's football World Cup in Russia to protest over Moscow's "mockery of European values".
According to AFP, The 60 MEPs said all European Union countries should follow the lead of Britain and non-EU member Iceland in refusing to send official delegations to the tournament, which starts on June 14.
London announced last month that ministers and royals would stay away from the tournament in protest at the nerve agent poisoning of a former Russian spy in a British town, which Western powers have blamed on Moscow.
Iceland followed suit in solidarity with Britain over the attack in the sleepy city of Salisbury, which triggered a major diplomatic crisis with the government of President Vladimir Putin.
"While we agree that sport can help build metaphorical bridges, as long as Putin is blowing up real ones in Syria, we cannot pretend this World Cup is just like any other major sporting event," read the letter, organised by German Greens MEP Rebecca Harms.
"As long as Putin is illegally occupying Crimea, holding Ukrainian political prisoners and supporting the war in eastern Ukraine we cannot pretend that this tournament's host is our welcoming neighbour."
The MEPs said European governments should not give their support to "the authoritarian and anti-western path of the Russian president" by attending the tournament.