Bala Devi's move to Rangers will have huge impact on next generation: Ashalata Devi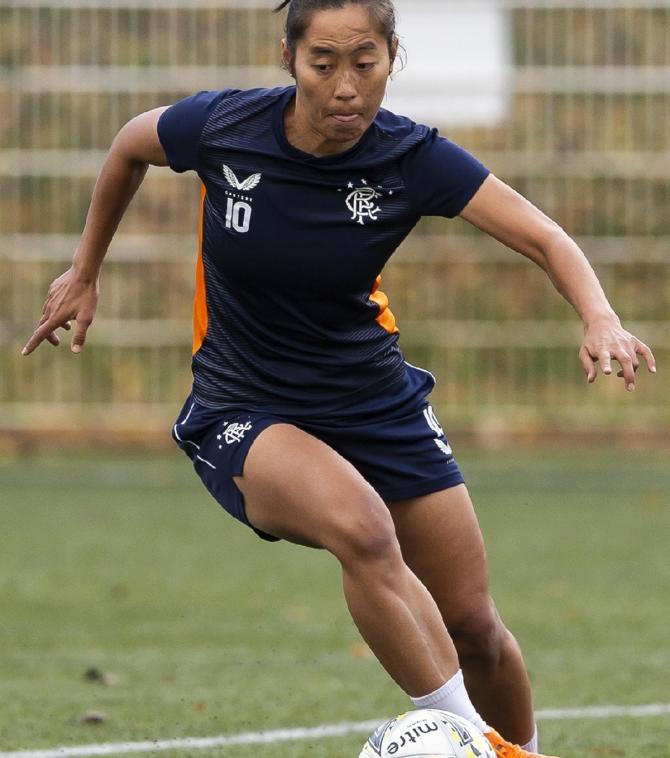 Indian women's football team skipper Ashalata Devi feels her compatriot Bala Devi playing for Scottish giants Rangers will have an immensely positive impact on the next generation seeking to play abroad.
Earlier this year, forward Bala Devi became the first woman player from the country to sign a professional contract with a European club as she signed for Rangers Women's FC, who play in the Scottish Women's Premier League.
In a live chat with AIFF TV, Ashalata said, "Bala di playing for Rangers is a very big opportunity as it shows us the way to play abroad and for the next generation too.
"I hope the young generation gets inspired by her and Aditi (Chauhan), and think that they can also earn opportunities with foreign clubs like her.
"Everyone has a dream to play for a top club and so, everyone will work hard and give their full dedication to the game. The effect will be huge on the youngsters in the near future," she added.
The 27-year-old centre-back, who was nominated for the AFC Women's Player of the Year award in 2019 after a string of excellent performances, spoke about her ambitions to play abroad as well, but stressed that her focus is on the upcoming AFC Women's Asian Cup 2022, with India set to host the event in two years' time.
"Every player wants to play for a professional club abroad but as we know, India is hosting the AFC Women's Asian Cup in 2022 and I want to be focused completely on that for the time being.
"If I get the opportunity to play overseas, then I will surely go and play but my focus is now on the AFC Asian Cup," a determined Ashalata asserted.
With the women's national team consisting of a number of young players at its core, Ashalata stated that she wants to pass on all her experience to her juniors and ensure that the adaptation process is seamless.
She said, "My country and the national team is always my first focus. So, I want to share my experiences first with all my juniors and I don't want to see those who eventually come into the side struggle, since the adaptation process takes time."
"Once I think that I have contributed all I can for my country, then I will quit the game."
Next year, the veteran defender will complete a decade with the senior national team -- having made her debut in 2011. She has been a key figure in the team's rise in recent years.
When asked about her favourite match with the side, she chose the SAFF Women's Championship final in 2019 when they defeated hosts Nepal in Biratnagar, in front of a hostile home crowd.
"The SAFF title in Nepal in 2019 has to be the most memorable moment for me.
"We had lost to Nepal at home only some time back and before the final match, everyone got emotional and we promised Maymol ma'am (head coach Maymol Rocky) that we will bring this trophy to you.
"In the semi-finals, we faced Bangladesh and all the Nepal fans were supporting Bangladesh, so we also got confused in the situation," Ashalata added.
Neymar to miss Brazil's upcoming World Cup qualifiers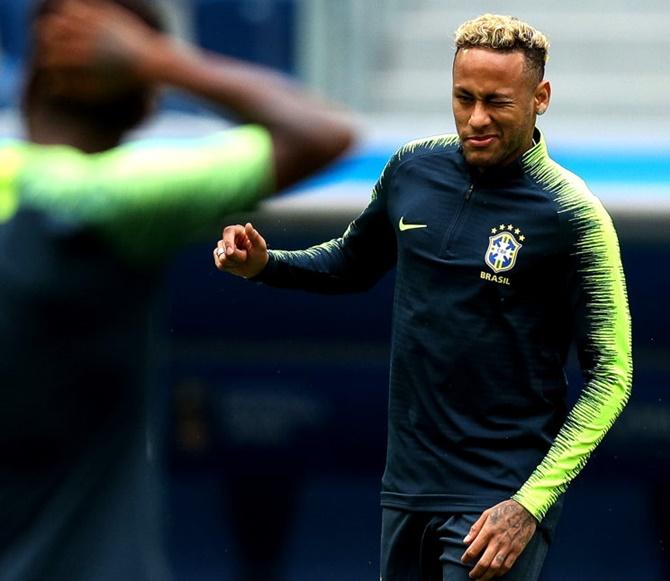 Paris St Germain striker Neymar has been ruled out of Brazil's World Cup qualifier against Uruguay next week in Montevideo.
The forward arrived in Brazil with a leg injury and although he was certain to miss Friday's game against Venezuela in Sao Paulo, the national team's doctors hoped he would recover in time for the second match in the double header next Tuesday.
"We were hopeful that he could play, that's why we brought him to Brazil," team doctor Rodrigo Lasmar said late Thursday.
"He improved but not enough so that he'll be ready for the game on Tuesday against Uruguay. The backroom staff decided to release Neymar Junior."
It was not clear whether he would remain with the Brazil squad or return to Paris.
Brazil won both their opening qualifiers for the 2022 World Cup in Qatar last month and are the only side in the 10-team South American section with a 100% record so far.
Gokulam's Devrani eyes to return to national team via I-League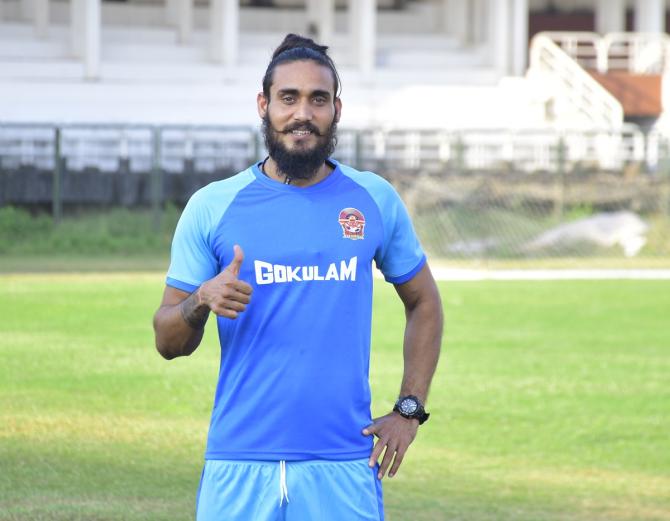 Veteran defender Deepak Devrani, who moved to southern heavyweights Gokulam Kerala FC, aspires to return to the national team with a strong show in the upcoming season of the Hero I-League.
"My goals in the immediate term are to make sure I am season-ready and at the top of my fitness, get to know my teammates, coach, management, and to adapt to the new normal so that we all work together to make our way to the top match-by-match.
"My personal goal is to make it back into the national team and to represent India," he was quoted as saying by the All India Football Federation.
Having already won the league twice in the past, the former Arrows product is looking to share his valuable experiences with his new team.
"Winning the Hero I-League is always at the top of my mind every season. However, football is a team sport and you never win as an individual but as a team. So I hope to share my experiences and learning so far with my team, as well as learn from the experiences of my teammates and coaches," he said.
"I am grateful to the team management, our sponsors, supporters, all officials and everyone in Kerala who has enabled us to come here and start our season. It has not been easy for anyone and but the support we have received so far has made our arrival and settling in has been outstanding."
The 14th edition of the I-League is scheduled to kick off on January 9, 2021. Instead of the traditional home and away format, the entire I-League 2020-21 will be held across three venues in Kolkata owing to the COVID-19 pandemic.
Devrani said not just him every footballer is relieved to be able to return to ground after spending months in lockdown due to the COVID-19 pandemic.
"When I saw the freshly cut grass in the stadium it was just amazing. I thought we are going to start football, finally. Everyone was so excited to see the stadium again. For me, staying away from the field never happened before, my whole life has always been around and next to the ground," he said.
"The whole lockdown we were thinking that when we would go for a run on the ground again."
Liverpool's Gomez out for 'significant part' of season after knee surgery
Liverpool defender Joe Gomez will miss a "significant part" of the rest of the season after having surgery on his left knee, the Premier League champions said on Thursday.
Gomez sustained the injury during a training session with England on Wednesday and was withdrawn from the squad before Thursday's friendly against Ireland.
Liverpool said in a statement that Gomez had undergone surgery to repair a tendon in his left knee, with "no damage to any other associated knee ligaments".
"The operation to correct the damage, which took place in London on Thursday morning, was a success and the 23-year-old will make a full recovery," the club added.
"No time scale is being placed upon his return, though the issue is likely to rule him out for a significant part of the remainder of 2020-21."
Gomez's injury is a massive blow to manager Juergen Klopp whose side are already without key centre back Virgil van Dijk because of a season-ending knee injury.
Liverpool, third in the standings with 17 points from eight games, host second-placed Leicester City on Nov. 21 after the international break.
Manchester United quarterly revenue tumbles as ticket sales suffer
Manchester United said late its first-quarter revenue fell nearly 20%, as it continued to lose out on ticket sales from fans unable to attend matches due to the coronavirus crisis.
The results were expected on Friday, but the company said the statement was released a day in advance due to an error by the publishers of its filings.
The pandemic has played havoc with the sporting calendar, forcing the suspension of English Premier League fixtures for three months, with fans still unable to attend matches.
United has failed to win at home in the league this season and had urged the government last month to allow fans back into stadiums, adding it can safely host 23,500 fans at Old Trafford while maintaining social distancing.
It remains uncertain whether fans would be welcomed back any time soon after England imposed a one-month lockdown this month.
Manchester United's Executive Vice Chairman Ed Woodward said on Thursday the health crisis continued to cause "significant disruption", but was optimistic that a recovery phase was gradually coming into view.
The results come at a time when club manager Ole Gunnar Solskjaer's future was questioned after a shock 2-1 defeat to Istanbul Basaksehir in the Champions League last week, but those concerns were eased following the win at Everton.
"We remain absolutely committed to the positive path we are on under Ole as the team continues to develop," Woodward said.
The club said playing matches behind closed doors and cancellation of the pre-season tour hit revenue, which was partly offset by higher broadcasting revenue compared to the last quarter.
Matchday revenue slumped 92.3% to 1.7 million pounds ($2.23 million), while broadcasting revenue jumped 44.7% to 47.6 million pounds.
The company said quarterly loss was 30.3 million pounds and revenue was 109 million pounds.
Sydney FC player contracts COVID-19 ahead of Asian Champions League
Sydney FC defender Ryan McGowan has tested positive for COVID-19 in Europe and looks likely to miss the remainder of the Asian Champions League, which will be concluded in Qatar over the next month.
The Australia international flew to Scotland to be with his family after helping Sydney FC to the A-League title in August and was supposed to join the squad in Doha this weekend.
Coach Steve Corica said quarantine meant McGowan would at least be delayed and might have to end up flying straight to Australia to prepare for the new A-League season on Dec. 27.
"He'll be tested again shortly and will hopefully make a recovery in time to meet up with the boys later in Qatar," Corica told reporters after Sydney FC beat the Australia Olympic team in a friendly on Thursday night.
Sydney FC resume their Group H campaign next Thursday against China's Shanghai SIPG after a delay of more than eight months caused by the global health crisis.
The eastern half of the competition will be completed in Doha with the semi-final winners taking on Iran's Persepolis FC for the continental title in the Qatari capital on Dec. 19.