'If he can stay as healthy as he is now, without injury, motivated, looking after himself the way he is....'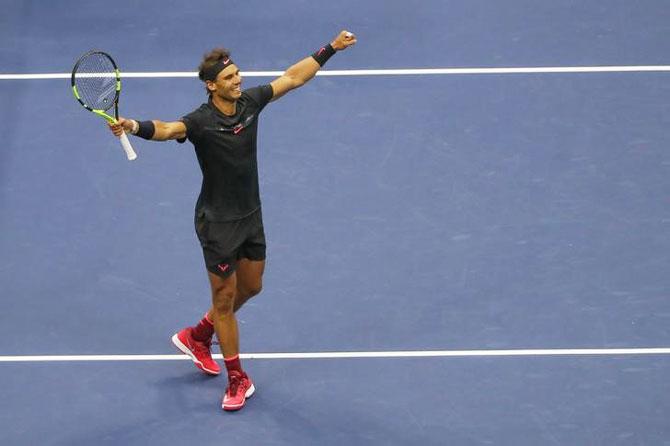 IMAGE: 'He broke records as a teenager and is now breaking them as a veteran as well. This is something we haven't seen much in the history of tennis.' Photograph: Anthony Gruppuso-USA TODAY Sports
Rafael Nadal can compete at the top level for years to come if he stays healthy, his coach Carlos Moya said after the Spaniard won two Grand Slam titles this year.
Moya, a former World number one, joined Nadal's coaching team to work alongside his uncle Toni Nadal last December and helped revitalise the 31 year old's career.
Plagued by injuries and a loss of form in the two years prior, Rafa has risen to Number 1 in the rankings.
He won his 10th French Open title and third US Open title this year. He lost to Roger Federer in the Australian Open final.
'If he can stay as healthy as he is now, without injury, motivated, looking after himself the way he is, we will be talking about Rafa for years to come,' Moya told the ATP Tour Web site.
'He is a player who broke records as a teenager and who is now breaking them as a veteran as well. This is something we haven't seen much in the history of tennis,' Moya added.
'When I joined the team I knew that there was much more to come for Rafa, that if he stayed injury free and continued training with the same motivation, desire and confidence, that the tennis would come.'
Moya, who shares a close friendship with Nadal, said nothing about his compatriot would surprise him anymore.
'He always gives the best of himself. We are talking about one of the greatest players in history and, as such, my faith in him is rock solid.'