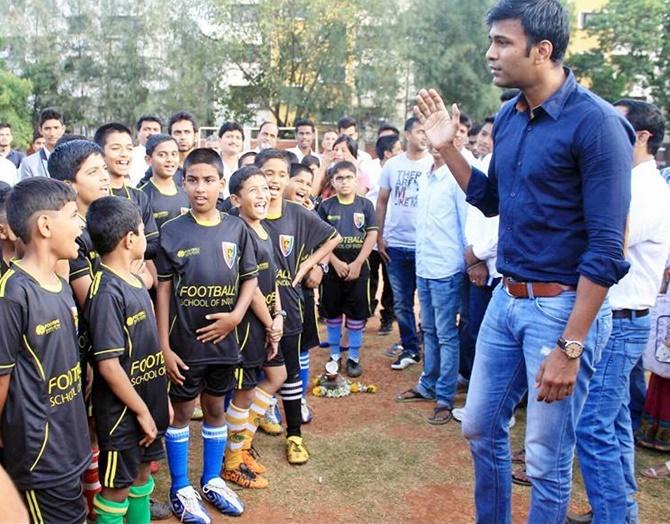 IMAGE: Chief operating officer for the FIFA U-17 World Cup, Abhishek Yadav talks to young football players. Photograph: Facebook.
If an Indian born player (2000 born) with valid Indian passport thinks that he can play football, then All India Football Federation's Chief operating officer (COO) for the FIFA U-17 World Cup, Abhishek Yadav is looking for you.
The former India striker has been handed to role due to his ongoing commitments with other areas of youth football development in the country and will work closely with head coach Nicolai Adam.
The AIFF has created an online portal which shall function as a platform for kids to upload their videos which would then be screened by a group of scouts trained to choose a player as per the criterion set by Adam. The boys will then be asked to appear for a trial in their country of residence and if they do manage to impress, they could be a part of the U-17 World cup team.
"This cuts down on our work. There is paucity of time and that is the reason we have created this online portal where the kid uploads two-minute odd video showcasing what he has got. If he manages to catch our attention, we will reach out to him," Yadav points out.
Adam, who serves as the coach of the India Under-17 team, was impressed with the work put in by Yadav, who has 67 caps for India, in his short stint and is said to have backed the move.
"Abhishek is amazing. It is great to have him. He brings a lot of expertise with him and I am extremely delighted to have him. He has a good eye for talent. I must say that he has been of good help," Adam had said earlier.
Yadav has plied his trade in the I-League and Indian Super League (ISL), traveled to Dubai to kick start the first-of-its kind SAI-AIFF Overseas Scouting Project (OSP) where players holding Indian passports would be given a chance to showcase their mettle.
"I don't want anyone to feel left out," said Yadav.
"If this pilot project works out, we will be travelling to other regions like the USA, Germany and so on."