'I feel I have no place in the semis and he will have a better chance to beat Rafa, to be honest.'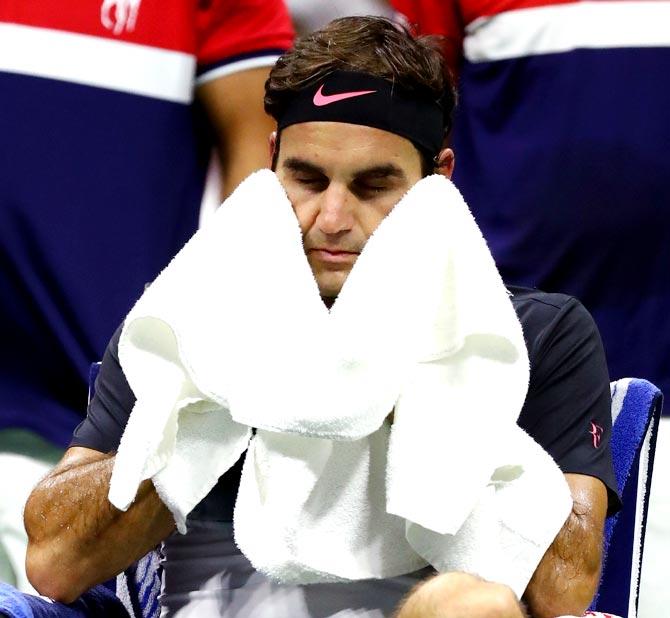 IMAGE: Roger Federer reacts during his quarter-final match against Juan Martin del Potro. Photograph: Al Bello/Getty Images
Roger Federer blamed troubled preparations for his US Open quarter-final exit on Wednesday, saying he had spent most of the time leading up to the year's final Grand Slam worrying about his back instead of focusing on training.

The 36-year-old Swiss, who was chasing a 20th major title and was hoping to play world number one Rafael Nadal for the first time in Flushing Meadows in the last four, lost 7-5, 3-6, 7-6(8), 6-4 in a thrilling encounter on Arthur Ashe Stadium.
Federer, who skipped the US Open warm-up tournaments because of back pain, said he was fit to play but the damage had been done before the action started in New York.

"The best player won today, by far, and I don't have a problem with that," he told a news conference.

"I don't want to take anything from Juan Martin but when you get injured before a tournament, you are not focused on training or on how to play during the tournament.

"It was a bit the case for me before the US Open. Then I had to play a couple of five setters and you start to hurt a little bit everywhere."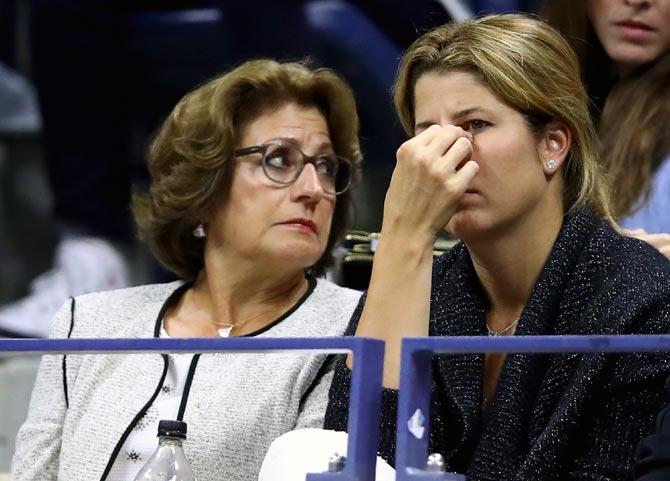 IMAGE: Roger Federer's wife Mirka, right, and his mother Lynette. Photograph: Clive Brunskill/Getty Images

Federer believes that as a result, he was unable to recapture the form he displayed in his victorious campaigns at the Australian Open and Wimbledon earlier this year.

"I never had the feeling I had reached the level I wanted. I forced myself to think that but I never had quite the same rhythm as during the Australian Open, Wimbledon, Indian Wells or Miami," he explained.

"I've been forced to kind of protect my service games. I was never really safe and I knew that there would always be one or two service games where I would be in danger."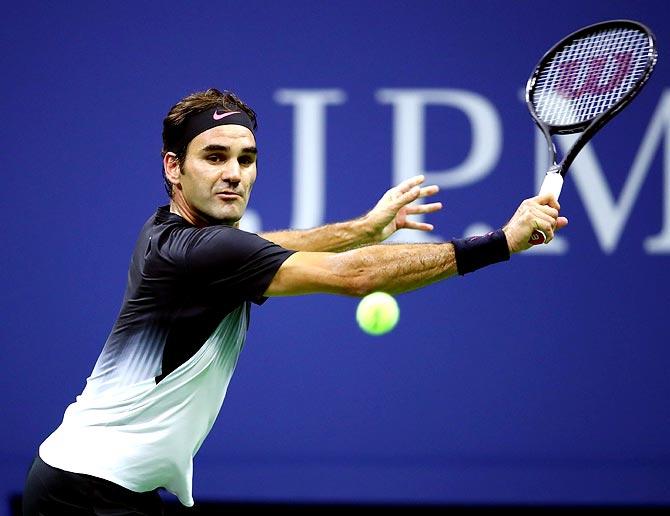 IMAGE: Roger Federer returns a shot. Photograph: Clive Brunskill/Getty Images

Federer said the turning point in the match came when he wasted four set points in the third as he was looking to go 2-1 up in the match.

"There were set points. It could have been worse and been match points but yes, it was a turning point," he said with a smile.

"I did not play badly in the first set but I was weak at the end of it and that set costs me the match at the end of the day," added Federer, who was broken at 5-5.

"That put me in a position where I needed some luck, where the margins were really tight."

Del Potro now faces Nadal in the semi-finals and Federer believes the Argentine is more likely to beat the Spaniard.

"I feel I have no place in the semis and he will have a better chance to beat Rafa, to be honest," he said.