'He told them that SAI and all other stadiums should work with only one mentality and that is service. The administrator mentality has to go.'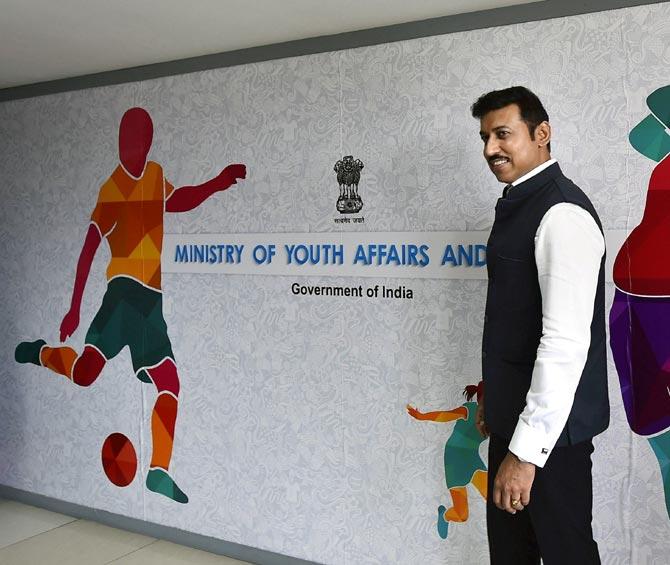 IMAGE: Sports minister Rajyavardhan Singh Rathore. Photograph: PTI
Administrators will have to become more receptive to the athletes' needs -- this was Sports Minister Rajyavardhan Singh Rathore's message to officials during a surprise inspection of the Sports Authority of India (SAI) office at the Jawaharlal Nehru Stadium, in New Delhi, on Wednesday.

Rathore, who took charge from Vijay Goel after a cabinet reshuffle a couple of days ago, reached the stadium around 9:15am IST when a lot of officials had not even reached office.

The 47-year-old, the country's first Olympian to become the Sports Minister, told SAI officials that work has to be done keeping in mind "service".
"He told them that SAI and all other stadiums should work with only one mentality and that is service. The administrator mentality has to go. The athletes should feel looked after since their needs are supreme," a Sports Ministry official said.

The minister checked each and every room at the JLN stadium which also houses Sports Authority of India (SAI) headquarters. He even inspected the canteen to check on the cleanliness part.

"The minister also checked how the data on athletes is maintained and suggested complete digitisation of the athletes' record and demanded a status report," the official added.

Another official said that he directed administrators to adopt a model based on Gramin Khel Utsav for involvement and participation of youth in sports activities.

"He was largely satisfied but the major thrust was that mentality has to change towards treatment of our athletes," said the official.

On his first day in office, Rathore had made it clear that the philosophy of his ministry would be respect and facilities for athletes.

Going down the memory lane, he recalled the days when as an athlete, he had to take permission at the reception to enter the ministry premises.

"I know what hardships the athletes face," Rathore, the 2004 Athens Games silver medallist in double trap, had said.