-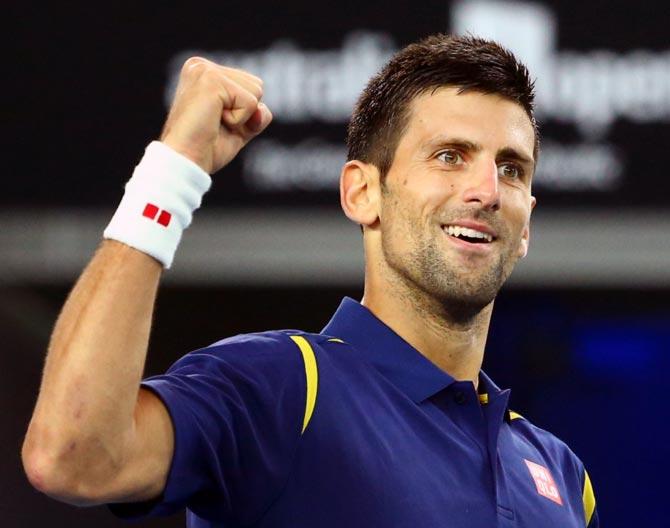 I needed to make mistakes to become the player I am today. It's been amazing. I've been truly privileged to have the experience: Roger Federer.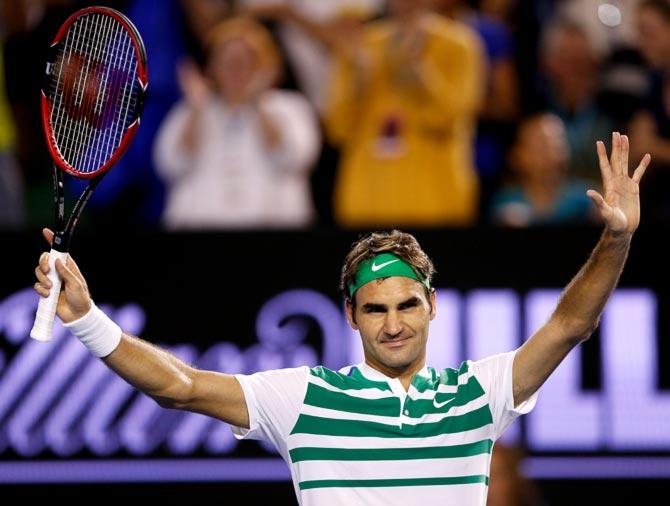 IMAGE: Roger Federer celebrates winning in his third round match against Grigor Dimitrov. Photograph: Zak Kaczmarek/Getty Images
A patient Roger Federer weathered a second set storm from Grigor Dimitrov before slapping down the Bulgarian 6-4, 3-6, 6-1, 6-4 to reach the fourth round of the Australian Open and clinch his 300th win in Grand Slams.
- Australian Open: PHOTOS from Day 5

The four-times champion wobbled briefly in the inter-generational battle when the 24-year-old nicknamed 'Baby Fed' pulled off his best impression of the Swiss master to capture the second set under a closed roof at Rod Laver Arena.

Federer, however, simply lifted a gear, taming an occasionally wayward forehand before speeding away to set up a clash with another young gun in Belgian 15th seed David Goffin.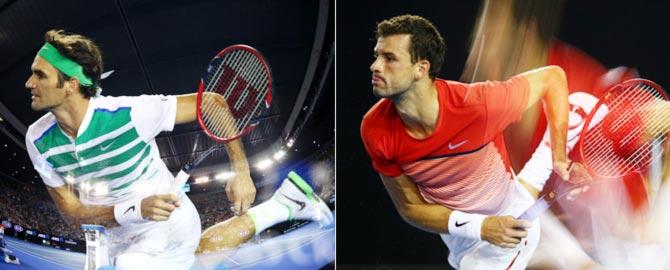 IMAGE: Roger Federer (left) and Grigor Dimitrov. Photograph: Michael Dodge/Getty Images
Blessed with a similar shot-making grace as his opponent, Dimitrov showed his class in a number of thrilling baseline battles and Federer admitted that, at times, it felt like playing himself.

"It's a little odd from time to time, I feel like he picks up the ball on the backhand and the forehand (like me)," Federer said in a courtside interview.

"Then I started playing the wrong way at times ... It's nice playing him, it's always fair play."

Their head-to-head record at the end of the twilight match stood at 5-0 in Federer's favour, however, and Dimitrov exits Melbourne Park still very much stuck in the Swiss's long shadow.

Having celebrated his 1,000th tour win in Brisbane last year, Federer was tickled by the idea of notching up his 300th in Grand Slams.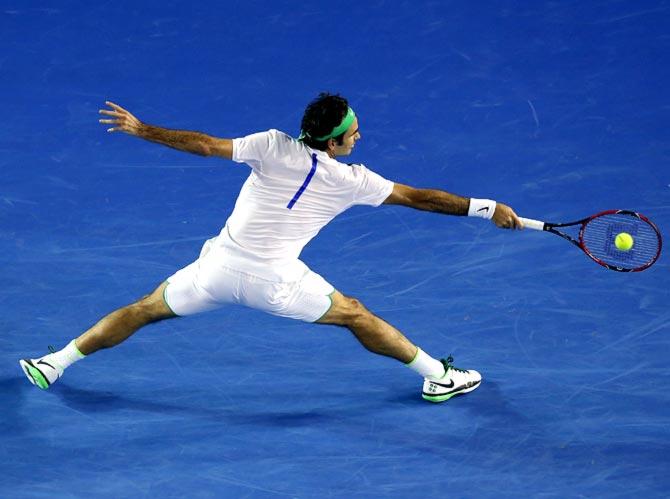 IMAGE: Roger Federer plays a backhand. Photograph: Scott Barbour/Getty Images
Only Martina Navratilova has won more matches at the majors, with 306, while among the men, Jimmy Connors is a distant second to Federer with 233.

The third seed's winning run showed that he still has the game to dismiss young pretenders.

"You got to work hard, even harder now these days it seems like," Federer told reporters when asked what he might write to a junior version of himself.

"There's more professional tennis players than ever. The depth is greater. Talent takes you only so far. But the rest of it is you have to teach it to yourself and learn it, get it right."

It may as well have been a lecture for the benefit of Dimitrov as the 24-year-old plots a way to return to the big-time in the wake of an underwhelming season that checked his emergence.

"You got to be patient, as well," Federer added.

"Can't expect to win Slams at 16, 17, 18 anymore these days, skyrocket through the rankings, unless you're out of this world.

"I needed to make mistakes to become the player I am today. It's been amazing. I've been truly privileged to have the experience."
Djokovic overcomes tricky Seppi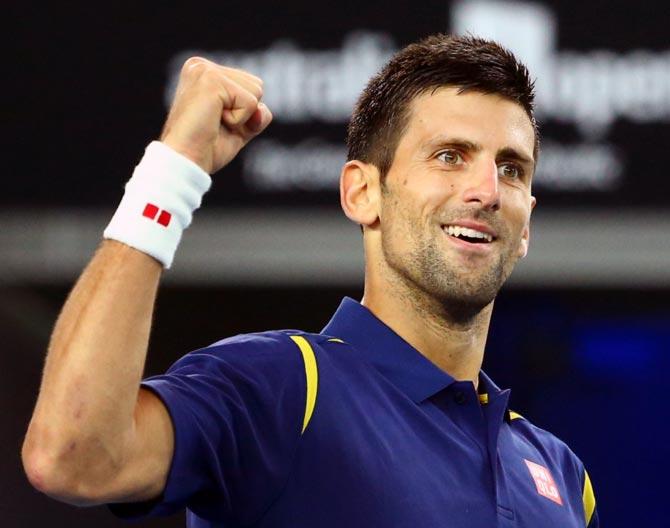 IMAGE: Novak Djokovic celebrates winning his third round match. Photograph: Scott Barbour/Getty Images
Novak Djokovic continued his path to a potential Australian Open semi-final showdown with Roger Federer with a 6-1, 7-5, 7-6(6) third round victory over Italy's Andreas Seppi.

The five-times Australian Open champion raced out to an opening 5-0 lead before Seppi, who beat Federer in four sets at the same stage last year, finally held his own serve though the Serb clinched the first set in 25 minutes in the next game.

Seppi, however, then rediscovered the form that troubled Federer so much last year and it was only successive lengthy rallies of 20 and 32 shots in the 11th game of the second set that enabled Djokovic to break, then serve out.

The pair remained on serve throughout an evenly matched third set until Djokovic saved two set points in the tiebreak to set up a fourth round clash with 14th seeded Frenchman Gilles Simon.
- PHOTOS: Ivanovic shaken after spectator falls during match